CBSE class 12 result 2020 has been announced on 13th July 2020. The CBSE Class 12 exams 2020 were scheduled to start from July 1. However, SC directs the board to cancel the exams due to the outbreak of COVID-19. The board prepared the result for pending subjects on the basis of exams that have already been conducted. SC has also approved the CBSE's assessment scheme to give marks to students for the canceled Class 12 board exams.
However, due to heavy traffic on the website, the official website for CBSE, i.e. cbse.nic.in has crashed. If you are facing issues in loading the CBSE website and are unable to check your results, you can also check your results through DigiLocker. (Click here to Know More)
CBSE Class 12 Result 2020: Highlights
Check out the highlights of CBSE class 12 result 2020 are as follows:
CBSE has released an official notification regarding the Post-Result Tele- Counselling Dates. The counselling will take place till 27th July.
The CBSE board has announced that no merit will be announced this year due to the COVID-19 crisis.
Class 12 result of 400 students could not be computed due to the new assessment scheme. The result for these students will be announced later.
Girls have outshined the boys in CBSE class 12 result 2020 and the pass percentage of girls is 5.96% more than boys
The pass percentage of girls is 92.15% whereas for the boys it is 86.19%
CBSE Class 12 Region Wise Pass Percentage 2020
CBSE class 12 region-wise pass percentage of 2020 is as follows:
Trivandrum- 97.67%
Bengaluru-97.05%
Chennai-96.17%
Delhi West- 94.61%
Delhi East- 94.24%
Panchkula-92.52%
Chandigarh- 92.04%
Bhubaneswar-91.46%
Bhopal-90.95%
Pune-90.24%
Direct Link to Check CBSE class 12 Result 2020- http://cbseresults.nic.in/cbse2020_ASPNET/Result/Class12.aspx
The Board result for 12th class is available on multiple websites. Students of CBSE affiliated schools can access the CBSE Class 12th results not only through the official websites but also with the help of Google and Microsoft mediums. You can also check the list of CBSE 12th toppers 2020 here.
How to Check CBSE Class 12th Result 2020?
CBSE class 12th result 2020 has been announced and the students can check the result by following the steps given below:
Visit the official CBSE result website through the search engine or click here.
Click on the link which says - CBSE Class 12th Results -
Enter your roll number and click on submit as depicted in the image below.
Your CBSE 12th results will be displayed on the screen.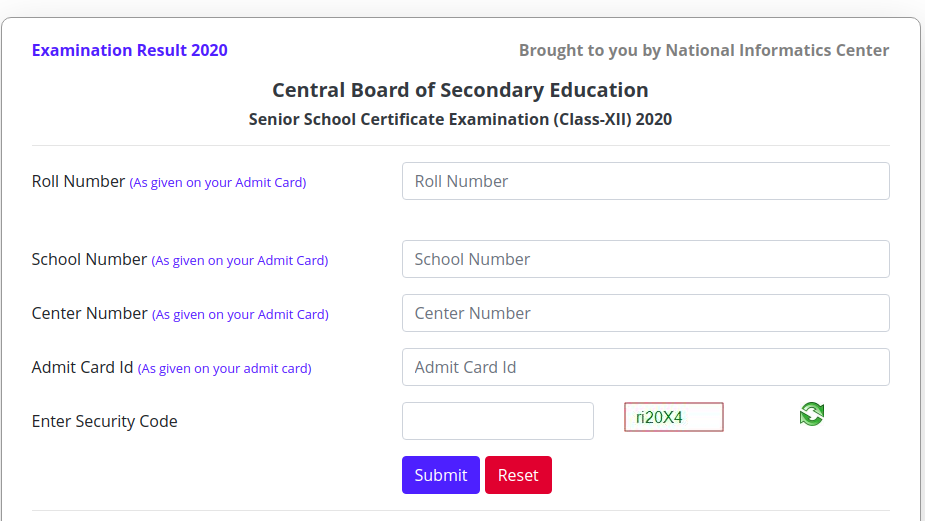 How to Check CBSE Class 12 Board Exam Results 2020 on DigiLocker?
If you are unable to access your results via the official website of CBSE, then downloading and accessing your results via DigiLocker will be the next best option. Here are the steps on how to access results through DigiLocker, which is an online portal where you can access all such important documents.
From the PlayStore or AppStore, you will be able to download the DigiLocker App. The app can be downloaded in both IOS and Android phones.
After successfully downloading the app, you must register with the app using the number that has been registered with CBSE.
An OTP will be received on the registered number, which will be needed to complete the registration process.
The Appl will request you to enter a six-digit security pin. The security pin will be the last six digit of your respective CBSE Board Exam roll number.
After submission of the security pin, all students can access their CBSE Class 12 Board Exam Results 2020 on DigiLocker.
How to Get CBSE Class 12th Results via SMS/Offline?
In order to access the 12th results via SMS, candidates can send an SMS - cbse12 <roll number> <school code> <centre number> to 7738299899. Alternatively, one can also call on 24300699 for Delhi (National Informatics Centre - NIC) and 011 – 24300699 (for other parts of the country).
If you have a Microsoft Organizer App (download from Google Play store), you will see a pop-up that asks you to submit roll number, date of birth and school code details. On submitting, you will receive an alert, even if you're offline, once the results are out. Check the detailed process here.
Google CBSE Results 2020
The Board has collaborated with Google with an aim to directly provide the CBSE class 12th results 2020 without accessing the official website. Candidates will be required to do the following:
Type CBSE 12th results 2020 on Google.
A column where you will have to enter your Roll Number will be prompted on the screen.
Fill in the accurate details and click on submit to view your result.
Check the complete process of checking CBSE results 2020 on Google here.
Also Read:Pass Criteria and Grading System of CBSE Class 12 Board Exams ​
Stay tuned to CollegeDekho for latest news and updates.