The 40th session of the World Heritage Committee that commenced on 10 July included four new sites in the World Heritage List on July 15. Among these new sites was India's esteemed Nalanda Mahavira University.
Archaeological Site of Nalanda Mahavihara – also known to people as Nalanda University is located at Nalanda in the state of Bihar has always been a symbol of pride, reflecting the early prominence of education in India.
The university was initially founded in 5th century CE in the ancient kingdom of Magadha. The university was encouraged by the Gupta Empire in the 5th century and further by Harsha Empire in the 6th century. The university promoted Vedic learning and helped in spreading the formal education system, further inspiring the establishment of other learning and teaching institutions such as Taxila, Nalanda and Vikramashila that were among the oldest Indian Universities.
The university operated uninterrupted till 800 years. It was plundered and destroyed by the army of Bakhtiyar Khilji, Muslim Mamluk Dynasty in 1200 CE and later came to light in the 19th century and was then considered a site of heritage by the Archaeological Survey of India.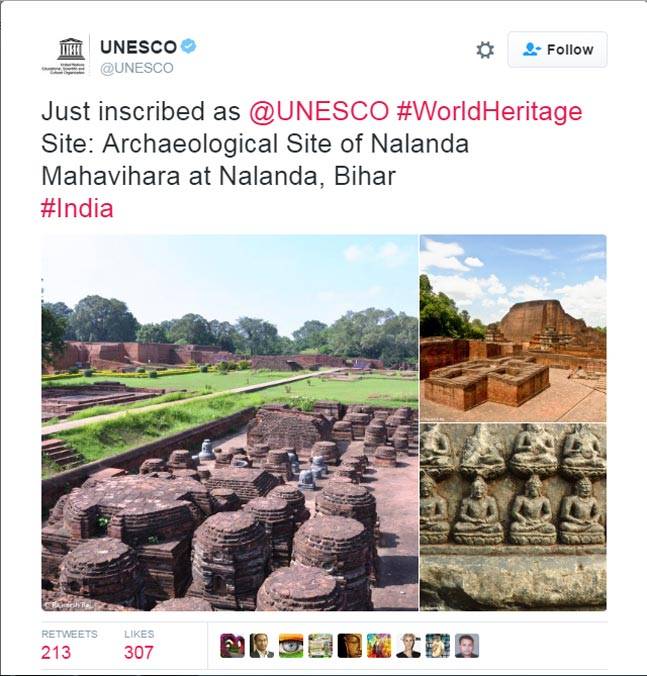 The archaeological site that is listed now comprises of stupas, shrines, viharas (also known as the residential as well as educational buildings) and eminent works of art in stucco, stone and metal. Nalanda was an operational and highly developed university in ancient India.
Apart from the Indian monument, other sites from China, Iran and Micronesia were also added to the World Heritage List. Zuojiang Huashan Rock Art Cultural Landscape, People's Republic of China, The Persian Qanat, Islamic Republic of Iran and Nan Madol – Ceremonial Centre of Eastern Micronesia, Federated States of Micronesia Ceremonial are the sites that are now part of the list. Nan Madol – Centre of Eastern Micronesia was also listed in List of World Heritage in Danger as per the reports of UNESCO.