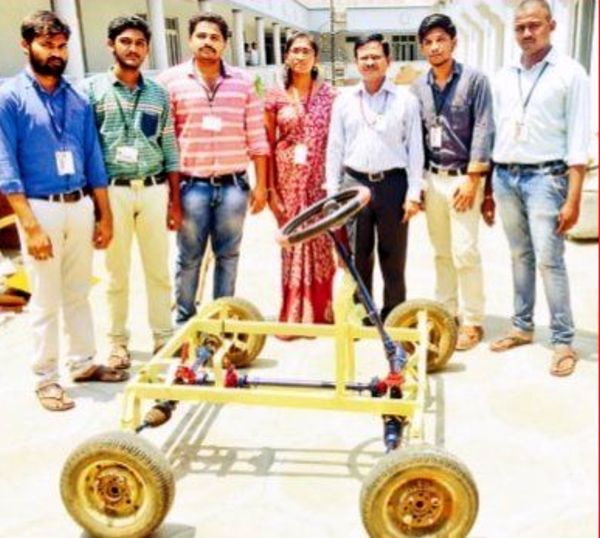 Mechanical Engineering Students of MIC College of Engineering designed a four wheeler steering vehicle. The difference between normal car and this car is, for the normal cars the steering is set for front wheels only, whereas for this car the steering is set for all four wheels. The car was designed by the final year Mechanical student, Sri Ram along with his friends BV Kumar Reddy, Dhanunjay and Yeshwanth Chowdary.
The Department of Mechanical Engineering conducted a press meet on 14-May-2016 to give the details about the vehicle.
Sri Ram said that "An amount of Rs.12,000 has been spent for designing this car. The college management and department helped the project financially. The car enables flexibility. It can be easily parked at crowded areas. This car enables turning at 360 degrees which reduces risk. This car enables easy drive and can be easily driven at streets. The department has assured to take this project to various car manufacturing companies. The project is technically supported by Faculty of the department, Mrs. Divya'.
College chairman and principal tested the vehicle and appreciated the efforts of students. They mentioned special appreciation for the department of mechanical engineering. Students thanked the college management and faculty for their cooperation and support.
Source: - Sakunth Kumar, City Journalist, CollegeDekho, Vijayawada/Guntur