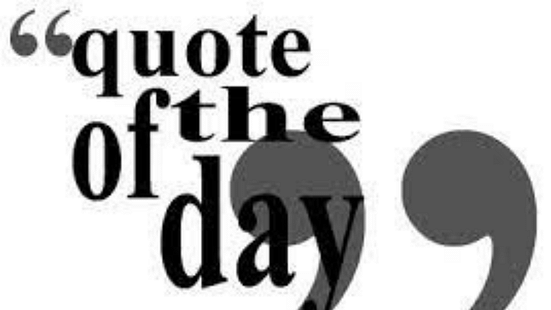 Thought of the Day for School Assembly 25 September 2023
Thought of the Day: The inspirational quote of the day is by Helen Hayes, an American actress. She is best known for her roles as Mary, Queen Victoria, and Queen of Scots. The thought of the day is provided here along with its meaning. Read this motivating quote for the school assembly to encourage students to start as a beginner in order to become experts in the future. 
Thought of the Day for School Assembly 25 September 2023
The below table displays the thought of the day 25 September 2023 for the school assembly:
"Even experts were once beginners." - Helen Hayes
Also Read | 
Meaning of Thought of the Day 25 September August 2023
Through the above quote, Helen Hayes means that everyone who has become an expert in their field was once a beginner. They started from scratch and built what they wanted in the future. They have worked hard day and night to become experts in their task. Helen emphasizes that we must be patient and consistently try harder to become better every single day. 
We must not rush, be scared of mistakes, and should not be ashamed of asking - pretty much behave like a beginner. Every professional we know today has made mistakes, faced challenges, and overcome obstacles to become what they are today. So, we must not get discouraged by setbacks. Instead, we should get up and keep trying. 
Starting as a beginner can be tiresome and time-consuming. However, there is nothing wrong with being a beginner. The more we try, the more experiences we will gain, and the more we gain, the more we will rise the ladder and become experts in our specialization.
Also Read | 
Stay tuned to CollegeDekho for more Education News pertaining to entrance exams, boards, and admission. You can also write to us at our E-Mail ID news@collegedekho.com.