Acharya Nagarjuna University awarded the meritorious and outstanding students of the University with Prathibha Awards. The awards were given to the students of 2014-2015 academic years. The awards were given to B.Pharmacy, B.Tech and UG students of the 2014-2015 academic years. Vice chancellor of the University, Acharya Rajendra Prasad presented the awards. On this occasion, he addressed the gathering.
He said, "The University awards meritorious and outstanding students every year with Prathibha awards. It is a customary practice of the University. Every year lots of students have been graduating and there are some students who give overall performance. This year, a total number of 152 students have been awarded Prathibha awards. Students must develop helping nature and patience and one should help needy. Patience is very much essential to excel in career. One must face several hardships patiently which come in the advancement of career".
An amount of Rs. 20,000 has been awarded to 152 students as a part of Prathibha awards. These students showed overall performance in academics and extracurricular activities. The ceremony was attended by Rector of University, Dr. Sambasiva Rao, Additional controller of examinations, Mr. Kanakananda Rao and Mrs. Amrutavalli, Coordinator of Prathibha awards.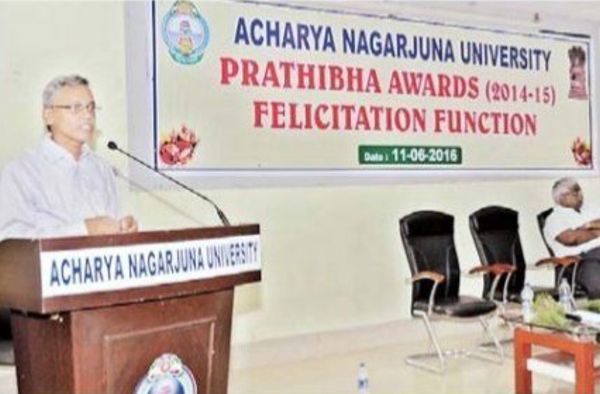 Source: - Sakunth Kumar, City Journalist, CollegeDekho, Vijayawada