Delighted to share that DKTE is being felicitated & honoured by Hon'ble Dr.Devanand Shinde (Vice-Chancellor of Shivaji University) for Securing First Rank in getting Highest Merit Scholarship under Faculty of Engineering in Semi Urban category in the Academic year 2015-16. The rank letter was accepted by the principal Dr.P.V.Kadole.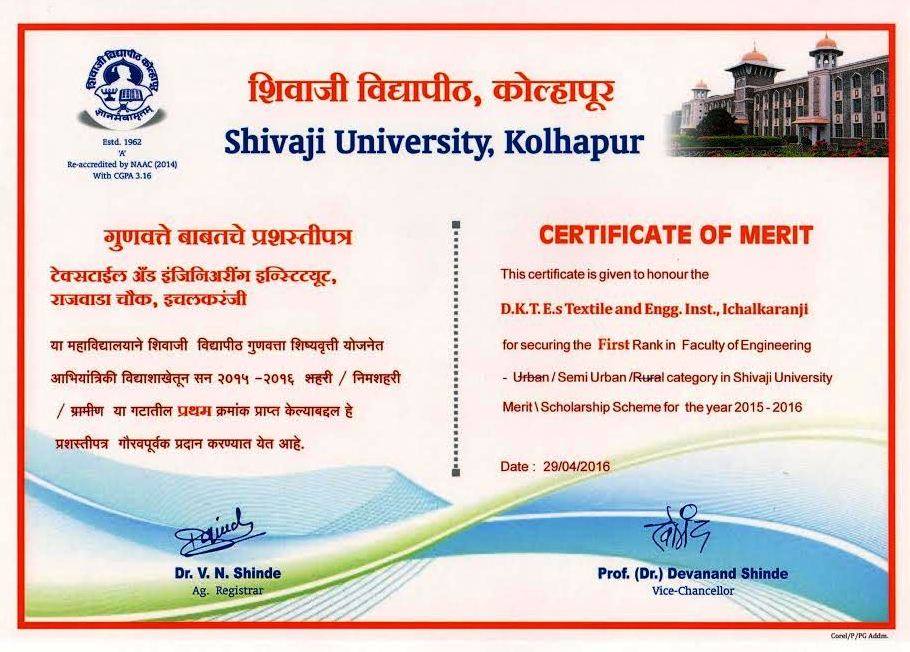 It is an honour for DKTE to get felicitated since last 5 years for securing First Rank consistently in Merit Scholarship at Shivaji University. Another Feather in Cap of DKTE - Kudos to Students and Faculty members for this success.
QUALITY POLICY
DKTEs are committed to achieve academic excellence, impart high-quality technical education, training, expertise in various industries and engineering programmes, thereby enhancing the intrinsic abilities capabilities, thinking process of students besides promoting there engineering and technological skills. DKTE are committed to comply with the requirements and continually improve the effectiveness of quality management systems.
QUALITY OBJECTIVES
To provide a sound academic and research environment to students for a complete learning experiences.
To provide state of the art technical infrastructure and motivate students to realize their own potential
To provide technological and managerial skills and ensure all round development of the students .
To offer quality relevant and cost effective programmes to produce engineers as per requirements of the industry and other sectors of employments.
To offer research development, consultancy, testing services and customised Training to meet specific needs of the industry thereby promoting self-employment & entrepreneurship amongst students.
Source - Prasad Patil, City Journalist, College Dekho