Geetanjali Institute of Technology (GITS), to celebrate "Nationa Science Day" organized "EDUMEET '16" at its campus. Guest of honor on the program was Dr. Dharmendra Kshotriya (Principal Of Mewar B.ed. College) & Dr. B.N. Soni (Ex. DEO of Education Department of Jodhpur). GITS's principal Dr. M. Venu Gopal Rao, Finance Controller Mr. B.L. Jangid and all GITS family were present there.
The program was attended by various professors of science from Rajasthan and Madhya Pradesh (M.P.), recalled the achievements and contributions of a scientist in science, also discussed to raise the awareness of science with students. More than 500 students in which GITS and students from Geetanjali group of institutes were come to attend the program.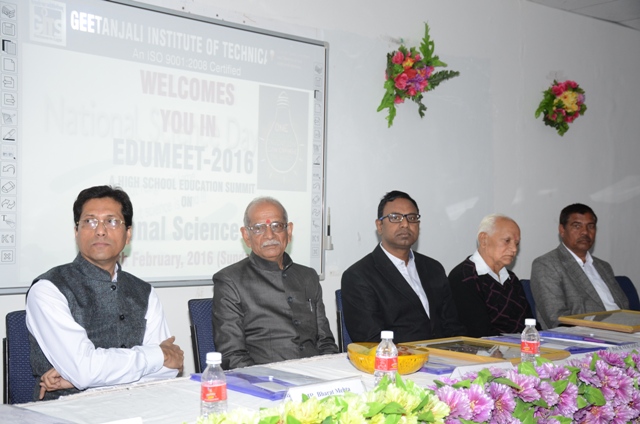 The main guest of honor Dr. B.L. Soni highlighted on the relationship between teacher and students, he said that teachers and student relationship should be like Guru Ramdas and Maharaj Shivaji, and also added that student is the capital of teachers. Being loyal with the students is the main responsibility of the teacher. The teacher is like Gardner who protects the small plants like students and purifies their future.
Dr. Kshotriya said that science is everywhere in our life, just need to apply it in the right direction. Prizes distributed to the winners of "Sci-Tech Pro Café" which was conducted on 16th dec. 2015 in the institute, during the program. First prize won by Himanshu Upadhyay, Alvira Khan, Rahul Dhakad, Sakshi Nahar, Amreen Khan from Central Academy Senior Secondary School, Chittorgarh who had "Musli Pealing Machine". Second prize won by Divya Kashyap, & Anushka Dubey from St. Merry Convent Senior Secondary School, Sardarpura, Udaipur, who had "Bricks For fire retarded house". And the Third prize won by tow participants, one by Aanchal Mathur, Bhinni Ameta, Deepali Goyal, Yoshita Katariya, St. Merry Convent Senior Secondary School, Titardi, Udaipur who had "low cost peddle operating washing machine" and second by Lakshmi Lodhi, Sumitra Jatt, Sidharth, Rajendra & Bhumika from Guru Nanak Public School, Sec. 4, Udaipur for "Safe Kitchen Project". At the end of the program, Dr. Rajendra Mathur gave the thanksgiving speech.
Source – Jay Kumar Savita, City Journalist, Udaipur, Collegedekho.com