The NCC Cadets of P B Siddhartha College of Arts and Science, Andhra Loyola College and SRR & CVR Government College, Vijayawada took part in Anti-Tobacco campaign which took place in the city on 31-May-2016 on the occasion of World Anti-tobacco day. Various hospitals, associations and colleges supported this campaign and took part in the rally.
NCC Cadets from various colleges marched towards P B Siddhartha College from Andhra Loyola College in a rally so as to spread awareness about the use of Tobacco and its side effects on human body. Cadets of various groups displayed placards and banners trying to educate public on the usage of cigarettes, ghutka, kainy, paan among others. A street play was enacted by the students and few cadets spoke on the topic.
The NCC Cadets spoke, "In India, as many as 10 lakh people die every year due to tobacco be it a smoker or passive smoker. The number is likely to double by 2020. Hence the government needs to take necessary steps to ban tobacco products and preserve the health of the people. As per World Health organization (WHO), the epidemic of tobacco is likely to kill 8 million people by 2030".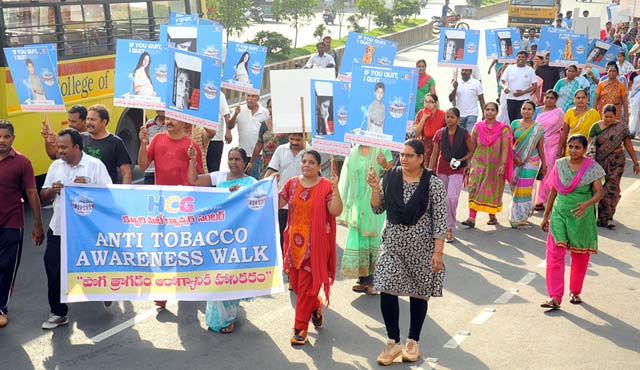 Source: - Sakunth Kumar, City Journalist, CollegeDekho, Vijayawada