Netaji Subhas Open University (NSOU) has announced the launching of its brand new pilot project of Student Support System via Facebook and Google. In the primary stage, this support system will be provided to the students of the Post-graduate section of the School of Humanities. In the later phase, this system will also be implemented for the benefit of the students of other schools as well. In the beginning, post-graduate learners registered under NSOU for the Post-graduate programme in Bengali, English and ELT will be eligible to avail this scheme. Under this pilot project, learners will now be able to receive direct online academic support from Departmental faculties. Students are directed to be ready for the process as the support system will commence from 15th February 2016.
Salient Features of the Programme:
Project Name: Online Student Support Service Project Coordination: School of Humanities
Medium: Gmail and Facebook.
Period of Service Availability: February 15, 2016, to April 8, 2016
Timings for Receiving Support: Monday to Friday. For subject specific details, see chart below
Target Group: Registered Post Graduate learners of Bengali, English and ELT
What the learner needs to do: Create a valid Gmail account on an internet enabled computer/smartphone; log into this gmail account, go to chat option and send an invite to the relevant faculty ID from the list below. For users of Facebook, similarly, send Friend Request to the relevant Fb ID. Once the request is accepted, the learner can initiate a subject specific chat with the concerned faculty according to timings mentioned on Gmail or Facebook. To begin a chat, the learner's name, enrolment no. and study centre must first be mentioned.
App required for Access: Gmail, Facebook Messenger
Nature of Support: Faculty of the University will be available online to provide support of a strictly academic nature. No administrative or examination process related queries will be entertained
The language of Communication: Bengali and/or English as may be required for the subject.
Primary Schedule: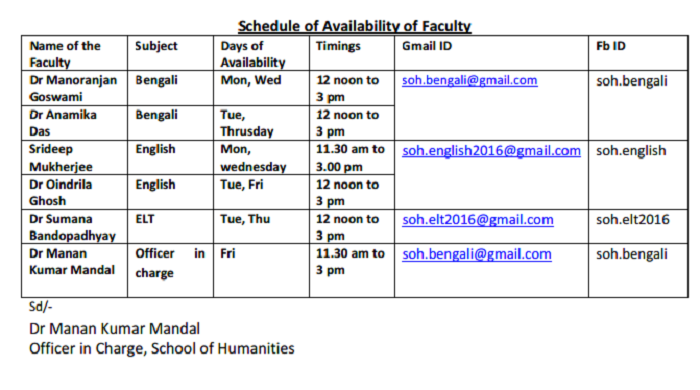 Students who have any doubts about this programme are directed to contact with their course counsellor as soon as possible.
Source: Soutrik Das, City Journalist- Kolkata, CollegeDekho