Kshetrimayum Margaret Devi and Parveen Nisha have created another exemplary success story. The two girls have made it to Delhi University through sports quota. Both the girls were among the 14 students who got direct admissions to DU under sports quota. Even though colleges have not yet been allotted to them, their families are proud of their achievements.
Kshetrimayum, 19, belongs to a small town in Manipur while 18-year-old Nisha hails from a resettlement colony. Although they weren't supported by their families when they expressed their aspiration to participate in sports, both the girls have played in international tournaments.
Participating in the South Asian Games at Guwahati and Shillong in 2016 carved their way to DU. First time in the history of Delhi University , girls have been selected for playing kho-kho and football.
Also Read:DU 3rd Cut-off List: Marginal Dip in Marks
Kshetrimayum started playing football in 2006 and has represented India as part of the under 14 and 19 teams. She plays mid-field and was awarded a gold medal in the South Asian Games in Shillong. Before she had the honour of playing for the country, she pursued her passion by playing for small clubs and associations in Manipur.
Kshetrimayum, who resides in Kakching, a small town 56km away from Imphal said that her parents were against her dreams of pursuing football as a career as both of them belong to the medical field. She scored 75% marks in 12 board exams with science as her major subject. Studying in Delhi University was her dream and she hopes to get admissions to Lady Shri Ram College for women.
A Lionel Messi fan, Kshetrimayum dreams of playing for India in the Football World Cup, if the day comes when India qualifies.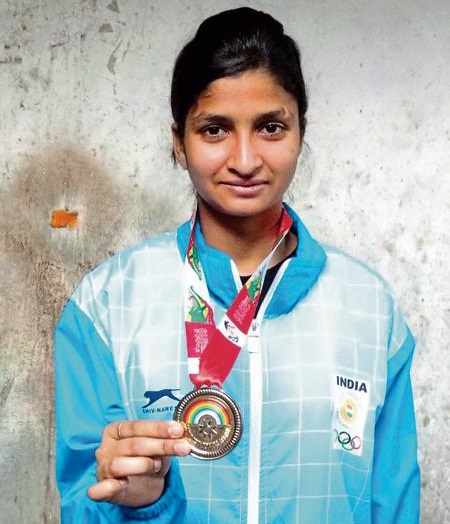 Nisha is keen on playing kho-kho and has been playing the game since 2010. Residing in the resettlement colony in Badarpur, Nisha studied in the Government Girls Senior Secondary School No-3 of the area.
Like Kshetrimayum, her family was also not in the favour of pursuing sports. She has made her family proud, being the first among her eight siblings to get admitted to the Delhi University for undergraduate programmes of the session 2016.
Having scored 72% in her Class 12 boards, Nisha aspires to study Hindi (Hons.) at Daulat Ram College as the college supposedly has a great kho-kho team.
Describing Nisha, her coach Sumit Bhatia said, "She has been a very sincere student. Apart from playing the game, she was always keen on studying in DU. So, I helped her apply here."
He also highlighted the fact that Nisha uses the contract money that she gets to lend financial help to her family. She has also signed a contract to play for the Airport Authority of India for which she will be paid a good amount of money that she will use to support her family further.