The Journal Committee at Dr. Ram Manohar Lohiya National Law University, Lucknow is has announced the fourth edition of the RMLNLU International Legal Essay Writing Competition (RILEC 2016). The University has successfully organized three previous editions of RILEC in the year 2013, 2014 and 2015.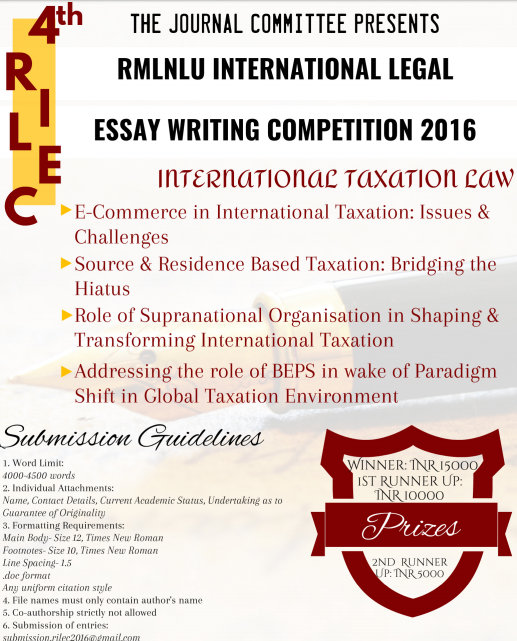 This year theme for legal essay writing is 'International Taxation Law' and sub themes are:
~E-Commerce in International Taxation- Issues and Challenges. Source based and Residence based Taxation- Bridging the hiatus.
~ Role of Supranational Organization in shaping and transforming International Taxation.
~ Addressing the challenges of BEPS in wake of paradigm shift in global taxation environment.
Word Limit for essay: 4000-4500 words
Last Date of Submission: 10th April 2016.

Prize: Winner will be awarded INR 15,000 and a 'Letter of Recommendation' from the Head of the Executive Panel of Judges.
First Runner Up will be awarded INR 10,000.
Second runner up will be awarded INR 5000.
'Certificate of Appreciation' will be given to all the Top 10 shortlisted entries.
Source: Rahul Pandey, City Journalist - Lucknow, CollegeDekho