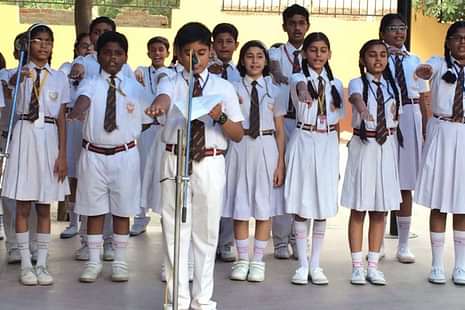 School Assembly News Headlines for 28 September 2023
School Assembly News Headlines for 28 September 2023 are listed here. Find all the recent and major happenings from the national, international, and sports sectors here and prepare well for the news reading. 
Also Read | Gandhi Jayanti 2023: Unknown and Interesting Facts about Mahatma Gandhi
School Assembly News Headlines for 28 September 2023
Students will find the latest news updates for 28 September 2023 for the school assembly for various sectors: 
National News Headlines for School Assembly 28 September 2023
"We must not let political convenience determine responses to terrorism, extremism and violence," EAM S Jaishankar said on September 27, 2023 at the  UN General Assembly session.
NIA is conducting major raids across six states in three cases. The raids are being conducted at 51 locations belonging to associates of Khalistani terrorists Lawrence Bishnoi, Bambiha and Arshdeep Dalla gangs.
Cauvery Water Dispute: B.S. Yediyurappa, former Karnataka CM, and Basavaraj Bommai, a senior BJP leader, protest against the release of Cauvery river water to Tamil Nadu from Karnataka.
India takes great care to ensure steady ties with Russia are in good shape: EAM S Jaishankar
The Malayalam film '2018' is India's official entry to Oscars 2024. Directed by Jude Anthany Jose, the film is based on the real-life Kerala floods.
BYJU plans a fresh round of layoffs, about 5,000 employees may lose jobs: Report
India is poised to become a global economic powerhouse. We will be among the top three economies in the world: PM Modi at Vibrant Gujarat Global Summit (VGGS)
Manipur Killing: Protests in Imphal against students' killing continue for the second day.
Nipah Virus: Kerala government withdraws Nipah-related restrictions in Kozhikode.
Also Read |
International News Headlines for School Assembly 28 September 2023
Google completed its 25 years on September 27, 2023.
In a flash mob-style robbery, over a hundred masked and hooded teenagers broke into city centre shops in Philadelphia and looted merchandise.
First Saudi Arabia's envoy to the Palestinians visited the West Bank on Tuesday as Israel and Saudi look forward to normalizing ties.
The USA has now suspended most non-humanitarian aid to Gabon following its military takeover last month.
China says drills near Taiwan target 'arrogance' of separatists as it claims the independent island nation 'China's territory'.
China has rejected several proposals from Pakistan regarding direct investments in various sectors under the China-Pakistan Economic Corridor (CPEC)
Sports News Headlines for School Assembly 28 September 2023
Asian Games 2023: Sift Kaur Samra won a gold medal in the 50m Rifle 3P event while Esha Singh won silver in the 25m Pistol event.
Asian Games 2023: Anantajeet Singh Naruka has won India's 1st Asian Games Silver in the Men's Skeet event.
Asian Games 2023: India's Women's Hockey Team beats Singapore at 13-0.
Bangladesh drops ex-captain Tamim Iqbal from the World Cup squad.
For the latest Education News, keep visiting CollegeDekho. You can also 'follow' our WhatsApp Channel to stay updated with the latest happenings. You can also write to us at our E-Mail ID news@collegedekho.com.