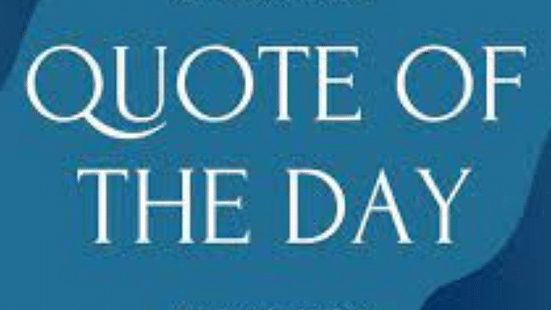 Thought of the Day for School Assembly 28 September 2023 with Meaning
Thought of the Day: The inspirational quote of the day is by Abraham Maslow, an American psychologist. He is widely popular for this self-actualization theory of psychology. The thought of the day is provided here along with its meaning. Read this motivating quote for the school assembly to encourage students to step forward, and move out of their comfort zone.
Thought of the Day for School Assembly 28 September 2023
The below table displays the thought of the day 28 September 2023 for the school assembly:
"You will either step forward into growth, or you will step back into safety" - Abraham Maslow
Also Read | 
Meaning of Thought of the Day 28 September August 2023
Through this quote, Abraham Maslow conveys that there are two paths a human can take. If one decides to step forward, they will grow and develop. However, if one steps backward, they will lead a stable life but won't have any scope for development. So, he means that we should move out of our comfort zone for progress and self-improvement. 
While it's true that moving out of our comfort zone is scary, it opens new opportunities for development for us. If we stay in our safe zone, we will not be exposed to these many scopes and chances. The fact is it is only through dealing with uncertainties that we grow, learn new experiences, and lead a fulfilling life. 
Also Read | 
For the latest Education News, keep visiting CollegeDekho. You can also 'follow' our WhatsApp Channel to stay updated with the latest happenings. You can also write to us at our E-Mail ID news@collegedekho.com.