If you are planning to study engineering, management, pharmacy or architecture and are looking for the best college in India to study in, NIRF will come to your rescue.
The Higher education system in India is large and complex. India has the third largest higher education system in the world, behind China and the United States comprising of 795 universities, 39,671 affiliated colleges, 10,15,696 teaching faculty and 2,37,64,960 students including 29,34,989 post-graduate and 2,00,730 research scholars. The total enrollment has increased from a meagre 2 lakhs in 1947 to 238 lakhs in 2013-14. Colleges, affiliated to 194 affiliating universities, constitute the bulk of the higher education system in India contributing around 86.48% of the total enrollment.
The institutions of higher education in India are in need of infusion of quality and clarity on the approach of building world-class educational institutions in the Indian context and environment. New benchmarks of quality need to be defined to help overall system to move up on the quality spectrum. Research assessment and national ranking of Indian educational institutions can play an important role in improving performance and quality of academic institutions.
So, if you are are at that juncture in life where you are looking out for the best engineering college in India, or the best management college in India pr even the best pharmacy and architecture college in India, then it is very important to know about National Institutional Ranking Framework (NIRF).
What is NIRF?
NIRF is a methodology for ranking of universities and colleges in India. NIRF functions as an autonomous body under an initiative by the Department of Higher Education, Ministry of HRD, Government of India.

The Expert Committee set-up by the UGC for developing National Institutional Ranking Framework (NIRF) for Higher Education Institutions under the ambit of University Grants Commission, met in a one-day workshop on ranking held on August 21st, 2014 where representatives of Central Universities, NITs, IIITs, SPAs and IISERs were invited. At the workshop, it was decided inter-alia to constitute a Committee on evolving a National Ranking Framework. The best part of NIRF is that representatives of Central Universities and IIMs will also be included in the Committee to be constituted for evolving a National Ranking Framework in the country.
UGC had participated in the National Initiative on Ranking of Indian Institutions with a larger objective to improve ranking of Indian universities in World University Rankings. The Expert Committee, appointed for developing a ranking system for colleges and universities had benefit of access to the National Institutional Ranking Framework developed by the Core Committee appointed by the Ministry of Human Resource Development.
Parametres for ranking under NIRF:
1> Research output
2> Research impact
3> Learning environment
4> Infrastructure
5> Facilities for differently-abled persons,
6> Percentage of students from other states and other countries;
7> Percentage of women students and faculty, and
8> Percentage of economically and disadvantaged students.
Besides this, the Expert Committee had also given weightage to the sports and extra curricular facilities available in the campuses of universities and colleges.
Aim of NIRF:
The aim of the NIRF ranking framework has been developed for ranking universities and colleges to have wider appeal across universities and colleges. It is expected that thousands of institutions will volunteer themselves to the ranking exercise with an aim to assess themselves on the qualitative parameters used for ranking of institutions and move upward on the quality spectrum to improve their ranking in subsequent years.
Members of setting up of the NIRF Committee:
Secretary (HE), MHRD - Chairperson
Additional Secretary (TE), MHRD - Member Secretary
Director, IIT-Kharagpur - Member
Director, IIT-Madras - Member
VC, Delhi University - Member
VC, EFL University, Hyderabad - Member
VC, Central University of Gujarat, Gandhinagar - Member
VC, JNU, New Delhi - Member
Director, IIM Ahmedabad - Member
Director, IIM Bengaluru - Member
Director, NIT, Warangal, Telangana - Member
Director, SPA, Delhi - Member
Director, ABV-IIITM, Gwalior - Member
Director, IISER, Bhopal - Member
Chairperson, NBA, New Delhi - Member
Director, NAAC, Bengaluru - Member
The main features of NIRF are as follows:
i) It is recommended to set-up a Committee, which will oversee the implementation of ranking work for the first year, after which a suitable Ranking Agency duly authorized to receive and verify the data, and declare the rankings, may be set up.
ii) This document identifies a set of suitable forms in which these parameters can be easily measured and verified across a variety of universities and colleges.
iii) A strategy is suggested for calculating scores to measure the performance of the universities and colleges across each such parameter. This will help to obtain an overall score for obtaining the institution rank.
iv) Separate ranking formulae for universities and colleges is suggested to ensure that institutions are compared within an appropriate peer group of institutions, and provided a level-playing field.
v) A system for data collection from public bodies and random sample checks is suggested for each parameter.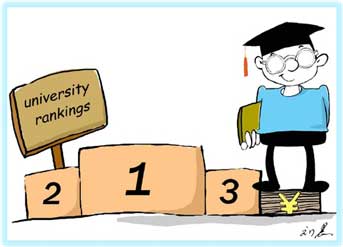 How will NIRF work?
Methodology involves defining a set of metrics for ranking of universities and colleges based on the parameters agreed upon by the Core Committee (CC).
These parameters are organized into five broad categories that have been further grouped into a number of sub-categories. Each broad category has an overall weight assigned to it. Within each category, the sub-categoriesalso have an appropriate weight distribution.
Executive Summary of NIRF
1> NIRF will first identify the relevant data needed to suitably measure the performance score under-each sub-category. Emphasis has been laid on identifying data that is easy to generate and easy to verify, if needed, in the overall interest of transparency.
2> A suitable metric is then worked out, based on this data, which computes a score under each sub-category. The sub-category scores are then added to obtain scores for each individual category. The overall score is computed based on the weights allotted to each category. The overall score can take a maximum value of 100.
3> The institutions can then be rank-ordered based on their scores.
Source: With inputs from the official website of National Institutional Ranking Framework (NIRF)