109 students were awarded gold medals at the Merit Award Ceremony of National PG College , Lucknow on April 16. 'Medhavion' is NPG's annual Merit Award Ceremony.
Besides the prize money of Rs Two thousand, students were awarded certificates too. Both UG and PG courses, students were part of this function.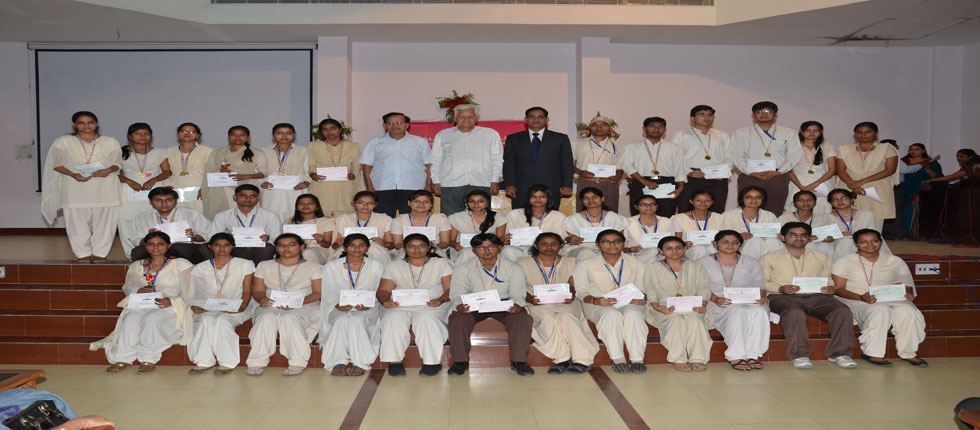 Sudha, Anamika girls who qualified UGC net exams and Alok Verma who qualified JRF were also awarded at the event.
Principal SP Singh, said that all the students are the semester exam toppers. These exams were held in December 2015. Former Vice Chancellor of the Jodhpur University, Prof. LS Rathore was present at the program as special guests.
Principal SP Singh said that young generation should work hard to brighten the future of India by truly mixing our core values with the achievements in the field of science and technology. He also added that he has full confidence in his students, and they would pass this test of time imposed by this scientific era and explore new dimensions in the field of educational development.
He gave a formula of three "P" 'Passion', 'Performance' and 'Purpose' to achieve success in their life.
National Post Graduate College is the only Autonomous College of Lucknow University. The College offers undergraduate and postgraduate courses in Arts andCommerce faculties and undergraduate courses in Science and Computer faculties.
With the efforts of the college administration and hard work of the students, the college is scaling to new heights every year. The college functions on the single motto of imparting quality education to the quantity by inculcating the virtue of being a good human with the sense of discipline.
Source: Rahul Pandey, City Journalist - Lucknow, CollegeDekho