Students of Siddhartha Dental College visited various villages in the Krishna District and exposed people on the effects of consuming tobacco as part of an Anti-Tobacco Campaign which commenced on 31-May-2016 to mark the 'Anti-Tobacco Day'. The campaign concluded on 7-June-2016. The college management conducted a press meet to give a summary of the campaign. Principal of the college, Dr. Ramoji Rao gave the details.
He said, "As a part of campaign, students visited various villages in Krishna District and educated the people on the negative effects of consuming tobacco. The students conducted medical campus and tested 516 people. Out of them 70 people are under pre cancer stage which is very hazardous to the health. These 70 people are in the pre cancer stage as they extremely consumed tobacco products".
Students opined that "Most of the youth are spoiling their health by consuming tobacco products. The youth who are habituated to these must quit them immediately as it degrades their health day by day. They have a beautiful life and should not spoil it by consuming tobacco. The government must take necessary steps to ban tobacco".
The college has been organising free medical camps at various villages and providing free dental medical services to the poor.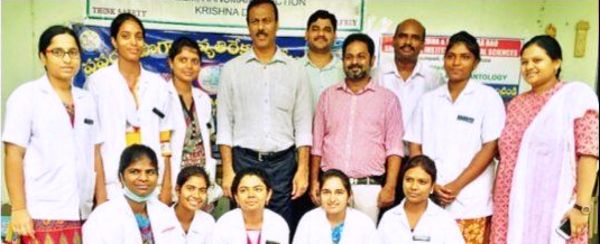 Source: - Sakunth Kumar, City Journalist, CollegeDekho, Vijayawada