Engineering college in increased competition. In order to survive the competition and the need to provide quality education to date education. Currently, DKTE' Society Textile & Engineering College is at the forefront of the field of education, said the BCUD Director Dr.D.R.More
Mr. More was speaking at the annual gathering in DKTE' Society Textile & Engineering College. The President of the Organization Mr.Kallpaanna Awade Present there. The annual meeting is held each year institution affection.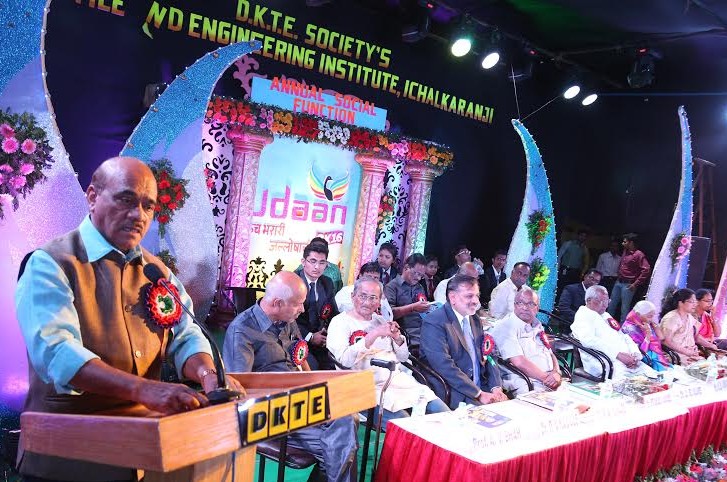 Trustee Director Mr.Prakash Awade guidance to students. Professor Mrs.L.S.Admute announced various competition results. Student Representative Santosh Shinde present the annual report. State Development Agency Mumbai and DKTE' Society Textile & Engineering College In conjunction with the College of Engineering is being prepared 8 fripperies. The fourth volume of "chemical process" was at the time of publication.Prof.S.D. Mahajan detailed information about the volume.
Welcome to the Principal Dr.P.V.Kadole. Organization Secretory Mrs.Sapana & Other guest present in this program. Event Planning Prof.P.V.Shah, Prof.A.U.Anusara, Prof.A.R.Balwan of the planning.Student Rahul Shendure thanked all
Presently the institute conducts ten degree courses in Textiles, Mechanical Engineering, Computer Science & Engineering, Information Technology and Electronic Engineering, Electronics & Telecommunications Engineering, three diploma courses in Textiles and seven postgraduate course in textiles as well as Mechanical Engineering and Electronic Engineering The total student strength of the institute is around 3000 and has 176 teaching faculty members and 285 non-teaching staff.
The management has provided excellent infrastructural facilities and a highly qualified staff. As a result of this, very high standard of education is maintained. Apart from regular teaching this institute is well known for its interaction with industry.
The D.K.T.E. society has also extended facilities in other areas of education by starting Primary Schools, High schools, Junior college, Physical Education College and institute of Vocational Education, Management college, Commerce college, CBSE Curriculum school. Mr. K.B. Awade is the Chairman of this society, Mr. R.N. Kulkarni is the Vice-Chairman , Mr. R.V. Ketkar is the Treasurer and Dr. Mrs. S.U. Awade is the Hon. Secretary.