The third year ECE students of Acharya Nagarjuna University college of Engineering designed a Solar Bike. The project director was Prof.G.Harnadh Babu. University Vice-chancellor Acharya Rajendra Prasad visited the college premises to check out the Solar Bike. On this occasion, he interacted with the students who designed the Solar Bike.
G.Mohan, M.Jayadev, Y.Manjula, G.Sumali, and Lakshmi Kumari are the students who made the Bike. They explained "Solar Energy is an unlimited resource through which we can produce electricity. Whereas through Solar energy, we can also run our own vehicles. The solar panel extracts the energy and acts as a petrol/diesel to the vehicle. Petrol/diesel are limited resources which are also going to be scarce and costly in the coming years. It is due to the over-extraction of resources. So Solar Energy plays an important role in reducing the extraction of petroleum. It acts as an option to save the natural resources like petroleum and water resources". They mentioned that they are going to apply for the patent rights for the Solar Bike which they have designed.
University vice-chancellor appreciated and congratulated the students as well as project director for their strong desire to complete the project. He assured that the University would extend its cooperation and support these kinds of project.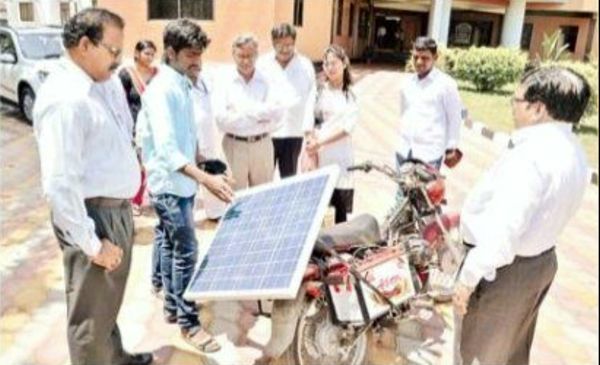 Source; Sakunth Kumar, City Journalist, CollegeDekho, Vijayawada