Indian Institute of Management, Rohtak organised its annual entrepreneurship summit, UDAAN, a two day event on 12-13th December, 2015. The theme for UDAAN 2015 is "From Wantrepreneur to Entrepreneur", implying the call for action in ignited minds to break out of their comfort zone and take the leap of chasing their dreams. The entrepreneurial spectacle was accompanied by the policy launch of Incubation Centre at IIM Rohtak.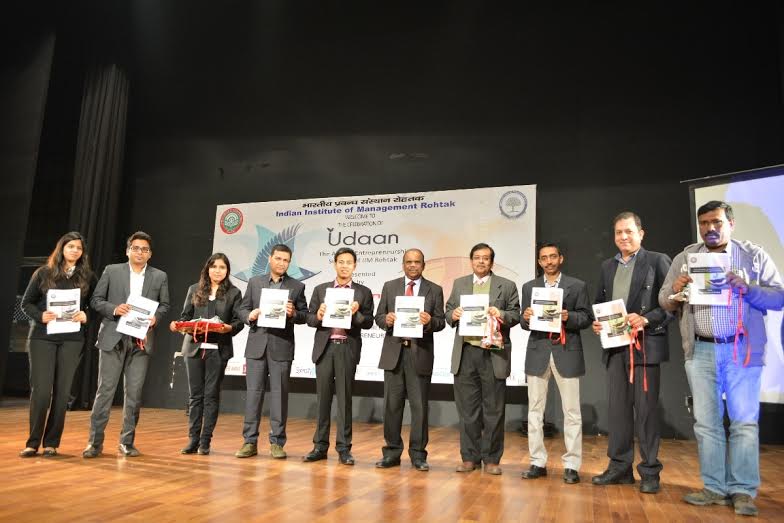 The event was flagged off with a welcome address by Professor Atanu Rakshit, Director of IIM Rohtak. Eminent leaders such as Dr A. S. Pillai (Father of BRAHMOS missile, Padma Shri, Padma Bhushan awardee), Ajay Chaturvedi (Founder, HarVa), Siva Kotthapalli (Head of Gurgaon DVCI, Amdocs), Akash Gautam (Motivational Speaker & Corporate Trainer in India), Abhishek Garg, Vice President, Karbonn Mobiles, and Varun Saxena (Founder Career Anna) graced the summit.
Dr A.S. Pillai inaugurated the Incubation Centre at IIM Rohtak to take the entrepreneurial aspirations of the students and the society at large from a dream to reality. IIM Rohtak strives to promote creativity and entrepreneurship by transforming diverse ideas into successful ventures through innovation. With this goal in mind, the Business Incubation Centre will provide physical, technical and human-resource networking services. The Incubation Centre is in sync with the motto of IIM Rohtak, which is "Management through knowledge and values". The Incubation Centre will employ ethics into building sustainable business solutions to perilous problems crippling our nation. The mission is to instil entrepreneurial spirit in the students of IIM Rohtak, and the society at large by providing a platform to translate ideas into successes.
T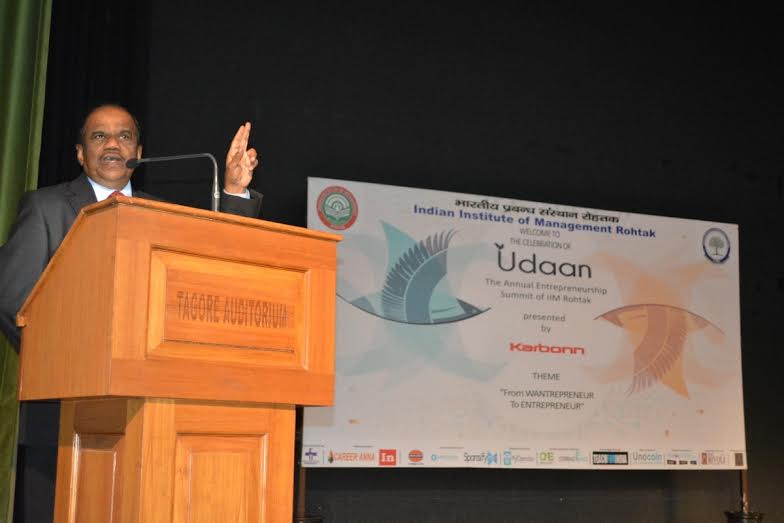 he first keynote address was delivered by Dr Pillai. He talked about the thriving entrepreneurial opportunities in the domains of defence and space. Abhishek Garg spoke about the importance of building trust and value system in ensuring sustainability of any enterprise. Ajay Chaturvedi shared his experience of building HarVa from the ground up and challenges he faced while developing a sustainable business model.
Aakash Gautam , Varun Saxena and Siva Kotthapalli motivated the students to follow their passion, even if it is the path less taken, but cautioned to tread carefully on the slippery slopes of the entrepreneurial journey. They shared their personal stories on the trials and tribulations they faced in their odyssey.
The Keynote speeches were followed by Grand Finale of Ignitus, IIM Rohtak's annual B-Plan competition. Teams from IIM Rohtak and other premiere B-Schools across India such as XLRI, FMS and ISB presented their Business Plans. Prizes worth Rs 4,25,000 were on offer. The event also saw a dance performance by under privileged kids being taught under IIM Rohtak's social initiative 'Every Child in School'.
The eventful day culminated into a band performance by Aagman, a nationally renowned band. Udaan 2015 was sponsored by Karbonn Mobiles, Indian Oil, Unocoin and other major corporate groups. With this event, the IIM Rohtak fraternity embarked on its entrepreneurial journey. Udaan 2015 was a step towards creating managers who will keep entrepreneurship alive in the country and elsewhere.