The Department of Chemical Engineering, IIT Guwahati will organize REFLUX 2016, the Annual Chemical Engineering Symposium from March 25-27 at IIT Guwahati campus. This would be the 4th edition of Reflux.
Reflux, the annual Chemical Engineering Symposium of IIT Guwahati, is organized in the last week of March every year. It has been a pioneer in chemical industrial and the entrepreneurial scene of the country.
The aim of Reflux is to provide an opportunity for budding Chemical Engineers to share scientific expertise and knowledge towards the development of new methods and strategies in different fields of Chemical Engineering. The event is planned to be highly interactive and an excellent learning experience for all the delegates.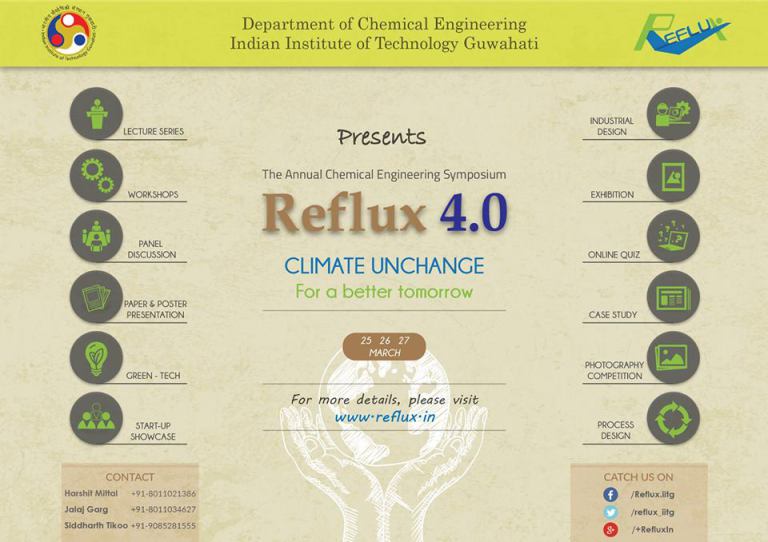 The college has invited lectures, workshops, and a wide range of events, exhibitions, and competitions to be held during these three days along with research paper presentations. Over the years, Reflux has proved itself as a genuine platform to interact with the youth and engage them.
This year's theme for Reflux is "Climate Unchange: For a better tomorrow"
Events to take part in:
Exhibitions
Lecture Series
Panel discussion
Start-up showcase
Workshops
Competitions to take part in:
Case study
Green Tech
Ideation challenge 1.0
Industrial design problem
Mega Quiz
Paper presentation
Photography competition
Poster presentation
Process design problem
Reflux provides a platform to exhibit your project, model or experiment to demonstrate the advancements in Chemical Engineering.
Prizes worth 15000/- and participation certificate to be given.
Source: Darshana Brahma, City Journalist, Guwahati, CollegeDekho