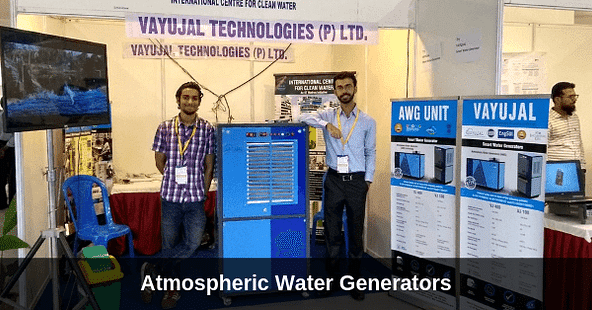 A water harvesting system has been developed by an MS Scholar, PhD Scholar as well as a professor from the Indian Institute of Technology Madras. The invention comes at a time when the city of Chennai faces a critical water crisis. The harvesting system will be able to harvest water from the atmosphere itself.
The water harvesting system, also known as Atmospheric Water Generators (AWGs) was collaboratively worked upon by T Pradeep (IIT Madras Professor) Ramesh Kumar (MS Scholar) and Ankit Nagar (PhD Scholar). The invention comes under Vayujal Technologies Pvt Ltd late in the year of 2017, in September. The water generators aim to utilise the moisture in the air and convert it into drinkable water.
Ankit Nagar stated that the idea came from the Beetle and Banana leaves that soak up the moisture in the atmosphere effectively for their use. The idea inspired them to use Micro Engineering and Nano Technology to come up with a water harvesting system which uses technology that facilitates faster condensation of the water in the air.
Sources state that the water is accumulated using a three-step process. The water is first absorbed through a filter in the machine. The second step includes the condensation process where with the help of "Nano-engineered surfaces", the water is quickly condensed. The condensed and accumulated water is then purified and mineralised for the purpose of making drinking water.
Also Read:IIT Madras Observes Diamond Jubilee in Cities Worldwide
Sources state that the company provides three capacity water generators. They added that currently, a 100 litres Machine has been set up at the campus of IIT Madras along with few other places. The company provides a 400 litre and 2000 litre machine as well. As per sources, the 100-litre machine costs ₹1.5 lakhs. However, the cost to run the machine is around ₹1.5 to ₹2.5 per litre. Ankit stated that the machine has the capacity to run purely on Solar power also, which makes them more efficient and off the grid as well. In the statement made by Ankit, he stated that the water that is made by an AWG is cheaper than a Bisleri water while keeping a similar water quality.
Also Read:IIT Madras Proposes Reformations in Digital Payment Methods
Ankit Nagar informed that the performance of the Atmospheric Water Generators depends on the humidity levels in the atmosphere. For instance, the performance of the machine will be better in a coastal region than in a completely dry region like Rajasthan. He further states that they have deployed a team that has been working on developing a machine that will work more efficiently both financially and energy-wise in an arid region like Rajasthan.