Medical students of G.S.L. Medical College, Rajahmundry organized a flash mob at Pushkar Ghat, Rajahmundry on 31-May-2016. The flash mob was organized on the occasion of World Anti-Tobacco Day. The students participated enthusiastically in various activities and educated the people on health hazards caused by consuming tobacco.
The college students organized a rally from college to pushkar ghat by holding charts and boards related to health hazards caused by tobacco. The students walked for 5 Kms in a form of rally and reached the pushkar ghat and later formed into human chain for few minutes and after that it was time for flash mob. Students educated people on the negative effects of tobacco through flash mob. They danced and performed small skits related to the theme. The students were supported by college faculty. Students demanded the government to ban tobacco through flash mob and rally.
Lots of people gathered at pushkar ghat and watched the performance of students. Students received a lot of appreciation from people for their skits against the usage of tobacco. Students again reached the college from push ghat in a form of rally by displaying charts and boards demanding to ban tobacco. The students were appreciated by College Chairman, G. Bhaskar Rao and faculty members.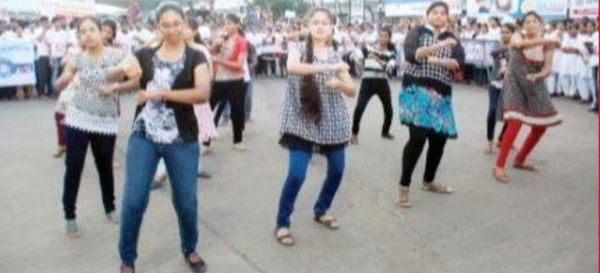 Source: - Sakunth Kumar, City Journalist, CollegeDekho, Vijayawada