Amrita Sai Institute of Technology conducted Mock EAMCET test on 10-April-2016 at college premises for the students of Krishna, Guntur and West Godavari districts. The test received a grand response than expected. Students from Vijayawada, Mangalagiri, Jaggayapeta, Nandigama, Mylavaram, Guntur and Eluru attended the test. According to the report given by the college management, a total number of 583 students took the test out of 620 students who registered for the examination. The papers were evaluated on the spot and prize distribution ceremony was held.
Addressing the students at Prize distribution ceremony, College Principal, Dr. Sasidhar said, "The mock EAMCET is conducted to remove the fear from the minds of students regarding the EAMCET examination. The question was prepared by a bunch of experts in and around Vijayawada. It is happy to see that a lot of students took part in test competitively". He distributed cash prizes to the top-3 rankers of the test.
The top-3 rankers are:
The first rank was bagged by Kota Jaya Shankar of Sai Siddhartha Junior College, Kanchikacherla. He was awarded Rs.10,000 as a cash prize.
The second rank was bagged by C.Jaya Prakash of Sri Chaitanya Co-education College. He was awarded Rs.5000 as a cash prize.
The third rank was bagged R.V Ramana of Deeksha Junior College, Nandigama. He was awarded Rs.2, 500 as a cash prize.
C.Jyothi, a student of Chaitanya Junior College, Nandigama received a consolation prize. She was awarded Rs.2000 as a cash prize.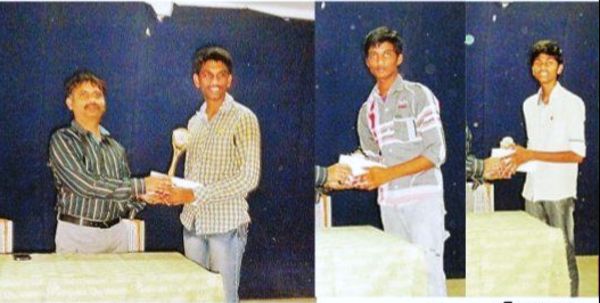 Source: Sakunth Kumar, City Journalist, CollegeDekho, Vijayawada