The President of India, Mr Pranab Mukherjee held a round table discussion on 'Technology, Innovation and Education'on December 17, 2015 at Rashtrapati Bhavan with global industry stalwarts. He stated that there exists heaps of talent in India. The only thing that mars an effective utilization of the same is the edification system, which has to comply as per the needs of present times.
President Mukherjee further added that with over 700 universities, 47,000 colleges and other institutions and over 1.4 million schools, India has an enviable educational infrastructure. There is also no lack of talent or capacity. However, as he has been repeatedly emphasizing in every educational congregation, there is need for more educational institutions to be higher up in the world class rankings. He expressed hope that valuable insights at the forum on transforming the education system through technology and innovation would aid India's policymakers and other stakeholders in this regard.
Mr Mukherjee also said that sharp talent and ability exist in the country, which is also laden with top class institutes. The only thing needed at this stage is to take some positive initiatives, which will satisfy the needs that emerge these days.
"For God sake it is the time for you. If at the age of 80 I try to learn from my grandchildren, you ought to take little initiative to comply with the requirements...," Mukherjee stated while referring to the education system in India.
There was a number of industry honchos that attended the round table discussion, like Snapdeal Co - Founder Kunal Bahl, Google CEO Sundar Pichai, DIPP Secretary Amitabh Kant, Paytm founder Vijay Shekhar Sharma, Hero MotoCorp Joint Managing Director Sunil Kant Munjal etc.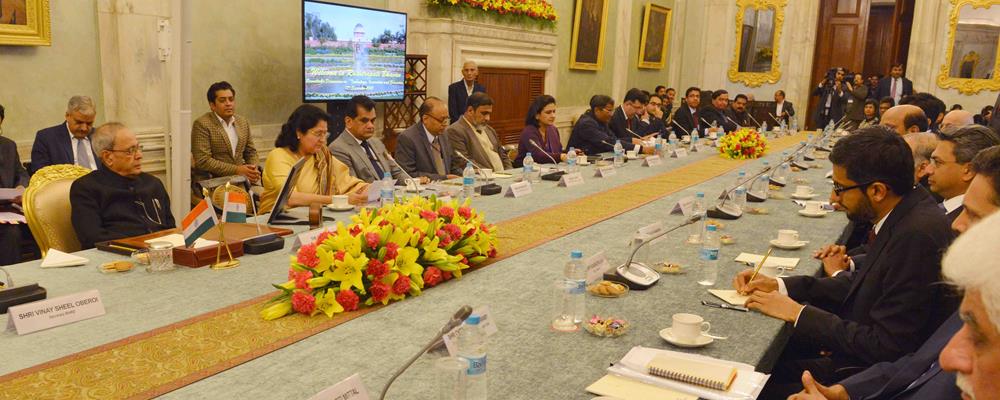 Accepting that not even one Indian institute made it to the top 200 rankings, the President further stated that the edification infrastructure is among the largest.
He added that,"I sincerely thank you, particularly Mr Pichai and many others who have come to participate. The subject on which you have spoken and various views which have emerged, I have no doubt will help the policy makers, administrators of the country...to reach at the core point of finding the solution,".
He mentioned that bright and sharp minds existed in the Indian subcontinent. Even the recruitment at the IITs is cent per cent, proving that there is no dearth of capabilities and talent. "... I used to have meetings with the vice chancellors of universities, directors of IITs, and today I am having a totally new generations of the people, brilliant minds...this inspires confidence," Mr. Mukherjee further added.