The NSS unit of Vasireddy Venkatadri institute of Technology distributed books to the students of government schools at Namburu, Peddakakani and Uppalapadu villages on 6-April-2016. Around 20 NSS volunteers visited the schools and distributed the books to the children.
NSS Volunteers distributed Drawing Books, Moral Stories, and Fantasy Tales to the children as the summer holidays are approaching so that children can spend their time in reading these books.
NSS Coordination, P.Guru Prasad said, "These books were printed by the NSS unit of the college with the support of funds raised by NSS volunteers. College faculty, students, and management donated money for printing these books. The main motive behind distributing these books is to inculcate reading habit among the children. Moreover, moral stories build up self-confidence among children. Drawing books are distributed for students to develop skills in drawing and children could spend their time in drawing during summer vacation".
On this occasion, a popular book called, "Cinnanati Aatalu-Gnapakala Maatlu(Childhood Sweet Memories and games) was distributed to the children which were published by the college. Children thanked the NSS Volunteers of the college.
The school management appreciated the idea of the NSS unit of inculcating reading habit among the children. NSS volunteers thanked the school management for their support and spent some time with the children and interacted with them.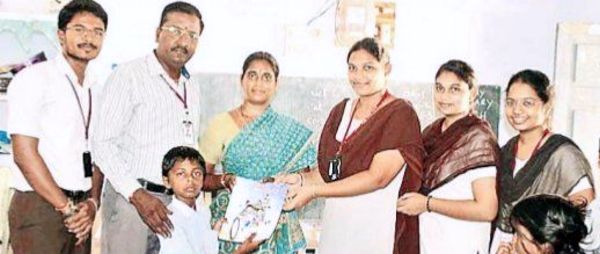 Source; Sakunth Kumar, City Journalist, CollegeDekho, Vijayawada.