SP Jain School of Global Management (SPJSGM) offers a Master in Global Luxury and Services Management (MGLuxM) course, which is paving the way for students to start a career with international luxury brands. Almost half the students of this course have found internship opportunities with popular luxury brands even before they have graduated from the course.
SP Jain MGLuxM Overview
SP Jain offers the MGLuxM course in partnership with the MIP Politecnico Di Milano, Milan, Italy, which is the top institute for Luxury Management in Italy. Hence, the course presents a unique opportunity to learn about the Indian luxury sector followed by practical exposure in Milan -- the global capital for luxury and fashion. Students of this course also get to be a part of regular study tours organised to European cities such as Paris, Champagne, Geneva, Neuchatel, La Chaux de Fonds and Florence.
As per Ms Smita Jain, the Director of MGLuxM at SPJSGM, the course is an amalgamation of the Indian and Italian worlds of luxury. The course takes luxury education one step forward by challenging the students to find its roots, which helps the students to stay ahead of the curve.
SP Jain's MGLuxM is a full-time 1-year course offered in 3 semesters. At the end of the course, students are awarded the 1st level Specializing Master in Global Luxury Goods and Services Management from Politecnico de Milano.
Students of this course get to spend the first 6 months of their education in Mumbai and the next 4 months in Milan, Italy. For the last 2 months, candidates are required to undertake a live industry project which they can complete in Mumbai or Milan.
SP Jain MGLuxM Career Opportunities
In a recently released press release, SP Jain has provided more information about the course and the career opportunities it offers. SP Jain has specified in the press release that 40% students of the 2019-20 batch of this course have already been awarded internship opportunities.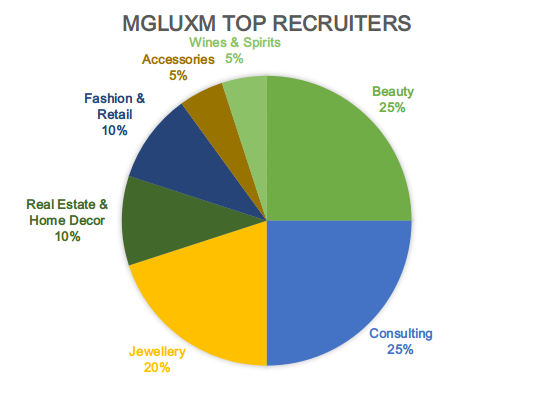 The graph shows the various sectors to which the top recruiting companies of MGLuxM at SP Jain belong. The course attracts a very wide array of companies providing Luxury Goods and Services around the globe.
The top recruiting companies include:
Nykaa
Mercedes-Benz
Reliance Brands Limited
Gucci
Audi India
Estee Lauder Companies etc.
Job Opportunities
The most common profile for which students of the MGLuxM course are recruited is Marketing and Sales. Some other most common job opportunities for the students include:
Public Relations
Research Analyst
Content Writing
Business Development etc.
Also Read:Explore the New Age Career in Luxury Brand Management
How to Apply for MGLuxM Programme at SP Jain
Candidates interested in applying for the course must fill the online application form of the institute. Applications to SP Jain can also be submitted by filling the Common Application Form (CAF). For any assistance or queries, call on our helpline number 18005729877.
Stay tuned to CollegeDekho for the latest news and updates!