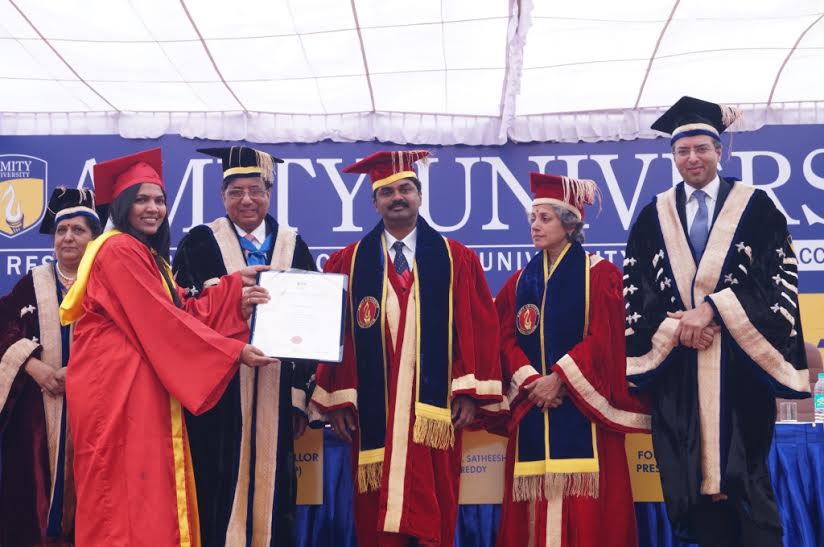 11th Convocation of Amity University which is spread over three consecutive days- wherein more than 12,000 successfully qualified Graduands of several Programs would receive their UG and PG Degrees, Diplomas, Trophies and Medals commenced today.
During the first day, a total of 3,500 Graduands from Science, Engineering & Technology, Life Sciences and Biotechnology Domains received their Degrees and Diplomas. Around 226 meritorious Graduands received Gold, Silver and Bronze Medals, Corporate Awards and Salvers.
The grandeur procession comprising of Trustees of the Board, Senior Members of the Management, Head of the Institutions, Departmental Heads and Senior Faculty members entered the Convocation Hall accompanied by the band of pipers humming the traditional celebration song, marking the commencement of the Grand event.
Blessing the graduands, Dr. Ashok K Chauhan- Founder President, Amity Group said that the alumni of Amity are distinguished and addressed them as Amity's Amazing Achievers.
During the convocation, eminent personalities including Dr. G Satheesh Reddy- Scientific Advisor to Raksha Mantri- Ministry of Defence, Government of India and Dr. Soumya Swaminathan- Director General, Indian Council of Medical Research and Secretary, Department of Health Research were conferred with Honorary Doctorate Degrees in Science.
Atul Chauhan- Chancellor, Amity University Uttar Pradesh declared the 2015 batch of 11thConvocation open.
Welcoming the gathering, Dr. Balvinder Shukla- Vice Chancellor, Amity University Uttar Pradesh presented a brief report of the University in which she touched upon key achievements and initiatives that have been taken during the year 2014-2015 including new programmes launched in cutting edge technologies, breakthrough research work done by Scholars and Researchers, various research projects given to Amity by Department of Science and Technology and several ministries of Government, research papers presented by faculty members in National and International Conferences and Seminars and other milestones achieved by Amity University.
During his acceptance speech, Dr. G Satheesh Reddy expressed his gratitude to entire Amity fraternity for bestowing the honor on him.
Accepting the Honorary Doctorate, Dr. Soumya Swaminathan said, "It is my privilege to receive the Honorary Doctorate from Amity University which has been playing an important role by developing potential and talent of thousands of students."
During the second day of convocation, over 3000 Graduands from management domain will receive their Degrees and Diplomas.