Union Minister of Human resource Development, Smriti Irani visited KBN College on 7-June-2016 and interacted with the students. Students of various colleges of Vijayawada were present at KBN College for the interactive session.
Addressing the students, she said that "The government at central level is keen on improving the quality of education especially of a girl child. It has bought several initiatives which would cater with the needs of students of school education and professional or technical education. 9 out of 11 Universities have already started functioning in the state which means that the center is committed in extending necessary support in development of the state".
She also mentioned that "Girls students must draw inspiration from their mothers, aunts and teachers. One need not to look out for inspiration other than their houses. We have many challenging women in our surroundings who succeeded after a severe struggle. Every woman should stand an inspiration for the rest of them around".
When a student posed a question about how the higher education system in that cannot bring under a single roof, Smriti said, "India is a country with diversification and specialized set of values. Anything like bringing out the entire system of higher education under a segment would be disrespecting the federal system of the country. We have sought 70 percent of the core curriculum to be the same for all and moreover, we cannot force any state to follow the suit, in regard to this".
Finally she concluded that "It is a credit to the government that every school in the country now has functional rest rooms for girl students to encourage them pursue higher education and continue education. This initiative has been implemented across the country within a period of one year which is obviously preventing girl students to stand out of schools".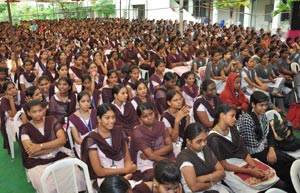 Source: - Sakunth Kumar, City Journalist, CollegeDekho, Vijayawada