"There is a huge gap between Education & Employment in India. I want to bridge that gap by imparting Employability skills" , says Mrs. Harsha Sharda an Entrepreneur, a Soft skills Trainer, Founder of "Personality Mantraa", a Communication and Personality Development Institute at Raipur.
Mrs. Harsha Sharda chats with CollegeDekho, on the need to train students on soft skills and communication.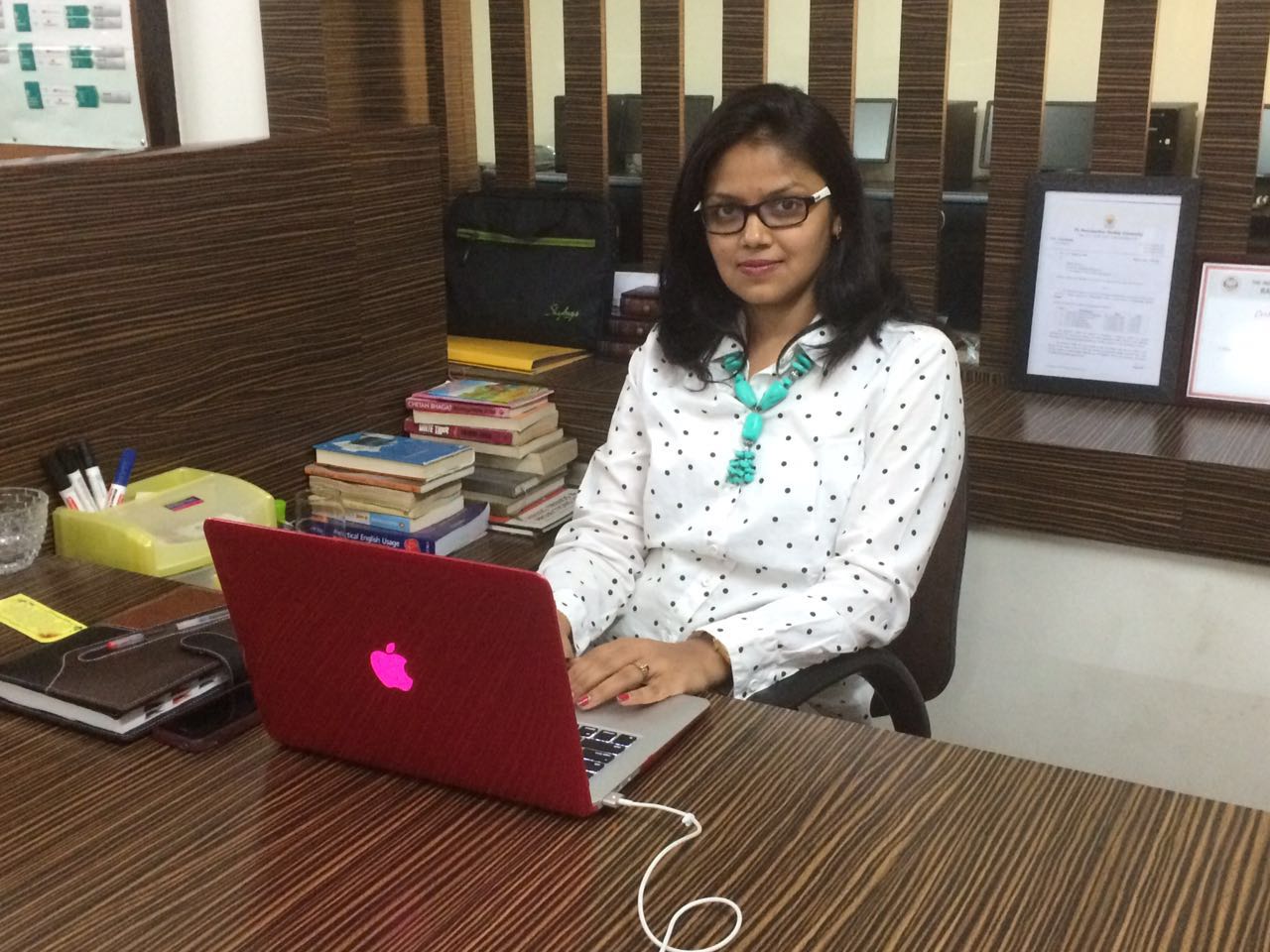 Excerpts from the interview:
How did the idea of becoming a soft skill trainer & starting your venture occur to you?
Firstly I would like to thank you and Collegedekho.com for recognizing our efforts and work in student development areas and interviewing me today. After completing my MBA from Birla Institute of Management Technology, Greater Noida (UP) and after a stint in the corporates, I switched to academics out of my sheer passion of teaching and training and served a reputed institution as an Assistant Professor in Management. I realized that there is a huge gap between education and employment. I started working as a soft skills trainer and a management coach on my own. I got associated with Institute of Chartered Accountants of India, ICSI and several educational institutions to deliver training programs for their students. Eventually, at my students persistence and my family's immense support and motivation, I took a leap of faith and started my institute "Personality Mantraa" with a vision to turn individual's aspirations to reality.
What kind of courses you deliver at your institute?
We are an exclusive institute in Raipur, Chattisgarh delivering professional Courses on Communication Skills and Personality Development. We have in-house classroom courses such as Communicate Ready- An Exclusive Communication skill course, Career Ready- A group Discussion/ Personal Interview Preparation course, & Life Ready- a holistic Personality Development course. We cater to the needs of students, professionals, home makers and anyone who wishes to achieve personal and professional growth. We also offer power pack training sessions and seminar series on extensive topics of soft skills and personality development for educational institutes, University, Government and Non-Governmental bodies. I have successfully delivered more than 500 sessions to our esteemed clients and trained nearly 10000 trainees till date.
How did you start taking sessions at Pt. Ravishankar Shukla University, Chhattisagarh?
I read a news covering the issue of poor placement ratio of students in Pt. Ravishankar Shukla University. It was stressed on how due to lack of communication skills, poor English and an unimpressive personality of students resulted in poor performances in their interviews. Being an alumni of the University, it wrecked me and at the same time triggered an urge to reach out to those intelligent but needy students in order to better their chances of placement. I contacted the University Placement Division and volunteered for my free services as a soft skills trainer, since my concern was to make a difference in students lives in whichever way I could.
Thanks to Honb'le Vice Chancellor Mr. S.K. Pandey and Dr. Ninad Bodhankar (Placement Cell Head) for permitting us to conduct trainings, we successfully delivered seven interactive interview and communication skills seminars across multiple schools within the University. The response from the students was overwhelming and very positive and they expressed that such sessions should be conducted on regular basis for their skill development.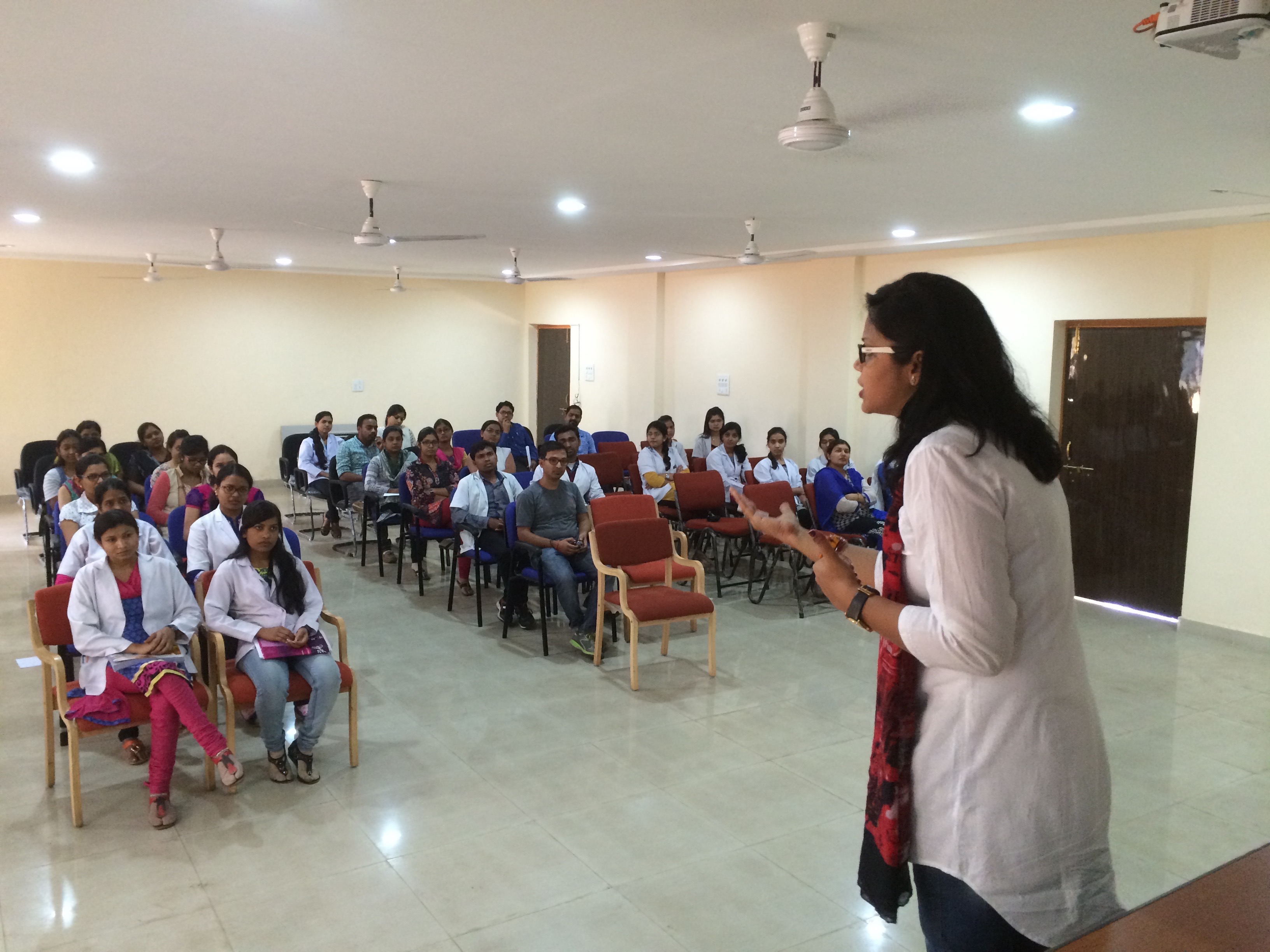 With regard to the students you are dealing with, what differences have you observed between the students of Raipur and students coming from a metro?
I observed that students of Tier 3 cities are as intellectually capable as student's of a metro. The difference lies in presentation and articulation, composure and confidence. Our students are well driven and talented but lack in the communication skills, English Speaking skills, fearful about expressing their thoughts and ideas publicly. Given a conducive environment, I am confident that they will propel to great heights.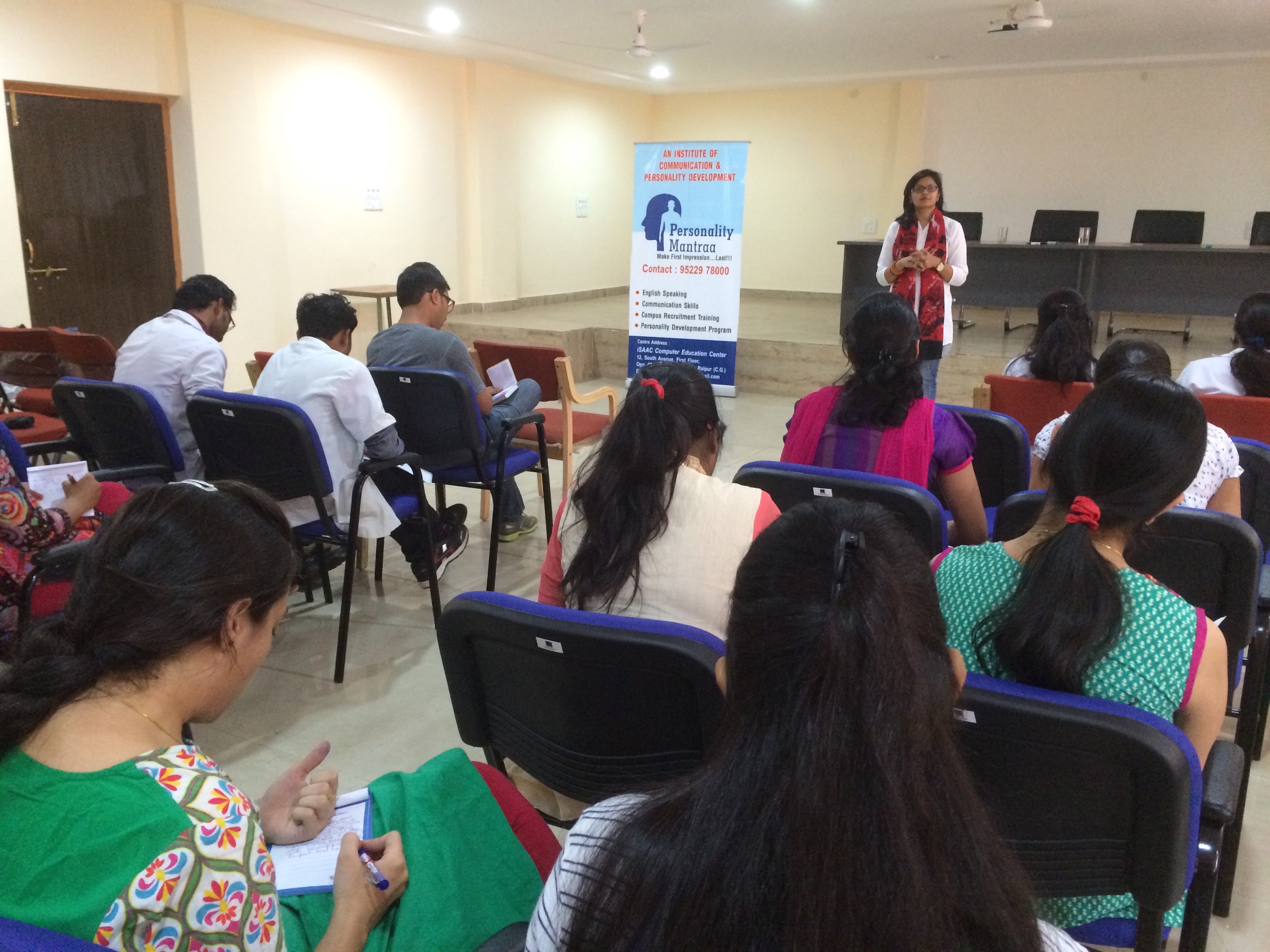 How they can overcome these difficulties?
I strongly believe that students must try to develop their Independent opinions as a first step towards being confident. I suggest students to get into habit of reading anything of their interest areas, may be a fiction, magazine, news paper or a blog. Keep tabs on current trends and affairs. And most importantly to develop Communication Skills, Presentation Skills and Goal setting ability in order to grow personally and professionally, guided by an able mentor if possible.
Public speaking is a talent, how do you ensure that the students are motivated and connected with your training session?
I advice students to create their own environment, where they can fruitfully discuss their ideas and share opinions. I tell them to record their achievements.
Can you share a real life experience where the students successfully implemented what you taught to them?
There are many such instances where my students have fulfilled their aspirations. I have coached qualified Chartered Accountants as well as Engineers for their Interviews and Group Discussions. They have successfully cleared their interviews for BIG 4's Accounting firm and in Giant IT Organizations. When they share their experiences, it is the actual reward and nothing can be more fulfilling seeing your trainees basking in the glory of success.
What kind of students generally come to you?
Let me tell you one thing, there is a mind set myth that only weak students need personality grooming or soft skill training, but that is not true. Because I have seen students who have a very good IQ but they really cannot explain what they know. So today it's a need of each and every student. Since in current times a degree or a professional qualification is just a gate pass to that interview , one requires 85% soft skills and 15% technical to step the ladder of professional success?
Students here mostly come from remote areas they don't have a good graso of English, how you teach/ train them?
Many times, even in vey professional and established forums, people suggest me to speak in Hindi more while training, since they think student's won't understand English. But I deliver 90% in English and the students are successfully able to drive home the point through effective body language and storytelling abilities. Amazingly, students are able to grasp every bit of content and are inspired to inculcate their own communication skills. They may not be fluent speakers but have good understanding of language.
What kind of activities do you conduct in your sessions?
I generally start with ice breaking exercises where we make trainees comfortable and open. We have intensive and fun activities in our sessions to ensure participation and interaction. I analyze my audience expectations and embed exercises accordingly in my training so that the content could be internalized and retained in their memory for future actions.
What is your view point on our Education system?
I suggest that the Higher Education system should actively embed soft skills and communicative English classes as a part of regular curriculum and get it implemented by an expert mentor in spite of the regular subject teachers. Unless the soft skills is treated with equal credentials just like other technical subjects, we will fail to motivate students to take it seriously for their own personal and professional growth.
Do you feel that today's youth is directionless and fail to make wise career choices despite of living in era of internet and strong communication mediums? Do you help students in this regard as well?
Certainly we are fortunate to live in a time where we have easy access to any information on the tip of our fingers, but at the same time students get confused with multitude of career options, courses and streams. I do have students coming to seek career counselling for their higher education. There is a strong need of a guidance system which not only tell them about the courses and colleges but also provide a personality and psychometric analysis which in turn would help them to find their dream career path. I must congratulate CollegeDekho.com web portal for coming up with such an innovative and user friendly interface platform to assist our local students in step by step college search process. In fact, I have even referred it to numerous students to visit this website for their college and career related search needs.
Any message for our students?
"If you want to make a living, work on your job; but if you want to make a fortune, work on yourself", - Jim Rohn. My message to the students is that we may all not born equally talented but God has given us all equal opportunities to develop our talent. So take the onus of life on yourself and stop fretting about luck and resources and set out on a journey of learning a new skill or ability every single day on your way to success. All the best for your future endeavors. Thanks.
Source: Kshama Sharma, City Journalist - Raipur, CollegeDekho