The Electrical Engineering Department of ShriRamdeobaba College of Engineering and Management has organized one week, I.S.T.E. short-term training program on microcontroller dsPIC33EP256MC202 and its applications for engineering college teachers and M.Tech students.
The program was inaugurated on 28th December 2015 by hands of Dr. M.V. Aware, Professor, and Ex-HoD of Electrical Engineering VNIT, Nagpur. The inaugural program began with SaraswatiVandana sung by Ms.Bhavika Shah followed by the lighting of the traditional lamp. During this program, the Principal Dr. Rajesh Pande, the HoD Prof. V.T. Barhate, STTP coordinators Dr. M. M. Renge and Dr. SanjayBodkhe were prominently present. Prof. Renge introduced the audience about the objectives of this workshop. He informed that 30 faculty members from other engineering colleges are participating in this workshop. The course content is designed to cover theory as well as practical aspects. The HoD Prof. Barhate hoped that this workshop will benefit the participating teachers from other colleges in Nagpur to gain knowledge and consequently shall further enhance the quality of U.G. and P.G. projects guided by them.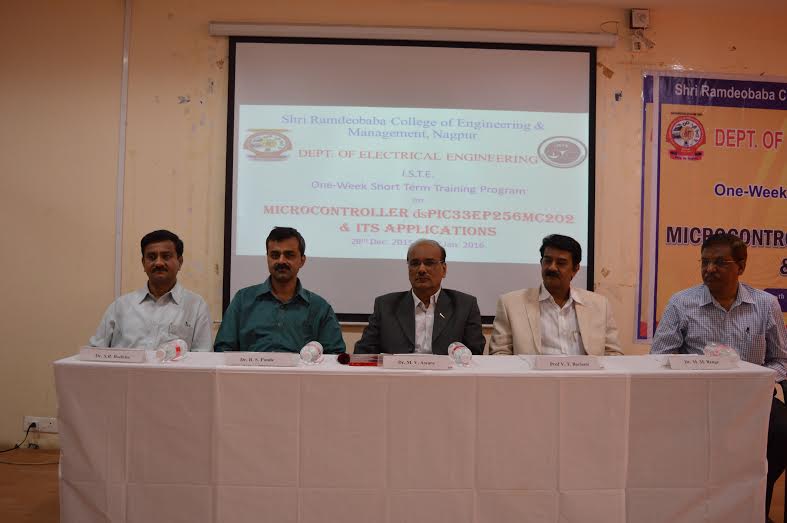 In his presidential address, Dr. R. S. Pande congratulated the organizing team and participants. He informed that during this winter vacation period, the faculty members of various departments at RCOEM are utilizing their time for knowledge up gradation and knowledge sharing by organizing such workshops which show that the academic environment at RCOEM is truly vibrant.
Prof. M. V. Palandurkar introduced the chief guest to the audience and Prof. R. G. Deshbhratar delivered the vote of thanks. The inaugural program was hosted Mr. AnuragKhergade and Ms. Bhavika Shah.
The chief guest Prof. M. V. Aware who was also the keynote speaker on the first day highlighted the recent development in electrical drives. Noted experts from and around Nagpur like Prof. HemantDiddee, Energy Auditor, Dr. P. P. Bedekar from Govt. College of Engineering, Amravati, Dr. H. M. Suryawanshi, Dean (R&D) from VNIT and Mr. Sandeep Sonaskar, Entrepreneur have consented to share their knowledge and experiences during this workshop. In addition, the in-house faculties Dr. M. M. Renge and Prof. U. B. Mujmdar are also conducting their sessions during this program. The most outstanding feature of this workshop is that the P.G. Students of M.Tech (Power Electronics Power System) program are conducting the laboratory sessions to give hands-on experience to the participants.