Allahabad University's administration consulted with the district administration to put a ban on the procession of Holi by the hostellers. The inmates take out processions round the week, leading up to the Holi day creating a nuisance and spreading vulgarity on roads.
The orders, instructing the inmates of all the hostels to refrain from procession outside their respective hostels, have been issued. The wardens and the superintendents of various hostels attended the meeting. They even asked to instruct inmates of their respective hostels to celebrate the festival only on their hostel premises and not to move out on the roads in a procession. But the practice is continuing despite the fact that the University authorities have issued such instructions.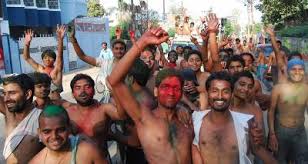 The inmates first play Holi in their hostel campus and then come out on roads. They do obscene dancing on vulgar songs. They even hire DJ's and take a full round of the road passing from the KPUC hostel gate to women's hostel campus causing traffic jams.
Although the practice has been followed by the inmates for the past several years now, the university authorities have not done much to restrain the students who in the name of celebration earn a bad name for the university. Action would be taken against the owner of the DJ's who would lend their equipment to Holi revelers as the district administration would not only fine them but also seize their equipments, said a communiqué issued by AU authorities on Thursday, i.e. on the 17th. of March, 2016.
Source: Khatibah, City Journalist - Allahabad, CollegeDekho.