IIM Rohtak, in collaboration with Institute of Management Studies and Research (IMSAR), MDU Rohtak organized a national seminar on the topic "Mentoring Aspiring Entrepreneurs for International Business" on 16th Feb, 2016.
The importance of creating an ecosystem to nurture the ideas of budding entrepreneurs was the centerpiece of the seminar.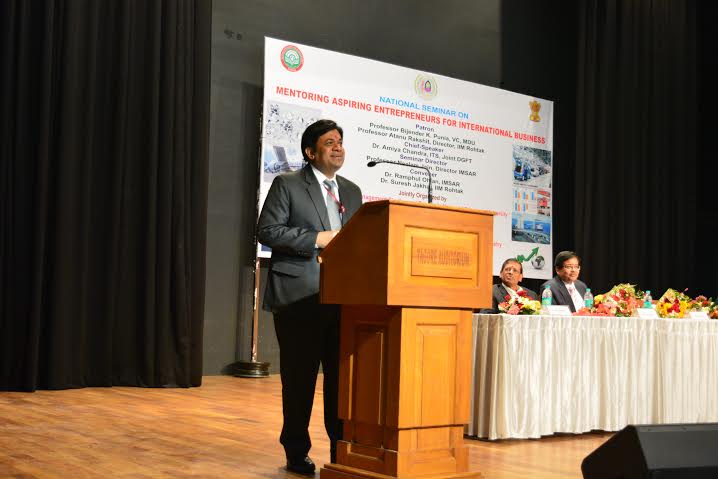 The seminar was flagged off by Dr Atanu Rakshit, Director, IIM Rohtak, Dr Bijender K. Punia, Vice Chancellor, MDU, Dr Neelam Jain, Director, IMSAR, MDU, and the chief guests. In his welcome address, Dr Suresh Jhakar, Professor, IIM Rohtak, stressed upon the importance of collaboration between IIM Rohtak and IMSAR, MDU to bring the entrepreneurial dreams of budding entrepreneurs to fruition. Eminent guests including Mr Amiya Chandra, Director General of Foreign Trade, and Dr Damodar Golher, Professor, Western Michigan University inspired the students of both the institutes to do what they love in the pursuit of their dreams.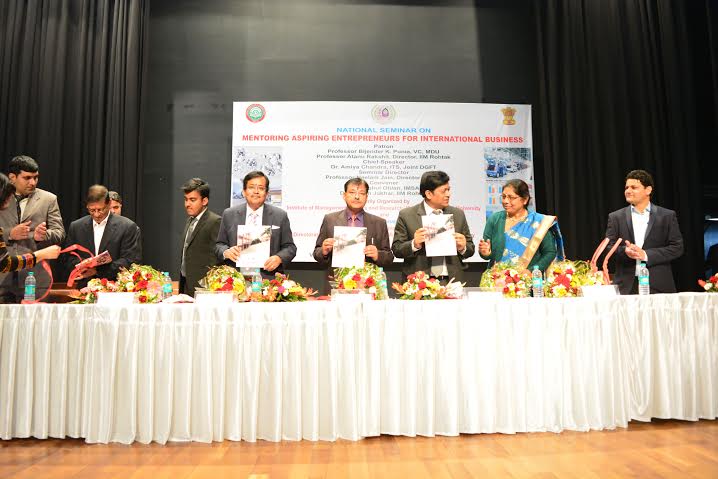 Dr Punia said that every business is an international business. He underlined the pressing need for students to strive to become job creators instead of becoming job seekers. Dr Atanu Rakshit touched upon the importance of the role of educational institutes in realizing the dream of 'Startup India; Standup India'. "Dreaming big and filling the gaps in the needs of customers with creativity are vital in ensuring entrepreneurial success", said Dr Neelam Jain.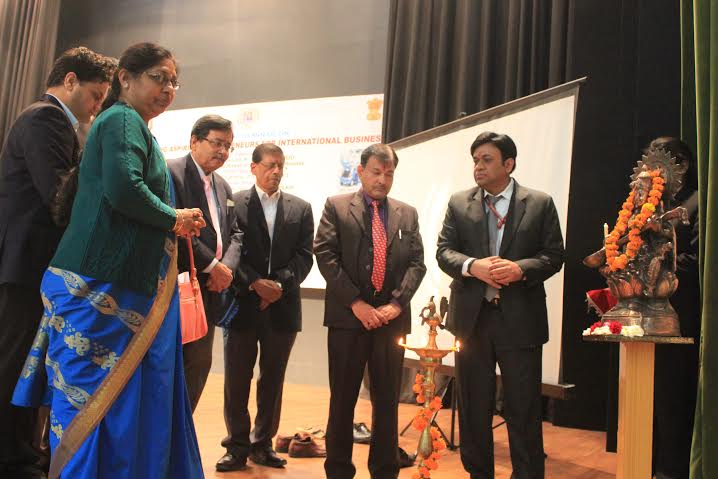 Dr Amiya Chandra, in his keynote address, emphasized the significance of learning from failures. He also mentioned that commitment and vision play a pivotal role in the success of the ventures. Mr Chandra also reminded the students of their contribution in taking India from the status of a follower to leader.
Dr Damodar Gohler elaborated the importance of shifting from pursuit of optimal solutions to the pursuit of feasible solutions. He also spoke about the ever-increasing relevance of nurturing a culture of greater collaboration between educational institutes and the industry.
The national seminar kindled entrepreneurial spirits among the students. It culminated into students asking various questions to the panelists. IIM Rohtak and IMSAR committed to a stronger collaboration in helping the students realise their entrepreneurial dreams.