Education awareness has drastically improved among women in the past decade. Girls have started showing their interest in education and have been walking alongside boys. There are Indian states where girls outperform boys be it board exams, competitive exams or jobs.
Ranju Kumari is yet another example who has shown the extent of women's passion and perseverance for education. A resident of Muzaffarpur in Bihar, Ranju walked right out after delivering her second child and rushed to the examination hall to appear for her B.Ed. exam.
Time was cruel when it tried to test the strength of Ranju. As she was about to get ready for her exam on Saturday, August 13, labour pain clenched her abdominal muscles and she was taken to a hospital where she delivered her child.
Also Read: Top 5 Self Made Women
Without caring about her fragile condition and leaving her newborn behind, she left in the ambulance to appear for her exam. Just one and a half hour after giving birth to her baby boy, Ranju disregarded the doctors' advice and left to sit for her Bachelor of Education (BEd) examination.
Despite the fact that Ranju was 30 minutes late, she did not lose hope. Impressed by her strength and determination, Mamta Rani who was the superintendent of the center allowed Ranju to appear for the exam.
"We salute her dedication to studies. She has proved women's awareness towards studies has increased," said Rani.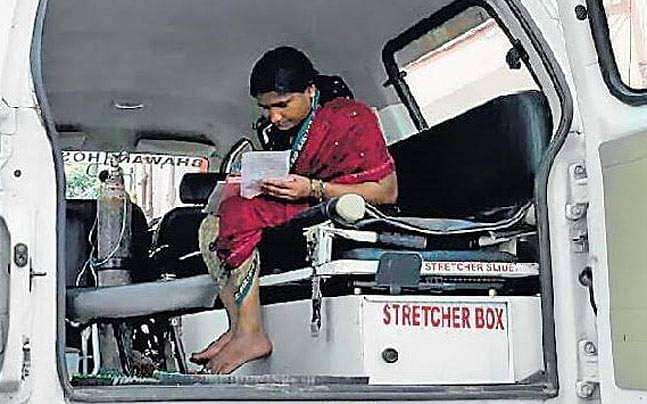 Image Courtsey: India Today
Ranju wanted a good education for herself so that she could take care of her children in the best possible way. Her confounding willpower made her forget the excruciating pain she had endured in childbirth and pushed her to appear for her exam.
Also Read:Top 7 Inventions by Women Which Reframed the World
With an invigilator inside the ambulance, Ranju gave her exam. Regardless of how the result of the exam turns out, Ranju has made womankind proud.
Let's see some of the events that have brought glory to womankind in 2016 in the field of education:
Amisha Chawla of Indian Institute of Management-Ranchi (IIM-R) bagged a package of Rs. 55 Lakh.
Ishita Basu, Pallavi Dani and Vaishali Sabherwal from Indian Institute of Management Lucknow (IIM-L) won the Yes Bank Aspire Scholarship worth Rs. 2 lakh each.
Girls outperformed boys in class 10 and 12 board results.
Neha Mishra of Lucknow secured the first rank in the National Institute of Fashion Technology (NIFT) entrance test 2016.
Annie Vinod Manjila of Christ University, Bengaluru got 99th percentile in her first GMAT attempt, scoring 760 out of 800 marks.