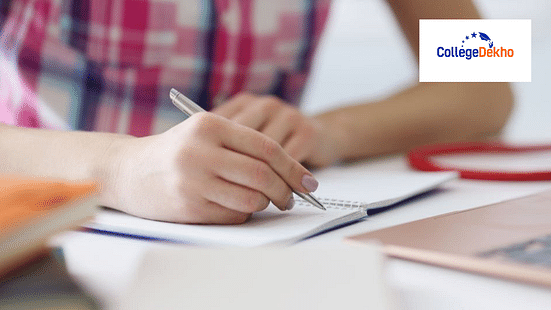 NEET vs JEE: One of the most common questions students from the Science stream have after passing the 12th Board exams is 'NEET vs JEE – Which is better?'. JEE and NEET are considered two of the toughest entrance examinations in India. NEET is for aspirants looking to pursue a career in the Medical field while JEE is for candidates who want to build a career in the field of Engineering. While both exams are conducted at the national level, the difficulty level of NEET is relatively tougher than JEE Mains but easier than JEE Advanced owing to the limited number of seats and high competition among the students. This article overviews a detailed comparison of NEET vs JEE – Which is better? Candidates can check the key differences between the two exams and analyze the difficulty level of both to make an informed decision.

Quick Links
What is NEET?
NEET or National Eligibility cum Entrance Test is a national-level entrance examination conducted for candidates aiming for Undergraduate and Postgraduate degrees in the medical field, such as MBBS/BDS/MS/MD. Students qualifying the NEET exam are eligible for admission to various government and private medical colleges in India. The exam is conducted annually by the National Testing Agency (NTA). For the upcoming session, the
NEET 2024 Exam
is scheduled to be conducted on
May5, 2024
.
What is JEE?
JEE or Joint Entrance Examination is a national-level entrance exam conducted for admission of eligible students to the top Engineering colleges in India. JEE Main is conducted by NTA for admission to NITs, IIITs, and GFTIs. Candidates qualifying the exam and securing a position among the top 2,50,000 rank holders are then considered eligible for JEE Advanced administered by the 7 IITs. The
JEE Main 2024 Exam
is likely to be conducted in
January and April 2024
.
Also Read: JEE Main 2024 Maths Chapter-wise Topics with Weightage - Download PDF Here
NEET vs JEE – Key Differences
While the major difference between NEET and JEE is undoubtedly the field of study, there are other dissimilarities in terms of the exam pattern, syllabus, frequency, eligibility etc. that aspirants must be aware of before they start their preparations. The table below highlights the NEET vs JEE key differences –
Parameters
NEET
JEE Main
Name of the Exam
National Eligibility cum Entrance Test
Joint Entrance Examination (Main)
Field of Study
Medical
Engineering/Architecture
Exam Mode
Offline (Pen and Paper-based)
Online (Computer-based Test)
Frequency
Once a year
Twice a year
Purpose
Admission to UG and PG level Medical courses in private and government colleges
Admission to UG level Engineering/Architecture courses in 31 NITs, 26 IIITs and 38 GFTIs in India

Also serves as the gateway to JEE Advanced
Subjects
A single paper on Biology, Chemistry, and Physics
Paper 1: Chemistry, Physics, and Mathematics

Paper 2: Aptitude, Mathematics, Drawing and Planning

Marks Allotted
720
300
Eligibility Criteria
Minimum percentage of marks in 10+2:

General - 50%
OBC - 45%
ST/SC/PWD - 40%

Minimum percentage of marks in 10+2:

General - 75%
Reserved - 65%

NEET vs JEE – Eligibility Criteria
NEET vs JEE eligibility criteria
include parameters, such as the candidate's age limit, educational qualifications, qualifying marks, number of attempts, and so on. Candidates can check the detailed eligibility criteria for both exams in the section below –
Parameters
NEET Eligibility Criteria
JEE Main Eligibility Criteria
Nationality
Must be an Indian citizen

Overseas Citizens of India (OCI) are also eligible to apply
Must be an Indian citizen

Foreign nationals, NRIs, OCIs, and PIOs are also eligible to apply
Age Limit
Minimum age criteria: 17 years
No maximum age limit
No age limit applicable
Educational Qualifications
Candidate must have passed 10+2 with a minimum of 50% aggregate marks (45% for OBC candidates; 40% for SC/ST/PWD candidates)
Candidate must have passed 10+2 with a minimum of 75% aggregate marks (65% for Reserved category candidates)
Number of Attempts
No restrictions within the specified age limit
Twice a year, for 3 consecutive years
Also Read: 7 Easy Steps to Score 95+ Percentile in JEE Main 2024
NEET vs JEE – Syllabus
Candidates intending to appear for either of the two exams must be well-versed with the
NEET vs JEE syllabus
. The subjects included in the syllabus of JEE and NEET are different except for the Chemistry and Physics sections. However, the topics included in the
NEET 2024 syllabus
and
JEE Main 2024 syllabus
are based on the curriculum of Classes 11 & 12. Students can check the detailed syllabus of the two entrance tests in this section to ace their exam preparations.
NEET 2024 Syllabus
Here is a look at the subject-wise NEET 2024 syllabus –
Subject
Topics from Class 11
Topics from Class 12
Physics
Physical World, Units and Measurement
Electrostatics
Laws of Motion
Magnetic effects of Current and Magnetism
Kinematics
Current Electricity
Work, Energy, and Power
Electromagnetic Induction and Alternating Currents
The Motion of Systems of Particles and Rigid Body
Electromagnetic Waves
Thermodynamics
Atoms and Nuclei
The Behaviour of Perfect Gas and Kinetic Theory
Electronic Devices
Gravitation
Optics
Properties of Bulk Matter
Dual Nature of Matter and Radiation
Oscillations and Waves
-
Chemistry
Some Basic Concepts of Chemistry
Solid State
Classification of Elements and Periodicity in Properties
Electrochemistry
Structure of Atom
Solutions
Chemical Bonding and Molecular Structure
Chemical Kinetics
Thermodynamics
General Principles and Processes of Isolation of Elements
Equilibrium
P Block Elements
States of Matter: Gases and Liquids
Surface Chemistry
Redox Reactions
D and F Block Elements
Hydrogen
Coordination Compounds
s-Block Elements (Alkali and Alkaline Earth Metals)
Haloalkanes and Haloarenes
Organic Chemistry – Some Basic Principles and Techniques
Aldehydes, Ketones and Carboxylic Acids
Some p-Block Elements
Alcohols, Phenols, and Ethers
Hydrocarbons
Organic Compounds Containing Nitrogen
Environmental Chemistry
Biomolecules, Polymers, and Chemistry in Everyday Life
Biology
Structural Organization – Plants and Animals
Genetics and Evolution
Cell Structure and Function
Biology and Human Welfare
Diversity in the Living World
Reproduction
Human Physiology
Ecology and Environment
Plant Physiology
Biotechnology and Its Applications
Also Read: NEET 2024 Exam Date - NTA NEET UG 2024 Dates, Latest Update, Eligibility Criteria, Preparation Tips
JEE 2024 Syllabus
Check out the complete JEE 2024 syllabus for Papers 1 and 2 in this section –
PAPER 1 – PCM
JEE 2024 Physics Syllabus
Subject
Section A
Section B
Physics

Physics and Measurements

Kinetic Theory of Gases

Thermodynamics

Properties of Liquids and Solids

Gravitation and Rotational Motion

Work, Energy & Power

Laws of Motion

Oscillations & Waves

Alternating Currents and Electromagnetic Induction

Radiation and the Dual Nature of Matter

Electronic Devices

Nuclei and Atoms

Electrostatics

Current Electricity

Electromagnetic Waves

Optics

Communication Systems

Magnetic Effects of Current and Magnetism

Kinematics

Venier Callipers

Screw Gauge

Simple Pendulum

Metre Scale

Young's Modulus of Elasticity

Ohm's Law

Potentiometer

Focal Length of Convex & Concave Mirror, Convex Lens

Diode Identification
JEE 2024 Chemistry Syllabus
Subject
Physical Chemistry
Inorganic Chemistry
Organic Chemistry
Chemistry

Basic Concepts in Chemistry

Molecular Structure & Chemical Bonding

The States of Matter

Electrochemistry & Redox Reactions

Chemical Kinetics

Surface Chemistry

Equilibrium

Atomic Structure

Chemical Thermodynamics

Solutions

Environmental Chemistry

Coordination Compounds

Block Elements – f, d

Hydrogen

Process of Isolation of Metals & General Principles

Classification of Elements & Periodicity in Properties

S- Block Elements: Alkali and Alkaline Earth Metals

P-Block Elements

Hydrocarbons

Bio-Molecules

Polymers

Organic Compounds Containing Halogens

Basic Principles of Organic Chemistry

Characterization of Organic Compounds & Purification

Principles Related to Experimental Chemistry

Organic Compounds Containing Oxygen, Nitrogen

Chemistry in Everyday Life
JEE 2024 Mathematics Syllabus
Subject
Topics
Mathematics

Quadratic Equations & Complex Numbers

Determinants & Matrices

Permutations & Combinations

Series & Sequences

Integral Calculus

Probability & Statistics

Vector Algebra

Mathematical Reasoning

Sets, Relations & Functions

Binomial Theorem & its Simple Applications

Mathematical Induction

Continuity & Differentiability, Limit

Coordinate Geometry

3-Dimensional Geometry

Trigonometry

Differential Equations
PAPER 2 Architecture & Planning
Paper 2A – B. Arch
Section
Topics
Aptitude

Awareness - persons, buildings, materials, objects

Texture related to architecture

Visualizing three-dimensional objects from two-dimensional drawings

Analytical reasoning, mental ability

Three-dimensional perception

Transforming three and two-dimensional forms

Drawing

Sketching of scenes and activities from memory of urban, rural landscape
Paper 2A – B. Plan
Section
Topics
General Awareness

General knowledge questions regarding prominent cities

Government programs and development issues

Social Sciences

Democracy, Power sharing, Constitution of India

Nationalism in India, Idea of Nationalism, Industrialization, Resource and Development, Natural economy, Human settlements

Economic development - globalization, economic sector, social exclusion, rural development, colonial cities

Analytical Skills

Comprehension, Map reading skills, graphs and tables

Basic concepts of statistics and quantitative reasoning
Also Read: NEET 2024 Syllabus PDF - Direct Link to Download NEET 2024 Subject-Wise PDF
NEET vs JEE – Which is Tougher?
Going by the detailed NEET vs JEE syllabus, both exams can be labelled as difficult to crack. Moreover, the limited availability of seats and the increasing number of applicants each year make it all the more challenging for the students. Statistically, the number of seats offered at medical institutes is far less than those available at engineering colleges in India. Keeping these in mind and going by the previous year's
NEET vs JEE exam analysis
, NEET is slightly tougher than JEE Mains. However, when it comes to JEE Advanced, students may find NEET easier to qualify owing to the complex question pattern and high competitiveness among peers to get into the top IITs.  
Students can refer to the table below to understand the
NEET vs JEE difficulty level
. We have highlighted the exams in terms of difficulty level in the highest to the lowest order –
| | |
| --- | --- |
| Exam Name | Difficulty Level |
| JEE Advanced | Most difficult |
| NEET | Moderately difficult |
| JEE Mains | Least difficult |
Students may also intend to appear for both entrance exams anticipating the increased chances of selection. However, in such cases, one should know that the questions in JEE are sometimes repeated in NEET. This holds true for the common sections viz. Chemistry and Physics. Therefore, if you are preparing for both, make sure you go through the syllabus and the important topics thoroughly. Solving previous year's questions and sample papers can also help comprehend the NEET vs JEE paper pattern better.
We hope this article on 'NEET vs JEE -Which is better' has been helpful in addressing your queries. Check out more relevant posts on
JEE Main 2024 preparation tips
and the
best books for NEET 2024
to level up your exam preparations.
Related Links
Stay tuned to CollegeDekho for the latest news and updates!