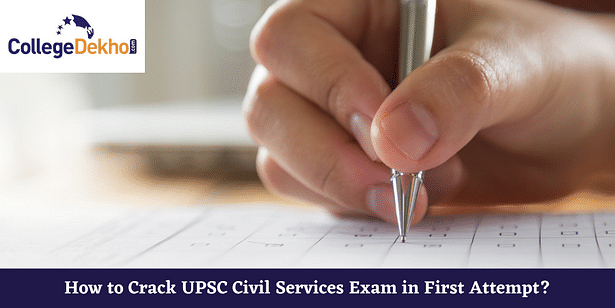 How to Qualify UPSC Civil Services Exam 2023 in First Attempt may be one of the most common queries among UPSC aspirants. There is no doubt about the fact that the UPSC CSE is one of the toughest exams in the country. Typically, even studious and brilliant students need a minimum of three to four attempts to clear the entrance exam. That being said, there are instances where aspirants have been able to crack the UPSC Civil Services examination in their first attempt. It is believed by experts and toppers that following certain practices and proven techniques during the preparation can improve the chances of a candidate clearing the UPSC exam in their very first attempt.

Dedication and hard work are key to success when it comes to extremely competitive exams like the UPSC CSE. However, candidates should not only work hard but also work smartly so that their efforts do not go to waste. Aspirants should make sure they know all about the UPSC IAS 2023 exam pattern, syllabus, marking scheme and other aspects related to the exam even before beginning their preparation. This way, they will be able to devise an effective preparation strategy that will help them excel in the exam.

Apart from preparing for the exam thoroughly, aspirants should also induce certain habits that will help them during the preparation and also during the exam. Also, candidates should maintain their focus and keep a positive attitude about the exam. In this article, we have mentioned all the important tips and techniques that will help aspirants crack UPSC Civil Services Exam in the first attempt.
Also Read:IAS Toppers Who Cracked UPSC Civil Services in First Attempt
Is it Possible to Clear UPSC CSE in First Attempt?
A common question among UPSC CSE aspirants, whether the UPSC Civil Services Exam can be cleared in the first attempt is a query that can have divided opinions. Although it is not impossible to clear the UPSC CSE in the first attempt, there are several cases where students have not only cleared the exam in their first attempt but also secured the top ranks among all the test takers. However, it is a general observation that it takes multiple attempts to clear the exam for a majority of aspirants. That being said, candidates who aim to clear the UPSC CSE must not be deterred by the statistics and preparation for the exam with gusto to improve their chances of cracking the exam. 
Important Tips to Crack UPSC CSE in First Attempt
As we know, cracking the UPSC CSE exam in the first attempt is a herculean task. However, if aspirants can invest the right amount of effort and time into their exam preparation, they have a pretty good chance of clearing the exam in the first attempt. There is no doubt about the fact that UPSC CSE is a highly competitive exam, thus, candidates must make sure that they are as well prepared for the exam as possible. That being said, merely preparing for the exam is not enough. Aspirants should also follow certain guidelines that will help them enhance their performance and ensure that they can utilize their knowledge during the actual exam. One of the best ways to enhance exam performance is to follow methods that have already been tried and tested. Check out some of the most important tips to crack UPSC CSE in first attempt mentioned below:
Create an Effective Plan: One of the first steps that candidates must take is to create an effective examination preparation strategy. It is vital to follow a plan that aids regular practice to prepare for UPSC CSE. Following a timetable also helps in keeping a track of a candidate's preparation goals.

Always Stay Calm and Focused: Candidates must understand that it is vital to keep a calm mind when preparing for the UPSC exam. During preparation, it is not uncommon to face difficulty in understanding and memorizing topics, but panicking in such situations can be even more detrimental. If a topic is turning out to be more challenging than others, it is prudent to invest more time in it or save it for later, whichever is more convenient. Candidates can only expect to perform well in the exam if all their basic concepts are crystal clear.

Identify your Strength and Weakness: Preparing in a straightforward manner for a competitive exam like the UPSC CSE may not be the most ideal approach. Since the UPSC CSE syllabus is so vast, it may be better for aspirants to first identify their strengths and weaknesses and prepare a preparation plan accordingly. 

Practice Regularly: Completing the UPSC CSE syllabus is a challenging task itself, however, going through the syllabus once will not help candidates excel in the exam. Candidates must make sure that they are confident in each and every aspect of the UPSC syllabus before the exam and the only way to achieve that is rigorous practice. Candidates must devote ample time toward practicing UPSC previous year question papers to increase their knowledge base. UPSC Mock tests are also a great way to test the concepts and subject knowledge. Candidates must attempt at one mock test every week during their preparation for UPSC CSE to check their level of preparation.

Try to Avoid Distractions: UPSC CSE preparation is the most tedious experience that aspirants will come across during their entire examination journey. Most individuals are known to begin their preparation months ahead of the actual exam. When the preparation for an exam takes such a long time, it is quite easy to get distracted and lose focus. However, losing focus can be detrimental and may also lead to a candidate being unsuccessful in their UPSC CSE attempt. Thus, candidates must make sure that they do not lose focus at any time during their preparation. Although it is mandatory to take periodic breaks during preparation to avoid scenarios like burnout, candidates must follow their routine and be consistent in their preparation to increase their chances of clearing the exam.
Also Read:UPSC Exams 2023 Preparation Tips
Aspirants Who Cleared UPSC CSE in the First Attempt 
The table below represents the list of candidates who not only cracked the UPSC civil services examination in the first attempt but also became toppers. Go through their names and ranks below.
| Name | Year | Rank |
| --- | --- | --- |
| Neha Banerjee | 2019 | 20 |
| Kanishak Kataria | 2018 | 1 |
| Shreyans Kumat | 2018 | 4 |
| Srushti Jayant Deshmukh | 2018 | 5 |
| Koya Sree Harsha | 2017 | 6 |
| Saumya Sharma | 2017 | 9 |
| Dr. Neha Jain | 2017 | 12 |
| Anmol Sher Singh Bedi | 2016 | 2 |
| Saumya Pandey | 2016 | 4 |
| Kothamasu Dinesh Kumar | 2016 | 6 |
| Tina Dabi | 2015 | 1 |
| Artika Shukla | 2015 | 4 |
Strategies to Become an IAS Officer in First Attempt
The experts have provided some effective UPSC IAS tips for aspirants to perform well in the exam. Go through the UPSC IAS 2023 preparation tips to clear the exam.  
1. Make a Study Plan
Making a study plan is the key to success. It is highly necessary for candidates to prepare a strategy that helps them in focusing on all subjects and topics one by one. Time management is one of the most important factors when preparing for the UPSC CSE 2023. Undoubtedly, the UPSC syllabus is wide but candidates must not forget that they have studied most of the topics in schools or colleges. So, it is time to brush up on the knowledge and add their approach to it to present the answers in the best format. While covering the UPSC syllabus, start making notes and divide the syllabus into small sections. In this manner, they will also be able to find out the sections that need more attention. 
2. Understand the Syllabus Thoroughly
Understanding the UPSC exam syllabus is highly necessary to prepare for the UPSC IAS 2023. For all subjects, candidates have to cover a long and diverse syllabus. The UPSC CSE syllabus is divided into three categories including, General Studies, Indian Languages, and Optional Subjects. Among different subjects, candidates find the current affairs section quite challenging. It is a wide subject that covers content from across the world. 
In General Studies, candidates have to cover various topics such as history, economy, geography, and more. The candidates must have a good command of these subjects. Besides this, the UPSC syllabus includes optional subjects, which refers to diverse subjects like Sociology, Psychology, and so on. The candidates can choose any of the subjects based on their interests. The third category of the syllabus includes Indian languages, such as Hindi, English, and more. The candidates must make a wise decision when choosing the optional subject. By following the UPSC CSE tips, aspirants can clear the UPSC exam in the first attempt. 
3. Divide the Syllabus into Smaller Sections or Units
When preparing for the UPSC exam, candidates must learn to effectively divide the syllabus into smaller sections. By dividing the subjects and topics into different parts, candidates will be able to devote proper time to each of the topics. While dividing the topics, they can also allocate the required time to each of the topics. If they are able to finish the topics within the desired time, it will be easy for them to prepare the entire syllabus and perform well in the UPSC exam 2023.
Theory Papers: When preparing these subjects (History, Geography, Economy, Polity, Optional subject), candidates require a good amount of time.
Aptitude Test: To prepare for CSAT, it is important to use intelligence more. It does not demand a great amount of time but high intelligence.
4. Follow the Timetable Wisely
Prepare a realistic timetable that can be followed easily. Do not prepare a timetable that needs more than 8 -10 hours of a day to dedicate to the UPSC IAS preparation. Once candidates have decided on the amount of time required to cover different topics each day, they will find it easy to follow the timetable daily.
In the timetable, every subject must be given a certain amount of time for preparation. It would be better to devote more hours to study for UPSC but the number of hours should match candidates' capacity to study and learn in a day. They should avoid overburdening themselves.
By making a study schedule, it becomes possible to centralize the priorities and ensure equal efforts are given for each and every subject. It is imperative to study for the UPSC exam according to the syllabus and paper pattern. It is also necessary to follow a study timetable that covers the entire curriculum and allows ample time for revisions.
4. Have Healthy Discussions
Make a habit of discussing all important events that are related to the UPSC Exam. This is one of the most crucial tips given by all IAS toppers and teachers. Discussing different aspects of news enhances the thought process of candidates. Good discussions help students to develop a critical approach that enables them to differentiate between the positive and negative aspects of any issue. With an improved thought process, it is not only easy for students to qualify for the Prelims and Mains but also qualify the interview round. Especially, discussion on topics affecting society will help in preparing for the UPSC CSE 2023 . These discussions also help students to remember the dates and names of specific events.
5. Solve Mock Papers Regularly
After completing the syllabus, ensure you solve a sufficient number of mock papers. The previous year's question papers and sample papers will help students to prepare for both UPSC CSE Prelims and Mains examinations. It is highly necessary for students to solve mock papers before going for the first attempt. By solving mock papers, it will also be easy for candidates to reevaluate their performance. By keeping track of their performances, candidates can analyze their strengths and weaknesses.
6. Improve your Writing Skills
In the UPSC CSE 2023, covering the entire syllabus is not the only important thing. It is also necessary to present your knowledge with accurate and impressive answers. More than the knowledge gained, the presentation of answers matters the most. Only with clear and precise answers, candidates can reflect on their understanding of the subject and score UPSC CSE Mains Passing Marks. It is necessary for candidates to make the most of the three hours and write impressive and accurate answers. The answers with an analytical approach are given high marks.
7. Revise Multiple Times
Among UPSC IAS preparation tips, candidates are always advised to have sufficient time for revising twice. If candidates revise general studies and the CSAT syllabus twice, they have a high chance of qualifying for the UPSC exam. It would be great if candidates revise the syllabus a week before the examination.    
8. Regularly Read Newspapers
Regularly reading the newspapers can introduce candidates to the latest developments across the world. The newspapers can answer many of the UPSC questions in detail. There are many questions related to current events asked in the UPSC CSE 2023 exam. If candidates regularly read the newspapers, they can easily answer the questions. Hence, it is not only important to read the newspaper but to understand which part of the newspaper is the most important.
9. Develop a Habit of Asking Questions
Candidates must anticipate the questions that can be asked in the examinations. The experts advise UPSC aspirants to qualify for the exam in the first attempt by maintaining a separate notebook for current affairs. They can note down the recent updates at regular intervals. All the updates related to the fields of Art, Economy, Polity, and more should be noted. This information should be regularly revised for the UPSC exam preparation. 
10. Execute the Plan 
Planning is the first step to UPSC CSE 2023 exam preparation. Besides planning, it is also important to execute the next step. The candidates must understand the importance of the plan and keep revising it according to the situation. For each and every subject, it is necessary to prepare a strategy. This must be updated according to the preparation level of candidates. 
11. Stay Healthy and Take Proper Sleep
Maintaining good health during the UPSC CSE preparation is an important prerequisite. The candidates must follow the study plan without ignoring the body cycle. Less number of hours of sleep can affect your health and preparation too. Therefore, following a regular diet and taking proper hours of sleep must be the topmost priority for UPSC aspirants.
12. Stay Motivated 
Due to the lengthy preparation journey of the UPSC exam, candidates might get demotivated at times. To avoid negative thoughts, it will be good to take small breaks. Candidates can indulge in yoga, meditation or light exercise to relax the body and brain. Such activities lessen the mental pressure and allow candidates to perform better in the UPSC IAS exam 2023.
Candidates should check out the articles mentioned below to know more about the UPSC Civil Services exam!
Related Articles:
For any queries regarding the UPSC Civil Services exam, you can contact our experts on the CollegeDekho QnA Zone. To discuss your admission requirements with our counsellor, call our toll-free number 18005729877.