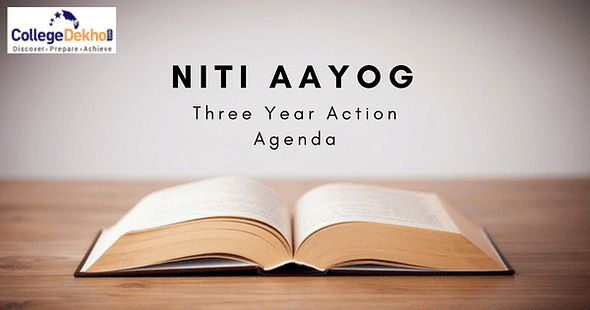 The Three-Year Action Agenda of Niti Aayog from 2017-18 to 2019-20 was released this week. From creating 20 world-class universities to bringing up employability to 80%, the Niti Aayog made various suggestions to improve the quality of education and its outcome.
Citing the example of skill training in the country, the Aayog said that the education system needs a major overhaul. With countries like USA, Germany, Japan and others training their youth to face the fast changing world, India needs to work hard to reach global standards.
Country-wise data of Workforce that received Formal Skill Training in 2013-14:

| | |
| --- | --- |
| Name of the Country | Percent of Workforce Trained |
| India | 2.3% |
| Germany | 75% |
| United Kingdom | 68% |
| USA | 52% |
| South Korea | 96% |
| Japan | 80% |
A big cause of worry is the number of individuals undergoing training in India i.e. seven million which is way below the number of people entering the market. National Skill Development Corporation (NSDC) and its partners provided skill training to 24.9 lakh people out of which only 12 lakh were placed in 2014-15.
Taking these problems into account, the Niti Aayog has put up some suggestions for the HRD Ministry and the entire education industry to consider. The Aayog urges the experts to look at education from the perspective of the changing world and its requirement.
Also Read:MHRD: Untrained Teachers get 2 years to Comply with NIOS D.El.Ed Eligibility Criteria
Suggestions made by Niti Aayog:
The Aayog suggested that a culture of research and project-specific grants must be started by the regulatory bodies.
Niti Aayog added that emphasis must be increased on professional and vocational education.
It further added that NSDC must target a placement rate of 80% or above by the end of 2020.
It also added that the government should focus on providing more autonomy to the educational institutes to enhance transparency.
Changes in the Right of Children to Free and Compulsory Education (RTE) Act have also been suggested by Niti Aayog so that all the children can get basic school education.
Niti Aayog has also recommended a revamp of the University Grants Commission (UGC) and said that the UGC monitoring all the educational reforms at higher education level challenges the fast-evolving system as it results in a slow changing process.
It also said that a system must be introduced that focuses on governance and information disclosure rather than micro management of educational institutions.
Also Read:MHRD Official Ask IITs to remove Language Barrier
Poor standards of teaching at the school level is another problem that the Niti Aayog is stressing on. It stated that the Right to Education must be thoroughly implemented to ensure that learning process is enhanced instead of simply enrolling children in school.