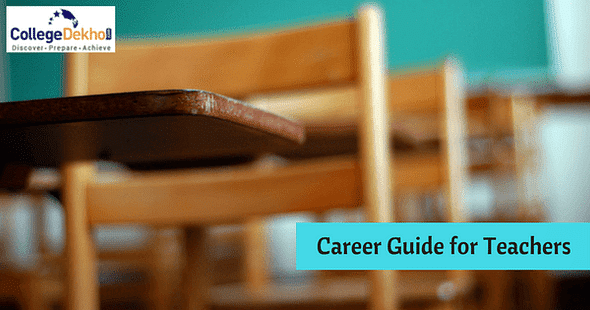 Do you envisage yourself as a teacher? There is a lot of scope for good jobs the education industry. Teaching requires a lot of interactive skill and ability to present knowledge properly. If you possess the right skills, you can make it big in the teaching career.
It is one of the best job profiles for people who do not want to spend extensive hours on their work. Find out more about the field and the education qualifications that you require in order to become a teacher.
Qualification Required:
In order to teach at school levels, you will have to pursue at least graduation (in any field) followed by Bachelors in Education (B.Ed.) degree.
You can also pursue B.Ed. after pursuing Masters in your preferred subject depending on the point when you wish to start working and the classes for which you want to apply as a teacher.
You can also add to your qualifications by pursuing Masters in Education (M.Ed.) and apply for higher level jobs.
Pursuing certain training and certificate courses that can help you in securing good jobs. Check the following table for the list of certifications.
Certificates that can help you get good Teaching Jobs:
| | | |
| --- | --- | --- |
| Name of the Course | Duration | Eligibility |
| Basic Training Certificate (BTC) | 2 years | At least graduation |
| Diploma in Education (D.Ed) | 1 year | 10+2 or its equivalent |
| Teacher Training Certificate (TTC) | 2 years | 10+2 or its equivalent |
About Bachelor of Education (B.Ed.):
Bachelor of Education (B.Ed.) is an undergraduate level professional degree that is mandatory for candidates who wish to teach in higher primary schools and high schools. The duration of the course is 2 years and it can be pursued while working.
Eligibility for B.Ed. Courses:
In order to pursue B.Ed., you must have completed graduation in any field (BA, B,Sc., B.Com) with a minimum of 50% marks.
Some of the colleges and universities also conduct an entrance exam for admission to B.Ed. courses.
Top B.Ed. Colleges in India:
K.J. Somaiya Comprehensive College of Education
University of Punjab
Jamila Milia Islamia University, Delhi
Himachal Pradesh University
Entrance Exam for the Appointment of Teacher at Government Schools:
If you want high paying government jobs, you can also apply for teaching posts at schools affiliated to CBSE or other government schools by appearing for entrance exams. You can appear for these exams once you are done with your B.Ed. Following are the most popular exams for the recruitment of teachers:
Central Teacher Eligibility Test (CTET): This exam is conducted by the CBSE in order to appoint teachers for classes I - VIII for the government and state schools affiliated to the CBSE Board. Aspiring teachers can also apply for private schools through their CTET scores.
State Teacher Eligibility Test (STET): This exam is much like the CTET exam. However, candidate clearing this exam will be recruited for teaching posts at schools affiliated to the respective state board.
Navodaya Vidyalaya Samiti (NVS) Recruitment Exam: Teachers post at the various Jawahar Navodaya Vidyalayas is done on the basis of NVS Recruitment Exam. Candidates can apply for teaching the subjects of their preference.
Also Read: How to become a Lecturer: Qualification, Entrance Exam & Pattern
Job Opportunities:
India being a nation dominated by the youth, there are millions of students enrolled in schools providing huge opportunities for teaching aspirants. You can apply for jobs at various schools i.e. government, private or special schools depending on your skill, aptitude and interest.
Since teachers are offered better salaries at government schools, it is another good option that you can look forward to. You can appear for CTET, STET and other such exams in order to secure government teaching jobs.
The good thing about teaching is that you can do a lot of extra work since you have a lot of time at your hand. You can teach private tuitions and provide coaching to higher classes as well.
Also Read: Here's How You can Pursue a Career as a Data Analyst and get Good Packages
Salary Scope:
Teaching offers some decent starting salaries, especially, if you have been appointed as a teacher at school level. Following are the salaries you can expect at different teaching levels:
| | |
| --- | --- |
| Post | Salary |
| High School Teacher | Rs. 3,36,000 |
| Head Teacher | Rs. 3,96,000 |
| Educator | Rs. 5,89,581 |
| Social Worker | Rs. 6,00,000 |
| Primary School Teacher | Rs. 3,36,000 |
Salary scope at private schools is also good and you can expect a starting salary of Rs. 12,000 to Rs. 25,000 depending on the classes you will be teaching. To know more about colleges and exams offering courses for aspiring teachers, visit collegedekho.com.