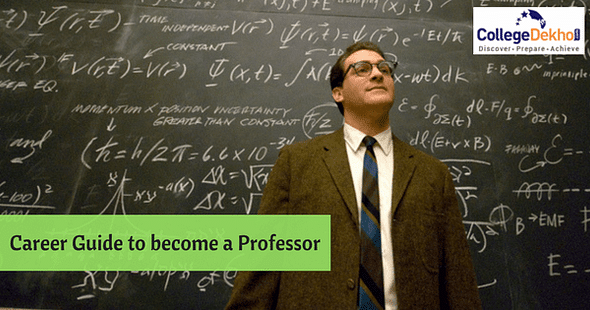 Do you aspire to teach at the college or university level as a professor? Following is a complete guide that can help you pursue a career as a professor.
Do you aspire to teach at the college or university level as a professor? Following is a complete guide that can help you pursue a career as a professor. Learn more about the education sector and ways to approach teaching profiles at higher education levels. Candidates pursuing a masters degree in any subject can look forward to making a career as a University professor.
With the right qualification and understanding of the entrance exam, you can find bright opportunities as a professor. Check out the eligibility criteria and exams required to become a professor below.
Qualification Required To Become a Lecturer
Here is the list of Qualifications that you must have to become a lecturer:
If you are aspiring to become a lecturer or professor, you will have to pursue post-graduation in your field of teaching preference.
Since higher education is advanced education, you are also required to do specialisation i.e. M. Phil. or PhD in order to be able to teach at college levels.
Eligibility Criteria to Become a Lecturer
Have a look at the Eligibility Criteria to become a lecturer in India:
If you have scored at least 55% marks in your Master's degree programme (50% for reserved category candidates) you can become a lecturer.
You must have pursued post-graduation from a UGC recognised college or university from streams such as Humanities, Electronic Science, Social Science, Computer Science & Applications, etc.
Candidates in the final year of Masters Programme: Candidates who will be appearing for their final year Master's Degree exams can also apply for UGC NET exam. Such candidates will only be considered for JRF and the post of Assistant Professor if they successfully pass the final year Master's Degree exams.
PhD Holders: Candidates who hold PhD degree and had completed their Master's programme as of September 19, 1991, (irrespective of the declaration of result) will be provided with 5% relaxation in the aggregate marks.
Also Read:UGC Fee Refund Rules
Age Criteria to Become a Lecturer
Junior Research Fellowship (JRF):
Candidates should not be more than 28 years of age for Junior Research Fellowship (JRF) as of the year of the exam. SC, OBC, ST, PwD and women candidates are given a relaxation of 5 years.
Candidates with research experience will also be given relaxation for JRF up to the time spent on research in the relevant field of post-graduation course. LLM degree holders are also given relaxation of 3 years.
Assistant Professor:
There is no age bar for aspirants who wish to apply for the role of Assistant Professor.
Rules for Exemption from above Eligibility for the Profile of Assistant Professor
Candidates who have secured a PhD degree according to the guidelines of UGC 2009 will be exempted from the above eligibility criteria for NET/SELT/SET.
Candidates who had cleared UGC/CSIR JRF exam prior to 1989 will be excluded from appearing for UGC NET exam.
Candidates who have qualified the States Eligibility Test (SET) prior to June 1, 2002, will also be exempted from qualifying UGC NET. Candidates who have cleared SET after June 1, 2002, can also apply directly for Assistant Professor Posts within the colleges and universities of the state.
Also Read: Check Out the Career in Web Designing: Courses and Salary Scope
Competitive Exams to Become a Lecturer
In order to become a lecturer or to further pursue higher education i.e. M Phil/PhD students have to clear certain entrance exams. These exams differ from course to course, here is the list of all such entrance exams:
UGC - NET
CSIR - NET
GATE
SLET
UGC-NET
UGC NET is the most common entrance examination for students willing to teach in UGC approved colleges. Here are the Eligibility Criteria for UGC-NET:
NET is conducted by the UGC to determine the eligibility of candidates who seek teaching jobs at college and university level.
Lectureship and Junior Research Fellowship (JRF) awards are also offered on the basis of a candidate's performance in this exam.
The exam paper is set by the CBSE on behalf of UGC.
UGC-NET Exam Pattern
Three different papers are conducted for the UGC NET exam in three sessions i.e. (Paper I, II, and III). Candidates have to qualify all three papers in order to be awarded JRF or the post of Assistant Professor.
| | | | | |
| --- | --- | --- | --- | --- |
| Session | Paper | Number of Questions | Marks | Duration |
| First | I | 60 Questions (50 questions to be attempted) | 100 | 1 Hr 15 Min |
| Second | II | 50 Questions (Important to attempt all questions) | 100 | 1 Hr 15 Min |
| Third | III | 75 Questions (Important to attempt all questions) | 150 | 2 Hrs 30 Min |
| Total | - | 185 (Candidate has to attempt 175 questions) | 350 | 5 Hrs |
The reasoning ability, thinking and comprehension ability of candidates are tested through the first paper. The other two exams are based on subjects opted by the candidates.
GATE
Graduate Aptitude Test in Engineering or GATE is another All India Competitive exam to pursue PhD or M Phil from Indian Institute of Science and IITs. After completing respective degrees, students will get a chance to be a lecturer at IITs, NITs and other top Engineering Schools of India.
CSIR-NET
Council of Scientific and Industrial Research conducts a national level exam, popularly known as the CSIR NET exam for students belonging to the field of Sciences like - Physical Science, Chemical Science, Mathematical Science, Physical Science etc. Students qualifying the exam get the opportunity to go for Junior Research Fellowship and Lectureship.
SLET
State Level Eligibility Test is also conducted by UGC for the lecturership to state-level colleges and Universities.
Also Read: PhD 2020 - Admission and Application Process
Salary according to Post
Professors or Lecturers get a good salary package. All the central Universities provide the same grade scale to professors, whereas, state-level colleges & universities might have a slight difference in the pay scales. Here is the salary estimation by post for professors:
| | |
| --- | --- |
| Job Post | Salary |
| Assistant Professor | Rs.30,000 to Rs. 50,000 |
| Professor | Rs. 50,000 to Rs. 67,000 |
Apart from the assistantship money, young lecturers pursuing PhD or M Phil with JRF get a monthly allowance or fellowship grant varying from Rs 25,000 to 32,000. After two consecutive years as the Junior Reseach Fellow, candidates are promoted as the Senior Research Fellow and the fellowship grant also increases. Apart from the fellowship grant, candidates also get the House Rent Allowance and Medical Allowance.
Also Read: Career Guide for Material Science Engineering: Courses, Colleges and Scope
Job profile of Professors and Lecturers are considered to be one of the most respectable professions in the world. There are various colleges in India where you can apply after having cleared the UGC NET exam. There are vacancies in both government and private colleges. Salary packages improve with experience and designation offered to the candidate.
Students aspiring to do PhD or M Phil can check the following links:
Bharat Insitute of Higher Education & Research PhD Admissions
Students preparing for NET UGC 2019 December Exam can check the paper analysis here - UGC NET 2019 Paper Analysis. For more updates, check CollegeDekho.