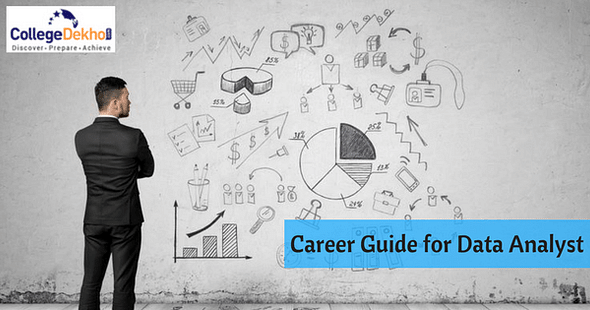 If you are looking forward to switching from an IT profile to a business profile then pursuing a career as a data analyst will be the brightest option for you. With potential coding and IT skills, you will have a good scope of shining in this field. However, non-IT students can also pursue this career. Now the big question arrives ' How to become a Data Analyst?'. Go through the article below to get a complete career guide for Data Analysis, courses and colleges offering Data Analysis courses.
About Data Analyst: Job Description and Duties
The job of a Data Analyst is majorly to play around with figures and evaluate business patterns that will help the organisation in expanding its revenue. The profile requires rigorous market research and logistic analysis. Data Analysts are often asked to participate in strategic planning activities as well. A Data Analyst interprets the business data in such a way that it helps improve the business. Data Analysts interpret patterns and trends gathered from various different sources and takes the decisions that would affect the business.
Here are the major roles that a Data Analyst plays in the business industry:
Interpretation and collection of data

Results analysis

Reporting the result after analysis to the concerned department in the business

Identification of trends and patterns in data sets

Defining and analysing new data collection processes

Working alongside the management team in a business to establish needs
Best Data Analyst Courses
There are a number of Data Analyst Courses available for you to pursue a staggering career in the field. Check out the table below to know which Data Analyst course suits you the best and which college to go for.
| | | |
| --- | --- | --- |
| Name of the Programme | Duration | College Offering Course |
| Post Graduate Programme in Business Analytics | Classroom sessions of 230 hours along with 110 hours of online sessions | Great Lakes Institute of Management |
| Certified Program in Business Analytics | Classes on alternative months and 3 to 6 months for the project | Indian School of Business, Hyderabad |
| Certificate Programme on Business Analytics and Intelligence | 1 year | IIM, Bangalore |
| Certificate program in business analytics for executives | 1 year | IIM, Lucknow |
| Executive Programme in Business Analytics | 10 months to 1 year | IIM Kolkata, Bocconi University, Mumbai Campus |
| Post Graduate Program in Business Analytics | Classroom sessions of 500+ hours along with extra hours for projects and case studies | Praxis Business School |
| Post Graduate Programme in Business Analytics and Big Data | 11 months | Aegis School of Business |
| Post Graduate Certificate in Predictive Business Analytics | Not Available | Bridge School of Management |
| Certificate Program in Big Data and Analytics (BDAP) | 6 month | SP Jain School of Global Management |
| PGDM in Analytics Specialization | 2 years | NMIMS, Bangalore |
| Executive Program in Business Analytics and Business Intelligence | 1 year | IIM Ranchi |
| PGDM in Business Intelligence and Big data | 2 year | IMT Ghaziabad |
Eligibility for Data Analyst
Since Data Analytics or Data Science is an advanced field of information technology and management, the best diploma and certifications are available at post-graduation level.

In order to pursue the courses mentioned above, you must have pursued your graduation with at least 60% marks (preferably in the IT, statistics field).

One should have a degree in the following subjects to make a career in the field of Data Analysis.

Economics

Statistics

Computer Science

Mathematics

Data Analysis requires a good amount of knowledge and experience in the field of data mining, hence, you will also be required to have 3 to 4 years of work experience for some of the above courses (especially executive courses).
Skills Required to Become Data Analyst
In order to become a Data Analyst, it is essential to have good analytical, statistical and problem-solving skills.

Since the profile requires rigorous research and pattern evaluation, you must also have a decent understanding of coding.

Data visualisation and communication skills are also essential in order to perform well in the market.

Decision making is another important skill that you are required to have in order to pursue a career as a Data Analyst.

One should have experience in reporting packages and data models.

It is important to possess the ability to analyse large datasets and write comprehensive reports.

With an inclination for problem-solving and an analytical mind, one can easily excel in this field.
Job Opportunities as Data Analyst
Data Analyst is a business research profile where you are responsible for analysing data and helping the company take important business decisions. Since the role is so central to business development, most of the firms require a data analyst and job opportunities are very bright.
According to the latest Big Data Salary Report, out of various domains, the demand for analytics profile is 32.2% in India. The report also stated that Delhi alone offers up to 23,000 jobs in the field of data analysis. Whereas, Mumbai has 12,000 jobs.
If you want to make a major leap in your career and get an exponential increase in salary, then an executive programme or certification from one of the top B-schools in India is the best option for you.
There are a number of Data Analyst jobs that you can go for. With a keen knowledge of the field, you can also explore the following career opportunities.
Information Architect

Data Engineering

Data Scientist
Data Analyst Salary in India
After having pursued a certification or PG diploma in data analysis, you can expect your salary to start from Rs. 10 lakh per annum. Salary varies from city to city, for example, the starting salary in Mumbai will be around Rs. 12.19 lakh per annum. Whereas, the starting salaries in Delhi and Bangalore will vary between Rs. 10 and Rs. 10.5 lakh.
Salaries increase with experience and an individual working in this field for 10 to 12 years is expected to earn up to Rs. 25 lakh per annum.