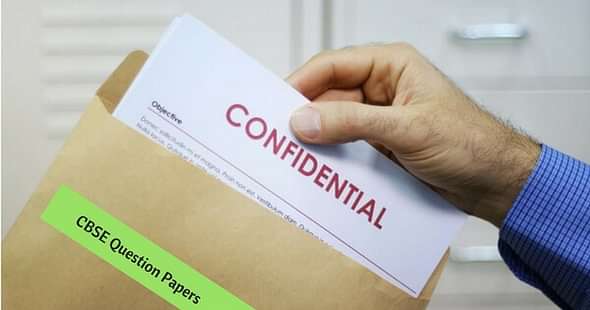 After many years, CBSE faced the issue of question paper leak this year. The Class 12 Economics and Class 10 Maths paper were unable to escape from the clutches of the paper leak. Class 10 mathematics paper was out a day before the exam and the same was circulated on Whats App and other social media. There were also reports that some of the students had the question paper screenshot on the mobiles two days before the exam.
Also Read: CBSE Paper Leak: PM Modi Seeks Action; HRD Ministry to Implement New System
Even though CBSE follows an appropriate process of setting question papers for board exams, the loopholes in the existing system resulted in the paper leak this year. With a motive to avoid the paper leak further, Union HRD Ministry will introduce a new system with the help of advanced technology. The 'leak-proof system' will be replaced with the existing system.
Here is how CBSE sets question papers for board exams and maintains confidentiality:
The process of setting question papers starts in the month of July and August every year.
As per the existing process, CBSE identifies 4-5 experts in each subject to set the question paper for board exams. The subject experts are school teachers or college teachers. These subject experts set three sets of question papers. Later, the teachers send their papers in a sealed envelope to the board. As soon as the board receives question papers from teachers, a high-powered committee checks the question papers to figure out whether they follow CBSE standards or not. Finally, the committee finalises the different sets for each subject and sends sealed copies to CBSE.
CBSE sets three sets of questions papers in each subject for Delhi schools, three sets question papers for schools located outside Delhi and three sets for CBSE affiliated schools abroad. On the other hand, 18 more sets are prepared as back up and are utilised for the compartment or supplementary exams.
The difficulty level of questions in almost all the sets is the same. Usually, the questions are set with a different sequence in each subject.
CBSE takes extensive steps to maintain the confidentiality of question papers. For instance, the subject experts chosen for setting question papers are not aware whether their question paper will make it to the final stage.
Also Read: CBSE Re-Exam for Class 10 Maths and Class 12 Economics Dates Released
Despite the confidential process of CBSE, there have been some instances of question paper leak now and then.
With inputs from Hindustan Times