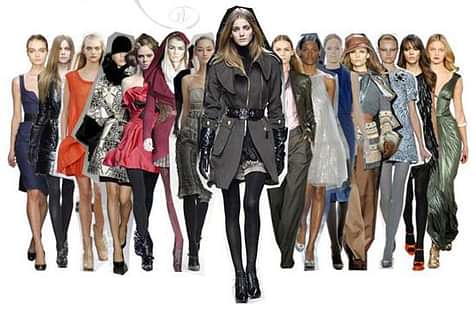 The quality of innovation and creative thinking may be considered as a unique asset carried by mankind. When we consider the topic of fashion, it may be defined as a popular practice or style referring to clothing, accessories, footwear, body piercing...you name it, and they have it! Owing to such a huge demand of expertise in this field, there are a number of fashion institutes that have mushroomed all across the National Capital Region (NCR) of New Delhi and adjoining regions. Collegedekho.com bring you the top eight fashion institutions in New Delhi:-
1. International Institute of Fashion Technology (IIFT)
The International Institute of Fashion Technology (IIFT) was established in 1990 and it is a unique institute offering specialized courses in the management and design of women's apparel, Jewelry Designing, Interiors, Merchandising, Garment production technology, textiles, event management etc. IIFT has a healthy network of 65 branches in India and abroad. Courses offered: M.Sc. (Fashion Design), M.Sc. (Interior Design), 2 Bachelors Degree Courses, and 8 Diploma Courses.
2. Pearl Academy, Delhi
Established in 1993, the Pearl Academy earlier called Pearl Academy of Design is a privately owned institute of higher education in India. It offers courses at diploma, undergraduate, and postgraduate level in the field of Design, Fashion and Business. It has been ranked as the number 1 Design School in North India (2014 Edutainment Awards).
3. Management and Design Academy (MADA)
The Management and Design Academy was established in Satyaniketan, Delhi in 2013. It offers courses in Design, Animation, Visual Effects, Gaming and Comics, Media, Films, Mass Communication and many more. The Academy has a committed placement cell and students are also given a chance to get sufficient work experience in this field.
4. Raffles Design Institute
After establishing its first college in Singapore in 1990, Raffles has grown leaps and bounds and is currently operating 30 universities and colleges, in over 28 cities placed in 13 countries all across the globe. The institute yields and nurtures the best talents of design and fashion.
5. National Institute of Fashion Technology, New Delhi
Ministry of Textiles, Government of India set up the National Institute of Fashion Technology, New Delhi in 1986. It offers courses like Master of Design, Master of Fashion Management, Master of Fashion Technology, seven Bachelors Degree Courses, and 1 Course after 10th. It has produced many eminent alumni for e.g. Manish Malhotra, Ritu Beri, Rohit Bal etc.
6. Polytechnic For Women, New Delhi
The Polytechnic For Women has a range of courses related to further edification, diplomas, as well as certificates where both undergraduates and graduates are concerned. The creative industries basically play a pivotal role in the cultural and economic life of any country. The UGC approved Polytechnic For Women offers degree courses in many areas of media education, travel, and design.
Website: http://www.womenpolytechnic.com/
7. JD Institute Of Fashion Technology, New Delhi
The JD Institute of Fashion Technology is one of India's leading Fashion School. It has about 25 centers & campuses all across the country. The Institute was founded in 1988, and it has trained close to 50,000 students in Fashion & Design.
8. Apeejay Institute of Design
The Apeejay Institute of Design or (AID) is located in the Tughlakabad Institutional Area, and it was established in 1991 by the Apeejay Education Society. The institute has many design studios, computer laboratories, audio visual rooms, library, and workshops which form the infrastructure facilities that are provided by the Institute.