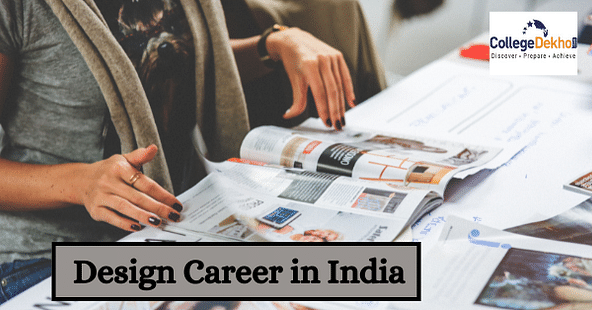 Design is a broad field that includes more than just fashion design, and numerous new domains have emerged over the years. With the increasing popularity and introduction of new aesthetic concepts, the Design industry's annual turnover has surpassed every other sector. In the interests of today's generation, the availability of design courses in almost all universities across India has peaked, and an increasing number of students are opting for all types of Designing courses.
Design is a highly evolved field that constantly requires trained and skilled people. It embodies many subfields within it and is further divided into various specialisations. Careers in design have a vast scope and there is a continuous demand for people who are artistic as well as friendly with new techniques of the designing world. Design involves specialisations in Fashion Design, Interior Design, Jewellery Design, Textile Design, Transportation Design amongst many others. Some specialisations in Design requires mathematics as a compulsory subject, for instance, Web Design, Robotics Design, and Sound Design.
To make a successful career in design, an individual needs to not only work on artistic skills but is also required to learn the art of paying attention to every tiny detail. A career in designing requires lots of precision and hard work which is not difficult as long as the candidate is making the apt choices. In order to succeed in the designing field, it is very vital to pick out the correct college for admission because an appropriate college can help in shaping the future of the student.
Design Course Highlights 
The following are the highlights for various design courses and degrees:
Particulars

Details

Branch Name

Design

Degree

BID, BDes, MDes, BSc, MSc

Duration

BID (4 years)
BDes (4 years)
MDes (2 years)
BSc (3 years)
MSc (2 years)

Eligibility Criteria

BDes and BSc (10+2 any specialisation)

MDes and MSc (Bachelor's degree)

Admission Process

BDes and BSc (Entrance test / Cut off)

MDes and MSc (Entrance test / Cut off)

Top Entrance Exams

UCEED, NATA, SEED, NID DAT, CEED, AIEED

Course Fees

BID, BDes and BSc (INR 20,000 – INR 1,00,000)

MDes and MSc (INR 2,00,000 – INR 3,00,000 per year)

Top Colleges

INIFD Deccan, Pune, INSD PUNE - International School of Design, CEPT University, Ahmedabad, UID Ahmedabad – United world Institute of Design, ITM Institute of Design and Media, Andheri Campus, Mumbai, World University of Design, Sonipat

Career Options

Interior Designer, Textile Designer, Web Designer, Game Designer, Product Designer, Fashion Designer, Graphic Designer

Average Salary

INR 10,00,000 PA

Recruiting Companies

Orient Craft, Snapdeal, Oracle, Pantaloon, Shoppers Stop, Amazon, Benetton, Mumbai Dyeing, Pearl Global
Career Scope of Design in India
Though the field of design is relatively unexplored by today's youth, there is no doubt about the potential that exists in this sector. Because Designing courses have multiple specialisations and subdivisions, it provides a diverse range of options with an equal scope. This industry's creative factor allows everyone to present a different side with new artistic acceptance. The industry's ever-increasing demand for skilled professionals has flooded it with job opportunities. Graphic design, interior design, and animation are among the many fields covered. As the Indian government promotes culture and heritage, it has created numerous job opportunities for people to incorporate these elements into their creations. Regardless of job opportunities, aspirants can also pursue entrepreneurship in this sector and contribute to job creation. Working in multinational corporations or being appointed to government projects are just some of the job opportunities available. And, in today's world, acceptance of the concept of aesthetics has become a critical factor in our ability to provide a creative work side.
With ever-changing technology and booming multinational companies, the demand for designers is increasing at a rapid pace. Companies are always looking for proficient and skilful designers who can cater to the needs of the industry. The career scope in design has expanded with the flourishing design industry. From just a fashion designing course the design industry has grown its network in all directions.
Today, an aspirant can be a fashion designer but it does not end there. Career scope in graphic designing, automobile designing, interior designing, textile designing, animation designing can also be explored.
Mentioned below are some specialisations and job profiles that can be considered in order to build a strong career in design.
Design Specialisation

Job Profile

Average Base Salary (Annual)

Interior Design

Interior Decorator
Exhibition Designer
Set Designer

INR 3,05,342

Art Director
Multimedia Artists and Animator
Web Designer

INR 2,99,103

Automobile Design

INR 6,50,000

Web Design

Front-end Developer
Back-end Developer
Web Application Developer
Design and Layout Analyst

INR 2,74,637

Textile Design

INR 4,07,512

Jewellery Design

Jewellery Retoucher
Jewellery Setter

INR 4,11,745

Product Design

INR 6,24,054

INR 6,04,024

Game Design

Video Game Designer
Graphic Designer
QA Game Tester

INR 5,59,542

Fashion Design

Fashion Designer
Fashion Stylist

INR 3,84,950

Knitwear Design

Knitwear Designer
Textile Designer
Quality Control Personnel

Rs. 4,07,512

Leather Design

INR 3,84,950

Animation Design

Graphic Designer
Modeller
Character Animator
2D Animator
3D Animator

INR 3,30,408

Ceramic and Glass Designer
Product Designer
Model Maker

INR 3,00,000

Multimedia Design

INR 3,56,078
An aspirant can go for any undergraduate or postgraduate design programme as per the requirement and interest. There are multiple colleges that offer the aforementioned specialisations and they are acknowledged nationwide for their rigorous curriculum and excellent academic record.
Below mentioned is a list of top colleges that can be considered for making a design career in India.
Top Design Colleges in India
Design colleges in India are plenty in number. A student can circle out a college of his choice as per his aptitude and his preference. It is essential to go through the entire information about design colleges so that the student ends up making a well-informed decision. Mentioned below are some of the top design colleges that can be considered for admission.
Note: The fee mentioned above is subject to change.
Design Course Fees
The following are the course fees for various UG, PG, Diploma, and Certificate courses in design:
Degree's

Minimum Fees (INR)

Maximum Fees (INR)

Private

Government

Private

Government

UG

56.00 K

7.10 K

30.00 Lakhs

13.78 Lakhs

PG

13.78 K

6.31 K

13.39 Lakhs

9.40 Lakhs

DOCTORAL

1.50 Lakhs

75.00 K

7.44 Lakhs

3.48 Lakhs

DIPLOMA

9.12 K

4.70 K

20.00 Lakhs

3.18 Lakhs
Also Read:
Design career in India is extremely popular these days and with the multiple options available in the market there is no need for an explanation behind the hype. Candidates with an artistic outlook and creative skills can definitely explore the field. A career in design guarantees success and heights. The aspirants just need to pick up the correct college and work on their skills because these are major steps that help in shaping the design career ahead.
To take any design admission related help, feel free to either dial the student helpline number, 1800-572-9877 (toll-free) or fill-up the Common Application Form. Our admission counsellors would be glad to help you out!
For more such information, stay tuned to CollegeDekho.