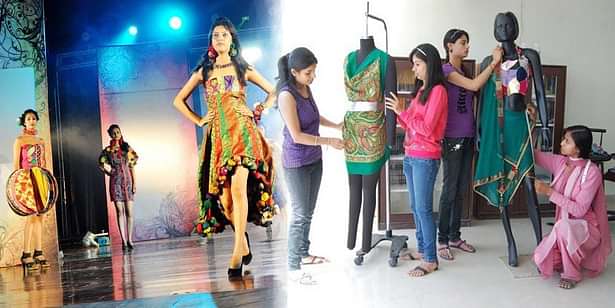 Fashion !! The buzzword!!!
While fashion remains the most sought after careers, Delhi remains the most sought after city for higher studies. Merging the two together, lets take a look at the best paces to studt fashion in the Capital city.
A career in Fashion Design has emerged as one of the most sought after careers amongst the Gen- X students. In India, the fashion industry has just begun to flourish. There are ample opportunities for work with the various sectors dealing with fashion. As regards fashion scenario is concerned Delhi is called the fashion capital of India. There are number of reputed fashion institutes in Delhi with state of the art facilities.
Collegedekho.com writes about top ten fashion institutes in Delhi in nutshell.
1. NIFT: The National Institute of Fashion Technology (NIFT, Delhi - ISO (9001-2008) Certified), was set up in technical collaboration with FIT, New York, in 1986 by the Ministry of Textiles, Government of India. There are many courses varying from regular ones to CE programs that are offered here. This oldest and richest resource center provides a vast collection of non-print and print material. Alumni like Manish Arora, Ritu Beri, Rohit BAL etc have been produced by NIFT.
2. Pearl Academy : The Pearl Academy has been here stimulating creative minds for more than twenty years now. It was introduced in 1993 and since then, this academy has emerged as an institute that is globally renowned. With the passage of time, this Academy has surely metamorphosed and developed into the industry leader.
3. JD Institute of Fashion Technology: With an aim to support those who dream of being linked to the ever challenging and competitive industry of fashion, founded in 1988, the JD Institute of Fashion Technology is all set to offer assistance, with prestigious branch in the Capital city. Courses in Fashion Designing, Interior Designing, as well as Jewelry Designing are offered here.
4. Apeejay Institute of Design: Situated in the Tughlakabad Institutional Area in New Delhi, the Apeejay Institute of Design (AID) was established in 1991, by the Apeejay Education Society. Audio visual rooms, design studios, computer laboratories, library, and workshops form the infrastructure facilities that are provided by the Institute.
5. International Institute of Fashion Technology: The International Institute of Fashion Technology located in Model Town, Delhi has been awarded as the "Best Vocational Training Institute" and it is also affiliated to the Karnataka State Open University. Apart from the free soft skills training, the Institute provides 100% placement assistance. The Institute also has a WiFi Campus along with transport facilities.
6. Footwear Design and Development Institute: The Footwear Design and Development Institute is popularly known as FDDI was founded in 1986 and it stands as a premier institute offering various courses in footwear designing. It was set up by the Ministry of Commerce, Government of India with an aim of imparting professional training in this field.
7. LISAA School of Design: This premier school of design in France, aims at nurturing the students to become technical professionals. It also comes along with cultivating the sensitivity towards the spiritual ethos, culture, as well as the aesthetics attached herein. The Government of India realized the imperative role that design plays in the development of the nation, and launched the Design policy recently.
8. Dream Zone School of Fashion Design: The Dream Zone School of Fashion Design was founded in 2005 and has been an initiative of CADD Centre Training Services Private Limited, a diversified global network of creative, engineering and management skill development institutes. It currently boasts of 59 centers in India and it is a member of Institute of Indian Interior Designers, ASIFA-HOLLYWOOD, and CMAI.
9. International Institute of Fashion Design (INIFD): Since its inception in July 1999, the International Institute of Fashion Design has successfully crafted the careers of numerous students. The Institute has been working as a trendsetting organization in the fields exemplified by Interior Design, Textile, Fashion as well as other post graduate courses. Formally known as NIFD, this Institute enlightens the path towards the professional course of Design.
10. WLCI Academy of Fashion Studies: The WLC College, India (i.e. Weign and Leigh College) is among the leading schools of fashion in India. It was founded in 1997. In the last eighteen years, it has produced more than 2,500 pass outs in the form of merchandisers and designers. The Institute focuses on preparing students for the apparel industry, fashion retail, garment manufacturing, online fashion business etc.