MICA Admission Test (MICAT) 2022 is an MBA entrance exam in India conducted for admission in the PGDM and PGDM-C courses offered by MICA Ahmedabad.  MICA is one of the most popular MBA colleges in India for Marketing and it has a PGDM admission process that is different from most of the other colleges offering PGDM in India.
What makes the MICA admission process unique is that candidates first have to apply using their CAT/ XAT/ GMAT scores and then they also have to appear in MICAT 2022 followed by the GE PI Process. The figure provided below depicts the weightage of MICA Ahmedabad final merit list: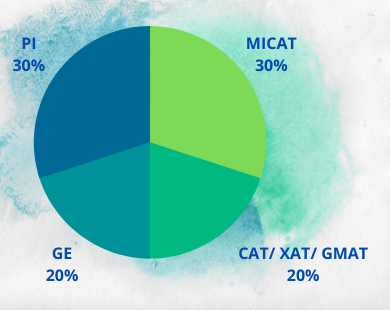 The importance of MICAT 2022 does not stem merely from it is compulsory for every candidate who wishes to take admission in MICA but also from it holding 30% weightage in the calculation of the final merit list for admission of candidates in the institute. Hence, candidates must ensure that they get sufficient marks to clear the MICAT cutoff and get a seat in the prestigious MICA Ahmedabad.
The result of MICAT I 2022 exam that was held on December 04, 2021 has been announced on December 21, 2021. The MICAT II 2022 exam will be conducted on January 29, 2022, as per the revised exam pattern. The duration of the exam has been reduced to 2h 15min. The MICAT score required for admission will also change as per the new exam pattern. In this article, we have provided information about what is a good score in MICAT as per the previous year trends as well as the expected MICAT scores required to clear the cutoff.
MICAT 2022 New Exam Pattern and Marking Scheme
Check the latest exam pattern of MICAT 2022 given below.
Section

Topic

No. of Questions
(Expected)

Time Allocated

Marking Scheme

Section A

Psychometric Test

150

25 minutes

--

Section B

Descriptive Test

4

35 minutes

1 Story - 30 marks
3 Argumentative - 10/ 10/ 20 marks

Section C

Divergent and Convergent Thinking

20

80 minutes

+1 marks

-0.25 marks

Verbal Ability

20

Quantitative Ability

20

Data Interpretation and General Awareness

20
MICAT 2022 Marking Scheme
As per the given exam pattern of MICAT 2022, candidates are given 1 mark for every correct answer.

0.25 marks are deducted for every incorrect answer in the Aptitude Test.

For the Descriptive Test, there are 4 questions worth 30, 20, 20 and 10 marks each.

There is no negative marking for the Psychometric and Descriptive Test sections.
Also Read:MICAT 2022 Important Dates
What is the MICAT Score?
MICAT Score is received by a candidate based on their performance in the exam.
Candidates can calculate their raw scores in Section C based on their number of correct and incorrect attempts.
The scores of the Psychometric Test and the Descriptive Test are not divulged to the candidate at any point.
Hence, candidates have to be subjective in judging how they performed in Section A and Section B of MICAT 2022.
Normalized Scores in MICAT - Since MICAT is conducted in two phases -- MICAT I and MICAT II, normalization is required to adjust for any differences in the difficulty level between the two sessions. The final merit list calculation is done as per the scaled scores of MICAT.
What is a Good Score in MICAT?
As per the new exam pattern, a raw score of 45-50 in the Aptitude section can be called a good score in MICAT 2022. Currently, this does not consider other factors, but it will ensure that you are safe as far as MICAT scores are concerned.
The table below provides an estimate of what can be considered a good score in MICAT I 2022 while also taking other factors into consideration.
| | | |
| --- | --- | --- |
| CAT 2021 Percentile | Descriptive Section | Good Score in MICAT 2022 (New Pattern) |
| 80 percentile | Moderate | 53 - 55 |
| 80 percentile | Excellent | 49 - 52 |
| 90 percentile | Moderate | 44 - 48 |
| 90 percentile | Excellent | 40 - 43 |
This only considers the total score of the Aptitude section. The scores of other sections are not revealed by the institute.
But, this still does not guarantee selection. Here's why-
A good score in MICAT means one that can help you get admission in MICA. However, admission does not depend on MICAT scores alone.

CAT/ XAT/ GMAT scores and scores in Descriptive and Psychometric Tests (which are not revealed) are also considered for admission.
Hence, it is impossible to predict or expect a good score in MICAT I 2022 unless you also consider the other factors mentioned above.
Previous Year Trends for Selection
MICA does not reveal the MICAT Cutoffs on which it bases admission. This makes it difficult to predict a good score in MICAT.
Taking a look at the previous year trends can give us some information. But, it cannot be said that a certain MICAT 2022 score will guarantee admission.
Students with a score of 45 have found to be selected and students getting 60+ have not made it to the institute.
It is safe to say that if two students have the same MICAT 2022 score, their chances of selection in MICAT are not the same.
This is because MICA is very subjective when selecting students and considers students who would basically be the right fit at the institute.
Also Read:MICAT I 2022 Exam & Question Paper Analysis (Out), Answer Key & Solutions - Check Here
How to Get a Good Score in MICAT?
Calculated preparation of the Aptitude section, proper practice of writing skills and creativity, dedication towards getting selected in MICAT and a positive and out-of-the-box attitude are a must to score well in MICAT. After all, it is the test for admission in one of the most renowned marketing colleges in India.
Here are some of the best preparation tips to help you get a good score in MICAT.
One thing that can be said for certain based on previous year trends is that at least an 80 percentile CAT 2020 score will be required for selection. Additionally, the Descriptive section should be taken very seriously and one should aim for as many questions as possible in the Psychometric Test to have a shot at admission in MICA.
If you have any queries, you can post them on the CollegeDekho QnA Zone. You can take a look at the list of PGDM colleges in India and fill the Common Application Form (CAF) for admissions-related help. Call our student helpline number 18005729877 for any queries.