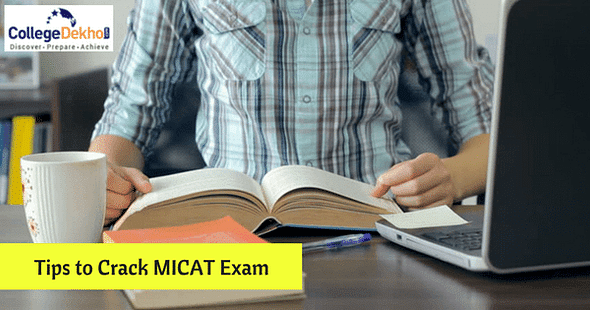 MICAT is the most important exam for students who want to pursue PGDM in Communication after completing their graduation. The MICAT 2023 exam schedule will be released by MICA Ahmedabad in the first week of October 2022.  MICA (Mudra Institute of Communications) is one of the few institutes in India that offers the program. It is one of the best MBA colleges in India for this course. MICAT consists of three sections and the syllabus of MICAT comprises various topics. It is a 2-hour and 15 minutes long exam. It is a computer-based test (CBT) conducted twice for PGDM-C admissions.
Candidates can appear for both slots of the exam and the better of the two MICAT Scores will be considered. The MICA Selection Process comprises three phases and each phase comprises different schemes to evaluate the skills of students. The first phase of the selection process is the MICAT exam. Follow the tips given below while attempting the MICAT 2023 exam to get an excellent score. 
Tips to Approach MICAT 2023 Psychometric Test
Given below are some tips regarding how to approach MICAT 2022 Psychometric test:
Answer All Questions: It is very important to answer all the questions in the psychometric test as missing out on even a single question might negate the purpose of the exam. Also, this is a qualifying test, and passing it is essential in order to be shortlisted for the second phase of selection.
Answer Spontaneously: Going for the ideal answers may get you into trouble as the psychometric test is the basis for the questions asked in the personal interview started by MICA. Therefore, you must answer candidly to be quick and correct.
Tips to Approach MICAT 2023 Verbal Ability Section
Follow the pointers given below to approach the VA section of MICAT 2023:
Manage the Time: The verbal section of the MICAT exam comprises 20 questions, i.e. you will have approximately 20 minutes to attempt this section. Attempting 18 to 19 questions is essential to get a good score in this section, therefore, time management is essential.
Attempt Short Questions First: In order to save time and get more questions correct, pick 'fill in the blanks' and 'para jumbles' first as they take less time. Then pick the sentence completion questions.
Reading Comprehension at the End: Reading Comprehensions are lengthy passages, therefore keep them for the last. Pick the easy passages first and answer them first as they will take less time than the lengthier and more complicated essays.
Tips to Approach MICAT 2023 Quantitative Ability Section
Approach the QA section of MICAT 2023 by going through the steps given below:
Attempt the Easy Questions First: Although direct formula-based questions are hardly asked in the MICAT exam, it is always good to scan through and solve the easy questions first. This will save you time and will ensure that you are able to attempt the maximum number of questions.
Minimum Number of Questions: To get a decent score, you will have to attempt at least 18 questions or more. For this, you will have to manage time efficiently and ensure that you have at least 20 minutes for this section as well.
Keep Negative Marking in Mind: Whenever in doubt, avoid marking the answer options as each wrong answer will get you 0.25 negative marks. Getting more correct answers is more important than attempting all questions.
Tips to Approach MICAT 2023 General Awareness Section
For the General Awareness section, follow the points listed below:
Read all the Questions: This is probably one of the most scoring sections of the MICAT exam as it takes the least time and it is possible to attempt all the 20 questions in about 20 minutes. Therefore, one must at least read all the questions to mark all the known questions.
Don't waste too much Time: In this section, you either know the answer or you don't know the answer. There's nothing that you can solve, therefore, if you don't know the answer, move on and don't waste time.
Tips to Approach MICAT 2023 Reasoning Section
For approaching the Reasoning section of MICAT 2023, the following points will be helpful:
Read Carefully: Convergent and divergent questions can be twisted in terms of language, therefore read the question carefully in order to understand what is being asked and mark the correct answer.
Attempt your strong sections first: Pick the type of questions that are your stronghold. For example, if you are good at solving statement sufficiency questions first, you must attempt these questions first.
Also Read:WAT (Written Ability Test) for IIMs and other MBA Colleges in India
Tips to Approach MICAT 2023 Descriptive Test
For the Descriptive test section of MICAT 2023, the following will be helpful:
Make brief Points: Descriptive test are an essential part of the test since the institute wants to evaluate your creativity. Therefore, to present your ideas efficiently, write down the points that you want to present and then elaborate them into paragraphs. This is the best way to complete the essay.
Stick to your argument: While writing the argumentative sample, make sure that you are supporting a single side of the argument. Don't juggle between two opinions as it will convey that you don't have a firm take on the matter. It also questions your interpretation skills.
The flow of content: While writing the essays, it is important that you maintain a flow. The paragraph must be a build a tempo in order to support your ideas and the flow of thoughts should be systematic. The essay should not be a collection of jumbled up paragraphs be it the essay, the story or the argument.
Also Read:Best ROI MBA Colleges in India: Fees, Average Salary, Highest Salary
MICAT 2023 Important Points
Given below are some key points for MICAT 2023 that candidates should keep in mind:
MICAT is the MBA entrance exam conducted for admission in the PGDM courses of MICA Ahmedabad. It is conducted twice every year.
Candidates have to appear for at least one of three entrance exams- CAT, XAT or GMAT in addition to MICAT to be shortlisted for MICA Ahmedabad.
The first-phase group exercise and personal interview will take place in Delhi, Kolkata, Bengaluru, Ahmedabad and Mumbai. The second phase of GE PI will happen at MICA, Ahmedabad.
MICAT is being conducted as a CBT in 48 cities across India.
Also Read:Schedule of Upcoming MBA Entrance Exams in India
MICA is one of the top communication colleges in India and offers excellent programs in communication management. MICAT II 2022 will be conducted on January 29, 2022. A detailed analysis of MICAT 2022 will be provided by CollegeDekho soon after. If you want to know more about the MICAT or any other MBA exam, you can ask your question in the Collegedekho QnA zone. 
If you need admission-related assistance, you can call on our toll-free number 1800-572-9877 or you can fill out our Common Application Form. 
All the Best!
Related Articles: