With classes in schools and colleges being suspended due to the Coronavirus pandemic, students are losing precious time in classes and studies are being affected. In this situation, it has become essential for schools and colleges to look for alternate means to conduct classes. Even though it has come as a desperate call for change, this is one of the positive impacts of Covid-19 pandemic on higher education and school education system of India.
While online learning and virtual classrooms are quite common in developed nations, India is still far behind in implementing and use of technological and digital aids in teaching and learning. Getting a quality online classroom up and running requires the use of high-tech equipment such as dedicated cameras and microphones.
Online classes in India have already started in some places. While LPU has enabled virtual classes through the use of presentations, online lectures, video calls and its own app called 'LPU Live', the Indian School of Hospitality (ISH), Gurgaon has switched to online classes by leveraging the audio-video equipment that it already had. On the other hand, educational institutions in Uttar Pradesh are conducting online classes by using software such as Google Hangouts, Skype and Zoom. However, not every educational institution in India is currently capable of making a quick switch!
The good news is that there are a number of virtual classroom software available online which can help make life a lot easier for teachers as well as students. All it takes to set up a virtual classroom is a basic laptop or a PC with a basic webcam.
And while the quality of the classroom environment wouldn't be as great as with using dedicated equipment, it still enables school and colleges to use existing technology to prevent loss of study time for the students while incurring almost zero cost.
What is a Virtual Classroom?
Virtual Classrooms are online platforms that allow interaction between teachers and students. With the use of different tools and features, virtual classrooms imitate the learning environment and feel of physical classrooms.
It is basically a software that allows a person (teacher) to transmit audio-visual information (courses) live through the means of the internet. Generally, it also allows the interaction of students amongst themselves an the teacher via text messages sent in a dedicated chat window. In this way, virtual classroom software replicates the feel of real classrooms.
Also known as the Virtual Learning Environment (VLE), the virtual classroom is at its root a web conferencing software modified to better adhere to the teaching-learning process. It is a software that can be installed on almost any laptop or PC and requires basic knowledge of computers and the internet.
Best Virtual Classroom Softwares
There are a number of virtual classroom software available online, each of which has its unique user-interface, design and features. To say which is the best virtual classroom software available online would, however, be difficult. Since each brings its very own unique set of tools, some may find one better than the others.
However, to help you select the best virtual classroom software for yourself, here are some of the most popular and easy-to-use virtual classroom software available online.
1. BigBlueButton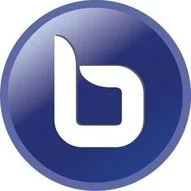 BigBlueButton is one of the FREE virtual classroom software available online. Despite being an open-source product, it has been thoughtfully designed while keeping in mind the needs of not only the teachers and the students but the schools as well.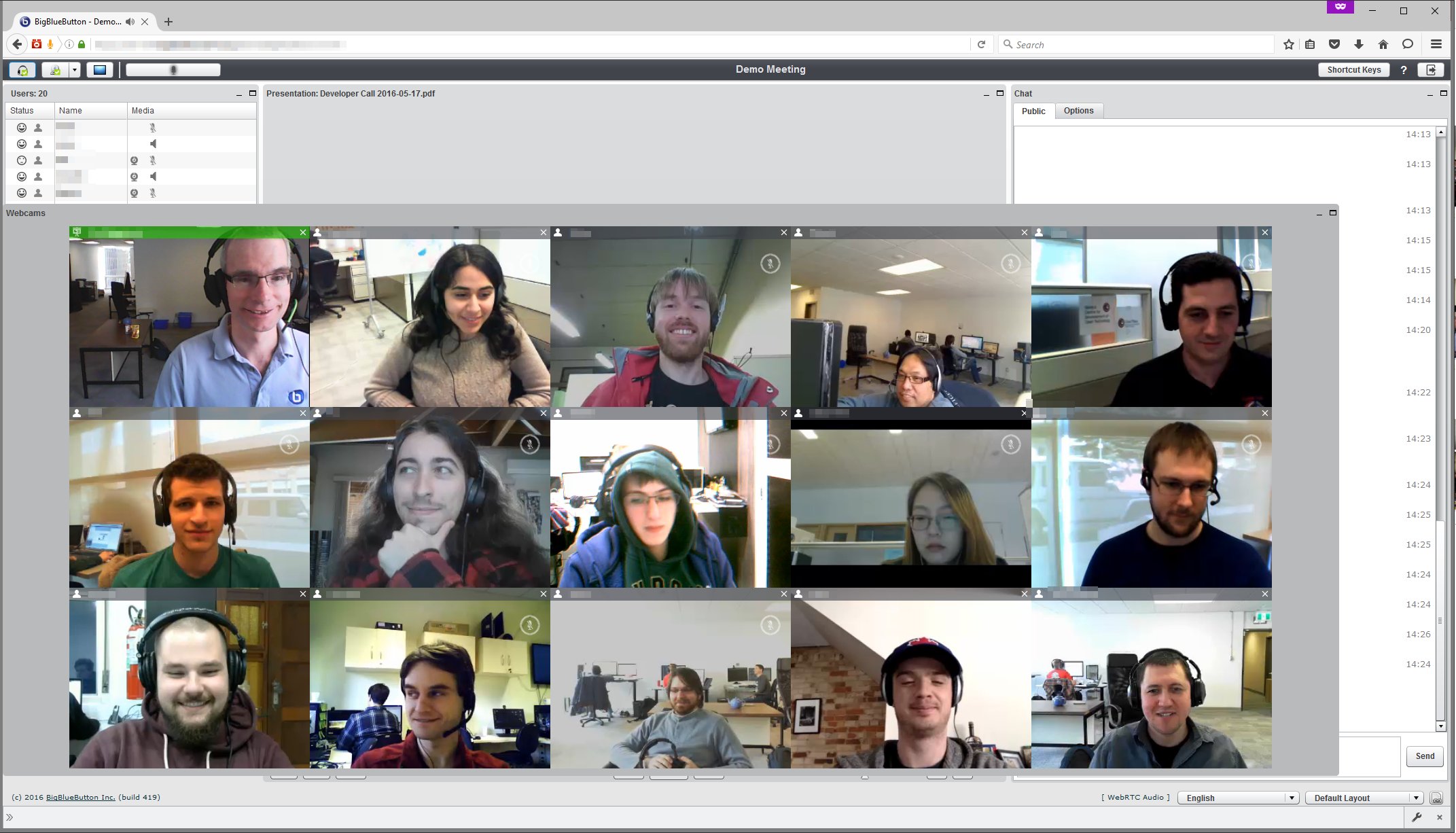 Pros
Completely free to use

Unlimited number of webcams (ideal for classes with a high number of students)

Use of emojis and polls to make learning fun

Option for screen sharing

Can be integrated with existing Learning Management Systems

Tutorial videos and community support as well as commercial support available
Cons
Limited file-sharing capabilities. Only PDF files can be shared.
Price: FREE
2. Adobe Connect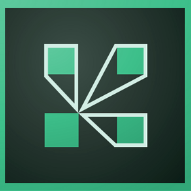 Coming from one of the largest software companies in the market, Adobe Connect is one of the most professional and popular virtual classrooms that you can use. It is a powerhouse when it comes to virtual learning and webinar tools but it comes with a learning curve for any teacher.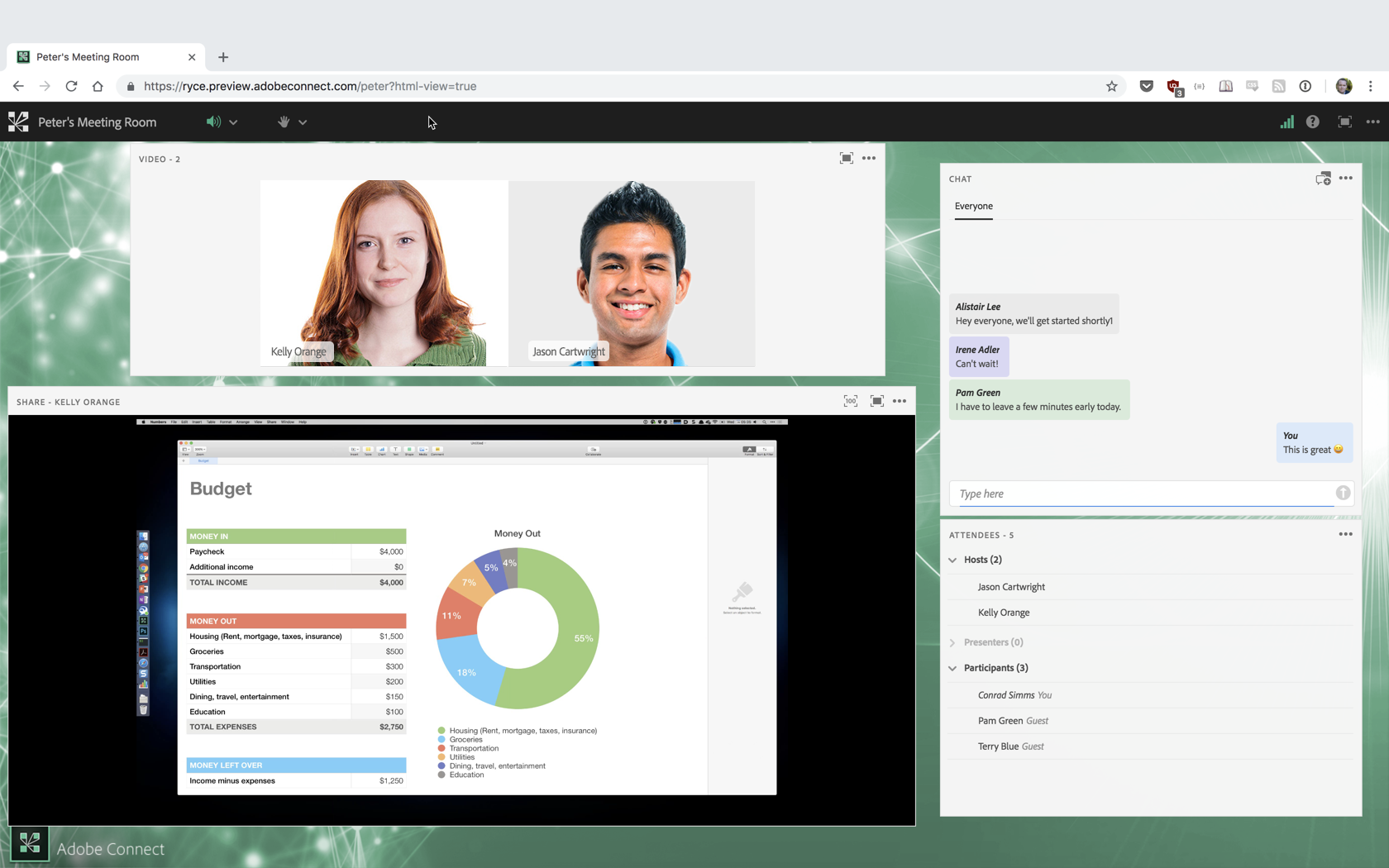 Pros
Professionally built by highly experienced software developers

Great support available as it is a widely-used conferencing tool

Comes with the reliability of Adobe

Offers one of the longest Free demo access of 90 days
Cons
Can't be said that it is very easy to use

It is expensive and not for every organization
Pricing: 90-day free trial; $50 - $370 (approx. Rs. 3,750 - Rs. 27,750) per month
3. Blackboard Collaborate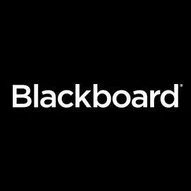 Blackboard Collaborate is a popular virtual classroom software custom-built while keeping the requirements of students and teachers in mind. It is simple, intuitive and works across multiple platforms since it is a web-based tool.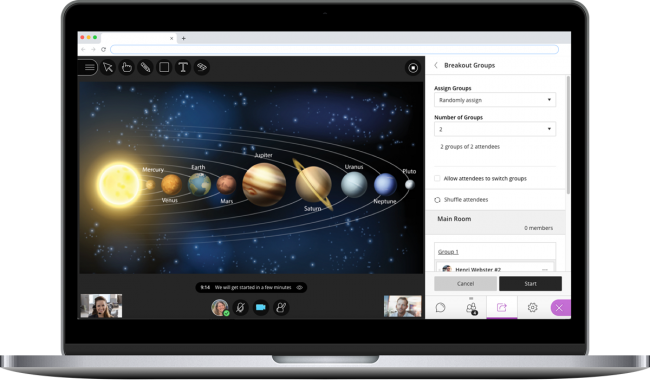 Pros
Easy-to-use software for any user

Simple user interface without losing out on important features

Easily accessible as it can work across mobile phones, tablets and computers
Cons
Some users have reported it to be a bit finicky at times
4. VEDAMO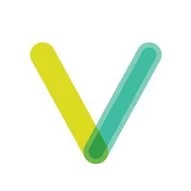 VEDAMO is another virtual classroom purpose-build for teachers and students. It is feature-rich and offers a host of tools and options to help make learning engaging and fun. Plus, it is simple to use and does not require you to download any software.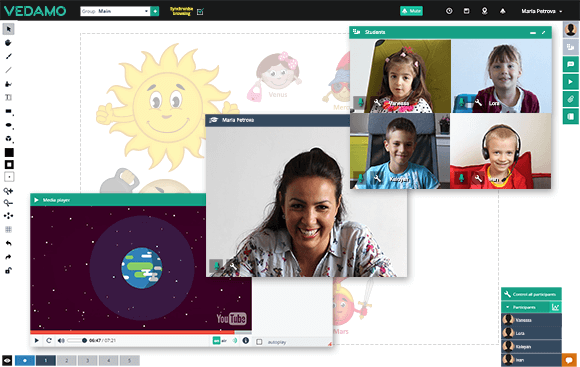 Pros
Wide-user base form freelance tutors to schools and universities

Ability to play multimedia content as well as YouTube videos during the live session.

Ability to create templates of teaching sessions, which can then be shared with other users.
Cons
Video conferencing is limited to 25 people
Pricing: 30-day free trial; $25 (approx. Rs. 1,875) per month after that
5. LearnCube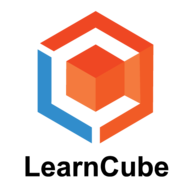 LearnCube is one of the best virtual learning softwares available right now. The software has been specially designed for online teaching and is one of the most popular virtual classrooms currently available. It has users across 95 countries and is used by some of the top language schools and tutoring companies including Oxford University Press, Babbel, AllianceFrancaise etc.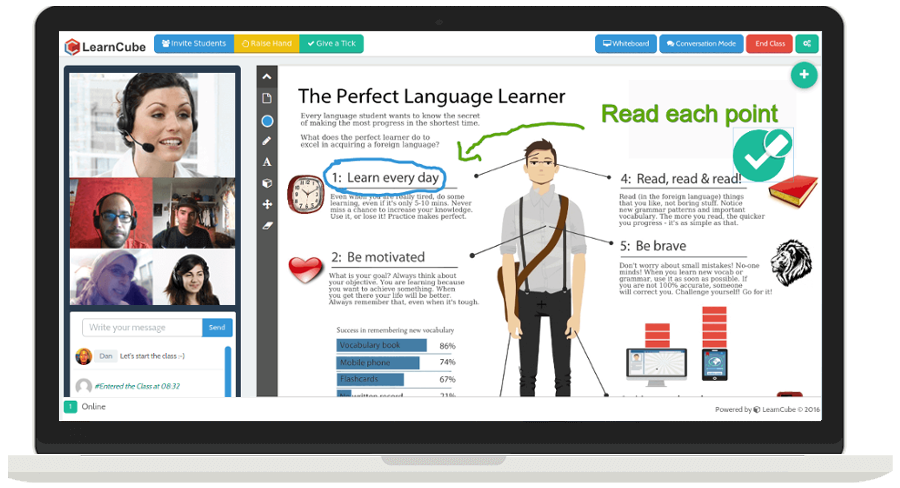 Pros
Some of the features that make Learn Cube attractive include:
It has an Interactive Whiteboard

Option for Classroom Recording

Has options such as virtual hand raise to make it more fun.

Works on Phone and Tablets
Cons
Since it is not really meant for large classrooms, LearnCube only supports group classes with up to 8 students.
Pricing: Basic version is free to use. For the pro version:
15-day free trial; $19 (approx. Rs. 1,400) per month after that

LearnCube is offering an extended 30-day free trial for places affected by Coronavirus.
How to use the Virtual Classroom Software
Using virtual classroom software is easy. However, the set up maybe a bit tricky at the start. You may need to take the help of an IT specialist for the same. However, in most cases, people who have a decent knowledge of computers and the internet will be able to have a virtual classroom up and running with a little help from online support. Generally, the software also provides tutorial videos on YouTube, one-on-one support as well as documentation along with the software.
The exact working process of a virtual classroom software is highly variable and depends on a number of factors including:
Whether it is a web-based or a downloadable software

The user-interface and complexity of the software

Whether the software required is catered for an individual or an organization such as school etc.
However, here is a number of steps to give you a basic idea of how to go about using virtual classroom software:
Sign Up: Create your login details, which will be used by you to access your profile and set up the software as per your requirements.

Explore: Take some time to get acquainted with the software. Explore the features, do a test run with your colleagues and get a little comfortable with the features before you host an actual session.

Create a Virtual Classroom: Depending upon the software, you will find the option to create a virtual classroom in a different place. The software will also provide you with the option to customize your classroom with any features that you may want to add or remove.

Invite Participants: Invites for virtual classrooms are generally sent via emails. Usually, the participants of a virtual class are not required to sign up for the classes, they can just use the link, do a temporary sign in and start attending the classes.

Start Teaching: Wait! Is it really this easy?
It surely is. You may take some time in the initial setup and there would be glitches and hiccups if you are not used to this kind of software, but companies work a lot to ensure that teachers and schools have minimum difficulties when trying to set up their virtual classrooms.
Advantages of Virtual Classroom
Virtual classrooms have proved to be an advantageous addition to the education sector not only for the students but also for the teachers. There are many advantages that a Virtual Classroom Software brings to the table.
While the significance of virtual classrooms has increased manifold during the Coronavirus outbreak, making them a necessity instead of a luxury, there are many other advantages of virtual classrooms that one can see without a natural calamity lurking around.
Customisability: Teachers can customize the look and feel of their classrooms as well as choose the tools to include in their classrooms.

Recording: Recording a virtual classroom does not require you to buy an additional expensive camera. Plus, the recordings are easily available for review or for sharing with the students if they need to refer to it in the future.

Personalized Learning: Since the lessons taught in a virtual classroom can be made available for later, a student does not have to worry if they missed or were not able to understand anything during the class. This helps everybody to learn at their own pace without feeling pressured.
Plus, since a teacher can make the lessons available for later sessions, students can be allowed to log in and view the classes at a later point of time as per their convenience.

Easy Sharing: Whether it be course material, reports or ideas, virtual classrooms provide spaces where sharing is easily possible. Students can discuss questions and ideas among themselves or with the teacher via chat even long after the class has ended.

Easy Accessibility: Now, there are a number of companies who have made accessing a virtual classroom so easy that they can be accessed even via a table or a mobile phone. So, a student does not need to buy any expensive laptop or equipment to access online classes, just a regular smartphone is enough.

Location-Independent: A student does not have to be in the same city or even the same country to access the classes. It provides a tutor with exposure to a worldwide audience while at the same time providing a student exposure to knowledge from all around the world.
So, here was a list of some of the best virtual classrooms available in the market but there is no need to limit yourself only to these options. Do a little research and find out what works for you best before making a choice. With a little tweaking and improvising, you can even use popular communication tools such as Google Hangouts and Skype to create a Virtual Classroom. However, while that solution may work out for individual teachers, schools and colleges should look for more professional options.
Stay tuned to CollegeDekho for the latest news and updates related to education in India!