For any candidate aspiring for admission to a Master of Business Administration (MBA) course, it is essential to sit for an entrance exam. However, preparing for an MBA entrance exam poses quite a few challenges, which include but are not limited to the vastness of syllabus, the difficulty level of questions as well as the level of competition.
Instead of chasing the competition, the candidates who opt for a smart preparation strategy ace the competitive exams. Before beginning preparations, it is important to consider each and every aspect of the exam and come up with a study plan to tackle the exam preparation. The plan does not have to be perfect in every sense, it just has to work well enough to help you get into your desired MBA colleges in India.
In this article, we have provided the best study tips and preparation strategies for MBA entrance exams. When going through these tips, look for which of these can you incorporate into your study routine and how you can prepare a smart study plan to prepare for MBA entrance exams and take part in the MBA admission process in India.
MBA Entrance Exams
When preparing for MBA admissions it is very important to choose the correct MBA entrance exams for you. This is a personal decision and can depend on several factors including:
choice of college
suitable exam pattern
familiarity with the syllabus or type of questions
the difficulty level of exam etc.
Here is a list of some of the most popular MBA entrance exams conducted in India.
These were some of the popular exams for MBA admissions. Many other MBA entrance exams are conducted in India including those conducted by particular institutes for their admission to their courses. Check the schedule of MBA entrance exams and go through our comparison of CAT vs Other MBA Entrance Exams to select the best MBA exam for your requirement.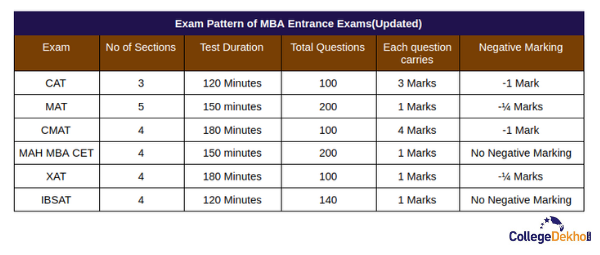 MBA Entrance Exam Pattern
The exact exam pattern is different for each MBA entrance exam. However, there are a few basic components that are common across every MBA entrance exam in India.
| | |
| --- | --- |
| Section | Short Description |
| Verbal Ability | This section tests the English language usage and comprehension skills of a candidate. Candidates must develop good grammar habits and reading skills to ace this section. |
| Reasoning Ability | In this section, candidates have to use their logical and analytical reasoning skills to solve the questions. The questions test the ability of a candidate to think out of the box and solve complex problems quickly and accurately. |
| Quantitative Ability | This section tests the mathematical ability of a candidate. However, it is not about testing whether a candidate knows complex theorems in Mathematics but instead about checking their ease and familiarity with numbers and numerical operations. |
MBA Entrance Exam Syllabus
For the most part, the syllabus of MBA entrance exam is quite common. The table below contains the details of the section-wise syllabus of MBA entrance exams in India.
Section

Topics
Verbal Ability

Reading Comprehension

English Grammar and Usage

Cloze Test

Fill in the Blanks

Sentence Correction

Vocabulary / Synonyms and Antonyms

Jumbled Paragraph etc.

Reasoning Ability

Blood Relations

Seating Arrangement

Series

Verbal Reasoning

Syllogism etc.

Quantitative Ability

Data Interpretation

Number System

HCF and LCM

Percentage

Ratio and Proportion

Profit, Loss and Discount

Time, Speed and Distance

Time and Work

Simple and Compound Interest

Probability

Mixtures and Alligations

Geometry

Trigonometry

Mensuration etc.
Candidates must note that this is not the complete syllabus of the MBA entrance exams. Consult the official syllabus issued by the MBA entrance exam you are taking to ensure that you cover all of the topics for the exam.
Preparation Tips for MBA Entrance Exams
Now that we have gone through the exam pattern and syllabus, here are some preparation tips for MBA entrance exams in India.
Preparation Tips for Verbal Ability
Questions in the Verbal Ability section may ask a candidate to find out the error in a certain part of the sentence, ask to fill up a paragraph with the correct parts of grammar, answer questions based on a passage and other tasks.
Here are some of the best tips to prepare for Verbal Ability in MBA Entrance Exams.
Study the rules of grammar from books up to High School level. You should be able to correctly identify the different parts of speech in a sentence and figure out any errors in sentence creation.

Develop a reading habit. The faster and more accurately you are able to read, the quicker you will be able to go through this section.

Identify the types of questions that appear in the exam by using previous year question papers. Often, solving questions helps clear concepts a lot quicker than just studying.

Increase the use of English in your day-to-day usage. Changing small habits such as using correct English in texting, listening to English music and watching English movies helps a lot in understanding the language.
Preparation Tips for Reasoning Ability
The Reasoning Ability section is considered to be the most difficult by a majority of MBA aspirants. This is a section where tricks fail and students have to rely on their skills to solve questions.
Here are some preparation tips for Reasoning Ability in MBA Entrance Exams.
Practise is the key when it comes to this section. The more questions you solve, the better you become at identifying key information and developing the correct aptitude to solve these questions.

Figure out your own hacks. Many candidates develop their own ways of making diagrams or codes which are effective in solving these questions.

Solve puzzles. Solving puzzles increases your capacity to think out of the box and sharpens your analytical skills. Developing a daily habit of solving puzzles will increase your speed and accuracy in this section.

Skip what needs to be skipped. For each candidate, there is a topic in the Reasoning section which proves to be quite difficult. It is better to skip such questions in the exam and spend the saved time on solving others.
Preparation Tips for Quantitative Ability
The Quantitative Ability questions in MBA entrance exams are based on fundamentals covered till Class 10th. However, the questions are made more difficult by using several tactics that may include adding unnecessary information to questions, providing questions that contain long or difficult numbers etc.
Given below are some tips to help you prepare for the Quantitative Ability section in MBA exams.
Minimize calculations. Questions in this section are often made confusing by adding long or difficult numbers. However, there are many tricks which allow a candidate to solve questions without doing any calculations.

Work on mental maths. There are certain questions where calculations just cannot be avoided. While some exams do offer a basic on-screen calculator, doing mental calculations always proves to be faster.

Do not use traditional methods. The traditional methods taught to solve these questions in school often fail in MBA entrance exams. Instead, use alternative methods that will help you reach the answer faster.

Cover the complete syllabus. Even if you are excellent at a topic, it is easy to tweak questions to stump even the best of the candidates. Hence, it is particularly important to cover all of the topics in the Quantitative Ability section as it increases your choices.
Best Books to Prepare for MBA Entrance Exams
The table below contains some of the best and well-known books you can use to prepare for MBA entrance exams.
Section

Book

Author

Publisher

Verbal Ability

Word Power Made Easy

Norman Lewis

Goyal Publisher

Wiley's ExamXpert Verbal Ability and Reading Comprehension

Captain AK Kalia

Wiley

How to Prepare for Verbal Ability & Reading Comprehension

Arun Sharma, Meenakshi Upadhayay

McGraw Hill Education

Reasoning Ability

Complete Guide for MAT and Other MBA Entrance Exams

Disha Experts

Disha Publication

A Modern Approach to Verbal & Non-Verbal Reasoning

R S Aggarwal

S Chand Publishing

Koncepts of LR - Logical Reasoning for CAT & Other MBA Exams

Gajendra Kumar

Disha Publication

Quantitative Ability

Quantitative Aptitude Quantum Cat

Sarvesh K Sharma

Arihant Publications

How to Prepare for Data Interpretation for CAT

Arun Sharma

McGraw Hill Education

Quantitative Aptitude for Competitive Examinations

S Chand PublishingR S Aggarwal

S Chand Publishing
These were some of the best tips you can use in your MBA entrance exam preparation. If you have any doubts, you can contact our experts on the CollegeDekho QnA Zone. Also, check out our other related articles for MBA admissions in India.
For students that require help with MBA admissions in India, experts at CollegeDekho provide free student counselling. Just fill our Common Application Form (CAF) or give us a call on 1800-572-9877 (toll-free).