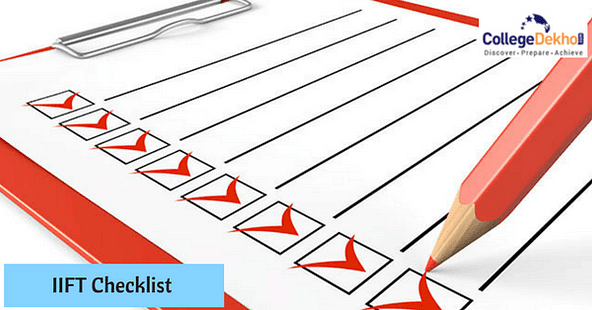 With IIFT 2018-20 just around the corner, stress level and tensions are on a high among students. The IIFT entrance exam for MBA in International Business (IB) admissions is scheduled to be held on December 3, 2017, from 10 A.M. to 12 noon.
By this time you have prepared and revised as much as you can, burned your midnight lamp! However, there are other important things to be taken care of. What to do right before an exam? It might be possible that even after being well-prepared for the exam there's something important you might be missing out on. That is why CollegeDekho wants to give you few to-do-list tips which will help you enhance your performance and maintain your composure on the day of the IIFT entrance exam.
Also Read: IIFT Exam Pattern & Selection Criteria
Checklist for IIFT Exam Day:
Check Your Admit Card
It is mandatory for all the candidates to carry their admit cards to their respective IIFT examination centre. Admit cards for the exam can be downloaded from the official website of IIFT. To download the admit card for the same candidates need to enter their application number and password.
Cross Check Reporting Time and Exam Centre
To avoid any last minute hassle, candidates must cross-check their reporting time and exam centre a day before the exam so that you have ample time to plan everything carefully. Candidates who reach the examination centre late will not be allowed to sit for the exam. The IIFT exam is to be held on 3rd December 2017 from 10 AM to 12 noon and the reporting time for the exam is 9.00 AM
Don't Forget To Carry Your Own Stationery
Since IIFT is a paper pencil based exam, it is recommended to bring your own stationery items along with you to avoid any rush. Candidates are only allowed to carry pencil, eraser, and pen inside the examination centre and any other personal belonging is not allowed inside the examination hall. In case, you are carrying any personal items such as books, calculators, bags, cell phones, and others you need to submit them outside the exam hall.
Keep Calm
Apart from anything else, it is necessary to stay calm and maintain your composure right before the exam day and avoid any sort of stress and nervousness. As maintaining your tempo not only boosts your confidence but also helps you to concentrate well during the exam.
Have a Great Meal!
It is always advised to have a wholesome breakfast on your exam day. Eating good food keeps you in a good mood and helps you concentrate better as compared to sitting for an exam with an empty stomach. It is also good to keep yourself hydrated on the exam day to help you stay calm.
We wish all the IIFT aspirants all the very best for the exam!
Also Read: IIFT Exam - Last Minute Preparation Tips
Once the exam is successfully conducted, you will be able to find a detailed analysis of the IIFT exam on CollegeDekho. Stay tuned for updates regarding the IIFT entrance exam.
The results and cut off for the IIFT 2018-20 will be declared in the month of January on the official IIFT website. Once the results are out candidates will be shortlisted for the subsequent rounds of the IIFT selection process.