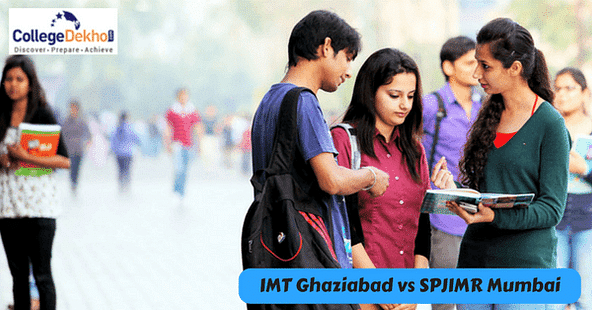 Are you planning to prepare for MBA while continuing your job? And are you stuck in selecting the college that would suit your preferences? Well, there are a number of top-ranked B-schools that can serve your purpose. What you need to do is to search and select the right college for management studies.
Getting stuck in selecting the best B-school is a problem that almost every MBA aspirant faces. In a club of more than 50 top B-Schools, selecting that one best college can be a tough task. However, CollegeDekho can help you in assessing the list of top 20 MBA colleges in India and help you choose the right colleges. Two of these excellent colleges apart from the IIMs are IMT Ghaziabad and SPJIMR Mumbai.
Institute of Management Technology (IMT), Ghaziabad and S.P. Jain Institute of Management and Research (SPJIMR), Mumbai have been given good position in the ranking list of top MBA colleges prepared by Business Today. Making a choice between the two can be a troublesome as both are institutions of repute and have also featured in the list of our top MBA colleges in North India and top MBA colleges in West India lists respectively. It is important to compare the two institutions to draw a clear picture of the best B-school.
While you go through the comparisons of the two colleges, it is essential to check placements at IMT Ghaziabad and SPJIMR Mumbai placements to get a thorough idea. Other than that, a detailed comparison between the two management institutions has been prepared by us to help you select the college of your choice. Let's look at some important factors required for comparing IMT Ghaziabad and SPJIMR Mumbai.
College Comparison: IMT Ghaziabad and SPJIMR Mumbai
Here are some detailed comparisons between IMT Ghaziabad and SPJIMR Mumbai for aspirants of management studies. These comparing points are given below in a tabular form.
Name of the Institute

Institute of Management Technology
(IMT Ghaziabad)

S.P. Jain Institute of Management and Research, (SPJIMR Mumbai)

Year of Establishment

1980
1981

Approved by

AICTE
AICTE
Accreditation

AACSB

NBA Accredited

Business Today 2017 Rankings

10
18

Entrance Exam

Courses Offered

PGDM Dual Country Programme (DCP)
Post Graduate Diploma in Management (PGDM) Full Time
PGDM Part Time
PGDM Executive

PGPFMB Business Excellence Programmes
Agile Project Management
PGP in Development Management
Advanced Leadership Programme in Energy Management
Executive PGDM
Post Graduate Certificate in Advanced Project Management
PGDM
Women's Management Programme
Global Management Programme
Post Graduate Executive Management Programme
PGP in Family Business Management
Owner Business Management
Post Graduate Management Programme for Women

Total Number of Seats

Dual Country PGDM: 180
PGDM: 600 seats
IMT Nagpur PGDM: 360
IMT Hyderabad PGDM: 240

240 (out of which 36 are reserved)

Fees Range

Rs 17.50 lakh per annum

Rs. 9.37 lakh to Rs. 19.99 lakh varying from programme to programme

Average Package

Rs 11.60 lakh per annum

Rs. 20.9 lakh per annum

Highest Package

Rs 25.92 lakh per annum

Not Available

Number of Companies Visiting Campus

155
104

Popular Companies Visiting Campus

Cognizant
Accenture
HCL
Credit Suisse
Blackrock
Idea EY
HPCL
Deloitte
Bank Of America

Amazon
Franklin Templeton
Goldman Sachs
Deloitte
Tata Administrative Services
Bharti Airtel
Nestlé
Also Read: Non-IIM Colleges Accepting CAT Scores in India
Admission and Selection Process at IMT Ghaziabad and SPJIMR Mumbai:
Candidates who want to take admission in any of the above-mentioned colleges should be aware of the eligibility criteria of these b-schools. Remember to check scorecard of which entrance exam would be considered by the two institutions. Also, search for last year's cut-off set by IMT Ghaziabad and SPJIMR Mumbai and start preparing for the next session accordingly. Take a look of the selection process of IMT Ghaziabad and the selection process of SPJIMR Mumbai in detail before deciding the college that will be apt for your future goals.
Also Read: MBA Colleges Offering Best Placements in 2018
Similar Colleges:
Popular College Comparisons: