The Common Admission Test (CAT) is an all-India test conducted by the Indian Institutes of Management (IIMs) as an entrance exam for admission to the Post-graduate and Fellow Programs in Management courses of several management institutes all over India including the IIMs. There are more than a hundred B-schools in India that accept CAT scores.
CAT 2022 is expected to be held conducted on November 27, 2022. Use the tools given below to predict your percentile and college in CAT 2022 and check which colleges are the best for you based on your performance. Aspirants must keep in mind several parameters while choosing the B-school. Detailed research is essential before applying to these B-schools. 
Top Ten Non-IIM Colleges Accepting CAT Scores
Here, CollegeDekho brings to you the chosen list of top institutes, which accept CAT scores to materialize the selection process of the candidates during admission.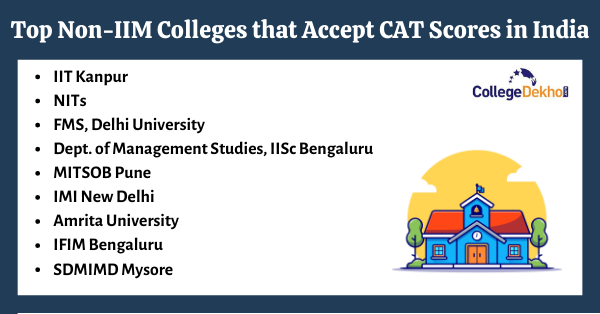 1. Indian Institute of Technology, Kanpur
Indian Institute of Technology, Kanpur (IITK), works in the form of a public research college, and it has been declared as an 'Institute of National Importance by the Government of India, under IIT Act. This institute was established in 1959 by the Government of India and was funded by the MHRD. Basically, the institute has been established to provide leadership in technological innovations and accelerate the growth and development of the country as a whole.
2. National Institute of Technology (NIT)
National Institutes of Technology (NITs) is actually a group of engineering colleges in India. These institutes have been declared by Act of Parliament as institutions of national importance. Earlier referred to as Regional Engineering Colleges (i.e. RECs), their respective state governments governed them. The NITs were founded here with the aim of promoting multi-cultural understanding, as well as regional diversity. Each major city in India has one of these thirty autonomous institutes.
3. Faculty of Management Studies (FMS), Delhi University
Faculty of Management Studies (FMS), New Delhi was established in the year 1954, The Delhi School of Economics, University of Delhi is recognized by the All India Council for Technical Education as one of the four centres for imparting management education in India. It offers management edification to professional managers. This is in the form of both, full-time, and part-time MBA programs. The institute is among the oldest business schools in this country.
4. Dept. of Management Studies, Indian Institute of Science (IISc), Bengaluru
Department of Management Studies (DMS) at the Indian Institute of Science (IISc), Bangalore was founded in 1909 because of joint efforts of the Maharaja of Mysore, and the then Government of India, Jamsetji Nusserwanji Tata. In 1886, it was Jamsetji Tata who conceived of a university of science, which will work in benefiting India. Finally, the Government of India in consultation with scientists in India, and England decided to locate the Institute in Bengaluru. It was in 1909 that the institute was formally vested. In fact, the foundation stone was laid in 1911, and then started the first batch of aspirants in that year itself.
5. MIT School of Business (MITSOB), Pune
MIT School of Business (SOB), Pune is located in Pune and aims at attracting aspirants who apart from being studious, are, are also good team players. They are expected to be excellent in extra-curricular activities, and they respond to teaching methods in a more positive way. There is a firm belief that a well-rounded individual is very much crucial when it comes to gaining success in a highly competitive corporate environment.
6. International Management Institute (IMI), New Delhi
International Management Institute (IMI, New Delhi), is a private B-school established in 1981. In fact, it was also the first corporate-sponsored business school in India. Dr Bakul Harshadrai Dholakia (who was former Director-General of IIM Ahmedabad) is the current Director-General of the IMI, New Delhi. It is one of the seven B-schools in India to get accreditation from the international accreditation agency, Association of MBAs (AMBA). There are campuses located in Bhubaneshwar, and Kolkata too. The b-school publishes an international business journal by the name of 'Global Business Review', with Sage Publications.
7. Amrita University (Karnataka, Kerala, and Tamil Nadu)
The Amrita School of Business offers a residential two-year MBA degree program. There is also a dual degree program leading to an MS in Information Technology and MBA. This is in collaboration with the State University of New York at Buffalo, for working professionals at the Bangalore campus. The faculty members have degrees from B.A's, B.B.A's, and many reputed foreign universities. The 'Outlook' (magazine) ranked it at 27th amongst the Business Schools in India.
8. Institute of Finance and International Management, Bengaluru
Institute of Finance and International Management (IFIM), Bangalore is a business school founded in 1995 and located in Bengaluru, which is popularly called the 'Silicon Valley of India'. The institute is located in one of India's largest industrial parks, i.e. The Electronic City. The institute is promoted by the 'Dalal Street Investment Journal Group', and it is an AICTE approved institution, with an ISO 9001:2008 certification. IFIM is also a member of the Association to Advance Collegiate Schools of Business (AACSB). It is currently pursuing accreditation from AACSB.
9. Jaypee Institute of Information Technology, Noida
Jaypee Institute of Information Technology (JIIT), Noida is a deemed university providing higher education under Section 3 of the UGC Act 1956. It has 6 academic departments and offers programs in technical education at undergraduate, postgraduate, and doctorate level. The institute is located in Noida, Gautam Buddh Nagar district of Uttar Pradesh. It was established in 2001. The management programme in Jaypee is considered one of the best in India.
10. Shri Dharmasthala Manjunatheshwara Institute for Management Development (SDMIMD), Mysore
The SDMIMD Mysore institute is supported by the Shree Dharmasthala Manjunatheswara Educational Trust, which has rich experience in managing educational institutes of repute for more than 42 years. Also, it is among the leading institutions of 40 educational establishments that are promoted by this Trust. It covers realms like Medical, Engineering, Dental, Law, and Management Sciences.
Also Read: Know All About Bachelor in Management Studies (BMS) Delhi University
These were some of the top non-IIM colleges that accept CAT scores. If you are unable to satisfy the IIM cutoff, you still have a lot of options to go for. You can fill access our CAT college predictor tool to choose some colleges that meet your CAT percentile. Apart from this, you check the CAT 2022 Cutoff of all the top B-Schools of India here. 
Here are some other related articles for more information.
If you are seeking admission to MBA colleges, you can apply through the Common Application Form (CAF). For any queries, call our helpline number 18005729877.